And on the eighth day, God created grilled cheese, and it was good. Like, REALLY good -- so good that he was all, "Thrillist, can you dudes keepeth me apprised of the best grilled cheese in New York City at all times?" And lo, we totally did that below.

The Murray's Melt
Murray's Cheese Bar (address and info)
West Village
When the cheesemongers at Murray's say they've perfected a blend of the best meltable cheeses for their house grilled cheese, you believe them. Be a damn pro and add Nueske's crispy bacon and get ready to dip the whole thing in the bowl of creamy tomato soup that comes on the side.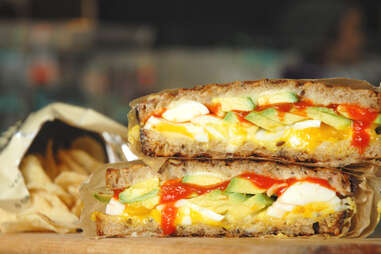 The Hangover Cure
Dépanneur (address and info)
Williamsburg
You won't find this grilled cheese (w/ avocado, a seven-minute egg, Sriracha, and sharp white cheddar) on Dep's menu because it's a secret shhhhhhhhhhhhh. This hidden menu item started as a Saturday morning special called "The Hangover Cure" for North 3rd locals, but has since been removed and left for underground neighborhood staple lore. Oh, and since I'm the one who created it, I've decided that it doesn't have to be a secret anymore. You're welcome.
The Grilled Cheese
Pies-n-Thighs (address and info)
Lower East Side and Williamsburg
As a cheese person, you might be a little weirded out that there's a sandwich on this list featuring processed American mystery cheese. Hopefully not too weirded out to try Pies-n-Thighs' classic diner-style grilled cheese, though. House-made Buttermilk White Bread, about 10 slices of America's finest, and a healthy dose of salty butter will make even the snobbiest of cheese people weep like their Netflix password doesn't work when it's -4 degrees outside.
Grilled Cheese Sandwich
Egg (address and info)
Williamsburg
Egg's candied bacon, pickled jalapeño, and Grafton Clothbound Cheddar grilled cheese is one of the most inspirational sandwiches in the city, perfecting a sweet, spicy, and savory flavor combination that proves to be the perfect format for grilled cheese awesome.
Grilled Cheese
Fritzl's Lunch Box (address and info)
Bushwick
Sure, Fritzl's may be famous for its cheeseburger, but this Swiss, cheddar, pickled pepper, and tomato jam grilled cheese is worth eschewing fame for. Oh, and if you don't add the roasted ham for $2 we can't be friends anymore.
Lucy's Favorite Grilled Cheese
Lucy's Whey (address and info)
Chelsea and UES
The simplicity here approaches something beautiful. Lucy's classic GC achieves nuts-nuts-nuts depth of flavor while utilizing just two ingredients: Prairie Breeze, a mild and sweet cheddar-style cheese that's made in Iowa, and fig and honey jam. It's a classic jam & cheese pairing that they've turned into a grilled cheese and for that, they win.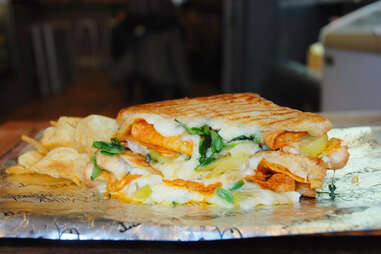 Melter Skelter
Melt Kraft (address and info)
South Slope
Melt Kraft pairs a sacred Swiss wedge of raw cow's milk cheese (aka raclette) with pickled green tomato and BBQ potato chips for an all-time-great grilled cheese experience. You pair that same grilled cheese with seconds.
Taleggio, Salvatore Ricotta, and Kale Pesto
BKLYN Larder (address and info)
Park Slope
It wouldn't feel right to not include a grilled cheese that featured Salvatore Ricotta. Not only is it one of the the world's best cheeses, but it's also made right here in Brooklyn. Add in the fact that BKLYN Larder combines this fluffy cheese with tallegio, and its house made kale pesto, and you've got yourself a must-order melt.
Sourdough Grilled Cheese
Pickle Shack (address and info)
Gowanus
Whoever said vegetarians are The Worst, clearly has never met the geniuses over at Pickle Shack, Brooklyn Brine's veg-friendly restaurant, which piles roasted cauliflower, roasted broccoli, pickled sweet peppers, and Consider Bardwell's Pawlet cheese between two slices of grilled Sourdough for near-grilled cheese perfection.
Adult Cheese
The Commodore (address and info)
Williamsburg
The exact recipe of Commodore's GC is a mystery; but we've narrowed it down to a pimento (probably?) grilled cheese with some South of the border flair. It oozes with a perfect blend of cheddar, cream cheese, poblanos, and some sort of amazing salsa. Gahh, Just look at that beauty.
Sign up here for our daily NYC email and be the first to get all the food/drink/fun New York has to offer.
MacKenzie Smith is the proprietor of GrilledCheeseSocial.com and Sandwich Expert for About.com. You can follow her on Twitter, Instagram, Facebook, and her Website.