Where to Get the Best Ice Cream in NYC
According to Michael "Mikey" Cole of Mikey Likes It.
For Michael "Mikey" Cole, the founder and operator of Mikey Likes It, ice cream is therapeutic. The Stuyvesant Town native first discovered his love for the craft while going through a significant transitional phase in 2007, and hasn't stopped since. "If I don't make ice cream for 2-3 days, I go crazy," he says.
Since then, he's opened Mikey Likes It ice cream shops in the East Village and Harlem and has created flavors for cultural icons like Jay-Z. On any given day, Mikey can be found all over the city, teaming up with community members to hand out free meals to those in need or driving around to personally deliver ice cream orders himself to show customer appreciation during COVID-19.
Even with his nonstop schedule (and a recent shout out from Beyoncé), Mikey was able to sit down with Thrillist to share his list of best ice cream spots in NYC and what he finds special about each place. So with 2020 feeling like a triple-scoop-with-extra-toppings kind of summer, learn more about where to order your next cup or cone -- because if Mikey likes it, you will too.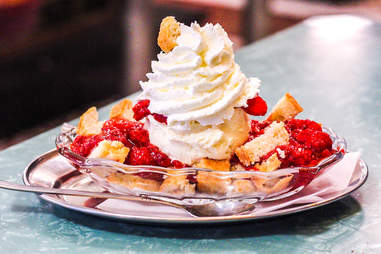 Brooklyn Farmacy & Soda Fountain / Michal H. Turkell
Carroll Gardens
When Brooklyn Farmacy first opened its doors in 2010, one of its many goals was to offer Brooklyn's best egg cream. Not only is egg cream available in both chocolate or vanilla, but the self-proclaimed soda "jerks" behind the counter will also serve you other delights like floats, milkshakes, and speciality sundaes with potato chips or chunks of buttermilk biscuits. Add on free rainbow sprinkles to your order for a special promotion in celebration of the shop's 10th anniversary this year.
How to order
: In-store
What the expert says:
"You have to pay homage to the originators, and this is a classic place and a great reference to get knowledge on the ice cream world. It's nice to see they keep traditions alive, and it's the reason why I wear whites. This place is a throwback and somewhere my grandma would like."
Chinatown, Flushing, Lower East Side
This iconic, family-owned shop has been scooping up homemade ice cream in Chinatown since 1978. With locations now in the Lower East Side and Flushing, the second generation purveyors of Chinatown Ice Cream Factory have made it easier to enjoy its regular
flavors
like ginger, lychee, pandan, and more, in addition to a rotation of special appearances like cherry pistachio, jelly doughnut, and banana fudge.
How to order
: In-store
What the expert says:
"An OG to the game. They figured out they can make flavors for their community. I first started making ice cream through the help of their owner, Christina, and have so much respect for her because she helped me grow. I like going to eat on Bayard Street and then going a few doors down to enjoy some Chinatown Ice Cream Factory."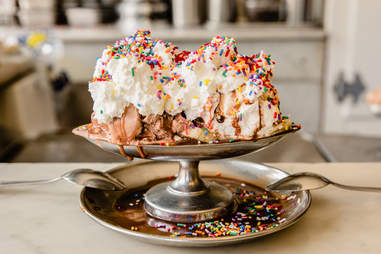 Eddie's Sweet Shop

| Cole Saladino/Thrillist
Forest Hills
The corner location of Eddie's Sweet Shop has been a Queens staple serving up sweet treats in Forest Hills since 1925. Made with homemade ice cream and
overflowing
with toppings and syrups, enjoy classics like sundaes, banana splits, and
more
from a quintessential New York ice cream parlor where respect for old-school traditions is the cherry on top of every sweet treat.
How to order
: In-store
What the expert says:
"They make whipped cream by hand, and now when I make whipped cream, I make it by hand, too. Eddie's let me see the tradition of honoring the craft. Before moving forward and thinking of new school people, you gotta pay homage to the OGs. That's what makes me go so hard -- it's like cooking in the kitchen with your parents and grandparents. That leadership helps keep me going."
Bed Stuy
Made on premise in small batches and with limited quantity, Lady Moo Moo in Bed Stuy is currently offering its gourmet ice cream on what the shop has dubbed "
Sunday Tubday
." This favorite new part of the weekend includes ordering rotating flavors like vanilla caramel pretzel, red bean, and banana pudding in 2.5-quart tubs to help get through the upcoming work week. Their walk-up window with full menu options of scoops, sandwiches, and floats will reopen for the season on July 19, aka National Ice Cream Day.
How to order
: Send a
DM on IG
to order 2.5 quarts, and order at walk-up window on weekends starting July 19
What the expert says:
"Small, African American-owned company in Brooklyn. The owner is doing small batches, which speaks to the same thing I'm doing. Small batch ice cream is produced differently than mass produced ice cream. Someone might come in for a specific flavor and be told that it's run out for the day, but then they can get it the next day when more is made. These are the things we have to understand and support when you can."
Flushing
After discovering their grandfather's ice cream recipe book, two brothers opened Max and Mina's in 1997. Since then, the Queens spot has been serving inventive ice cream flavors that include everything from pickles to blueberry pancakes. The duo is also known to draw inspiration from different types of cereal -- for both the aesthetic of their shop and the flavors of their ice cream -- with some of their newest menu offerings being Cocoa Puffs Brownie Crunch and Pineapple Fruit Loops.
How to order
: In-store
What the expert says:
"The OG of wild flavors. They're like the Doc Browns of ice cream, they took it to that level. It's cool. You walk in there and there's like 50 something flavors."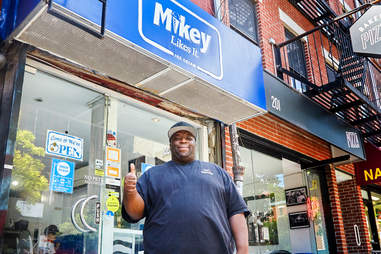 Mikey Likes It

| Matthew Kelly / Thrillist
East Village, Harlem
Mikey still lives two blocks away from the East Village ice cream shop he first opened in 2013. While his second store in Harlem is being used as a laboratory and currently remains closed to customers during COVID-19, devout fans can still head to Avenue A for favorites like the Ice Ice Mikey, a blend of triple vanilla, or the Foxy Brown, mocha with chocolate wafer cookies and a sea salt caramel.
How to order
: In-store or via
website
for pick-up/local delivery of pints only
What the expert says:
"I try to use my products to create relationships and help people smile -- my voice is through ice cream. Right now I'm redesigning the interior of my shop with new screens for displays and custom plastic fixtures that will help keep customers safe when ordering. Expect nationwide shipping for my ice cream in the near future, and a special flavor inspired by Beyoncé called Black Parade, which will be a remix of Truffle Shuffle."
East Village
The phrase "East Village institution" is often associated with Ray's Candy Store, a 24-hour spot where beloved owner and local legend,
Ray Alvarez
, can most likely be found working the night shift. Since 1974, this adult version of a candy store has been a favorite stop for barhoppers looking to scarf down on both savory and sweet treats alike. For your ice cream fix, go for a sundae or some soft serve and add on an order of the popular beignets or deep-fried Twinkies and Oreos.
How to order
: In-store or via
Grubhub
,
DoorDash
,
Seamless
,
Uber Eats
What the expert says:
"This place is dear to me. I remember when growing up in the area, I'd play basketball and then go to Ray's for ice cream afterwards. They got the old school, soft serve swirl from when we were kids. I love that they do fried Oreos and Snickers bars -- it's like a carnival treat from my childhood."
Lower East Side
At Sam's Fried Ice Cream, toppings aren't the only element that enhance the ice cream experience. Here you choose from four different crusts -- bread crumbs, Frosted Flakes, Oreos, or Cocoa Pebbles -- for your ice cream to be breaded and deep fried in, adding a crunchy and oh-so-good layer that can then be drizzled with caramel, condensed milk, Nutella, and more.
How to order
: In-store
What the expert says:
"They're a small shop on Orchard Street. I was leaving Scarr's Pizza one day and discovered Sam's place. They're doing something different and that's what ice cream is about. They own it and stick to it."
East Village, Bay Ridge
Snowdays specializes in shaved cream, a blend of ice cream and shaved ice that results in a fluffy dessert available in flavors like green tea matcha and sweet milk. But for any staunch ice cream devotees, fret not because ice cream sandwiches bookended between Fruity Pebbles, Oreos, and Nutter Butters are also on the menu.
How to order
:
East Village: In-store or delivery via
Caviar
,
DoorDash
Bay Ridge: In-story or delivery via
Caviar
What the expert says:
"They're not just ice cream, they have a different twist with a combination of shaved ice and ice cream. What they're doing is bringing a new thing to the ice cream world."
Courtesy of Sugar Hill Creamery
Harlem
As longtime Harlem residents, the husband-and-wife team behind Sugar Hill Creamery opened their popular shop in 2017 to be a place for the neighborhood to grab a seat and enjoy artisanal ice cream made from scratch. In addition to offering an array of flavors like Melba's Peach Cobbler (peach with cobbler crumbler) and First Day Out (corn jalapeño with hibiscus blackberry), they also regularly host community based programs throughout the year meant to empower the Black experience while facilitating connection and storytelling.
How to order
: Walk-up window or delivery via
DoorDash
,
Grubhub
,
Postmates
,
Uber Eats
What the expert says:
"It's cool to see a wife and husband teaming together for their ice cream venture. The fact that they're doing their best to bring smiles to the community, you have to show the owners respect and love, too."
Sign up here for our daily NYC email and be the first to get all the food/drink/fun New York has to offer.