Ice cream is meant to be eaten with your hands. Cones may be the popular frozen dessert vehicle of choice, but smashing a scoop between two cookies is the superior move. In fact, ice cream sandwiches are an inherently New York dessert, invented by a pushcart vendor on the Bowery back in 1899. Priced at two to three cents each, the ice cream sandwich's popularity with young kids with minimal pocket change pushed the dessert's cost down to a penny (pressure works!). Now, that $7 Coolhaus ice cream cookie sandwich stacked in your local bodega's freezer case is totally worth the splurge, but if you're willing to venture out in the heat, bite into one of these top ice cream sandwiches.
Greenpoint
A pastry with a hole in the middle might not be the obvious choice for a meltable sandwich base, but just think of it as a sweet, fried, glazed bagel and it works (if you eat quickly). Pick your donut (chocolate cake or red velvet are pro picks), watch it get sliced on the bagel guillotine, and dressed with a scoop of vanilla ice cream.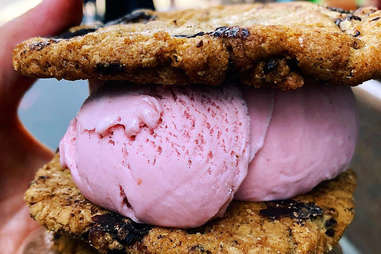 Dumbo & Grand Central
Leave it to Mr. Chocolate to ace his rendition of the classic chipwich. Pastry Chef and chocolate expert Jacques Torres and his team dole out the best version in town built on homemade chocolate chunk cookies, soft and gooey in all the right spots, with a scoop of rich homemade ice cream (your choice of flavor, but chocolate is never a mistake). The flat, palm sized cookies, just crisp enough on the edges, offer the ideal surface for a proper ice cream to double cookie ratio.
Lower East Side
This annual summer special is comprised of two circular chocolate babka wedges, hugging a generous scoop of homemade babka infused ice cream. Wrapped in the centenarian appetizing shop's signature wax paper, this portable dessert softens quickly, a plus for the ice-cream soaked babka, but grab a few extra napkins.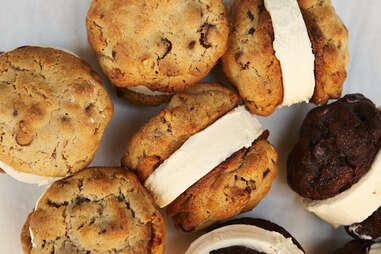 Upper East Side
This summer's new secret menu item that everybody knows about (yay Instagram!) is Levain's over-the-top but totally perfect massive cookie sandwich. Before you get too excited about shoving a pound of cookie in your mouth, know that the standard six-ounce chocolate chip or dark chocolate cookie is split in half, and a scoop of Ample Hills vanilla ice cream is pressed in between.
East Village & Williamsburg
The best part of this quirky, small batch ice cream shop is that the flavors rotate daily, so one day's beloved Thai iced tea may quickly be replaced by miso cherry or olive oil and strawberry jam. Whatever concoction suits your fancy can be sandwiched between two daily cookies (think salted chocolate chip or ginger molasses) from Ovenly.
Sign up here for our daily NYC email and be the first to get all the food/drink/fun New York has to offer.