Ahhh, the Italian sub -- a little bit of Italian ham here, a little bit of Genoa salami there, a little bit of mortadella, like, way over there, a little bit of an entire mozzarella slice next to all that stuff, a little bit of lettuce somewhere underneath one of those, a little bit of tomato on top of that, definitely a little bit (a lot?) of oil and vinegar, and maybe a little bit of onion (if there's room?).
Although they're more of an endangered species nowadays, there are still some amazing subs to be found in the city. Here are NYC's seven amazing-est:
 
Belmont
What you're getting: Big Mike's Combo
You don't get more old-school Italian than the Arthur Ave Market Place in the Bronx and the Big Mike's Combo Italian sub at Mike's Deli (a stand in the back of the marketplace). Oh, and Big Mike's Combo lives up to its name, stuffed with enough mortadella, ham, and salami to be considered both big, and, well, a combo.
Williamsburg
What you're getting: The Godfather Sub
Just three stops into Brooklyn on the L train lies this perfect throwback Italian deli. You'll wait in line; you'll tell the guy behind the counter you want The Godfather (spicy, mild, or sweet) with homemade roasted peppers, fresh basil, and piled up meats including capicola, sopresatta, and mortadella on semolina; you'll eat it; and then you'll get right back in line and start the whole process over again.
West Village
What you're getting: Italian Sub
The Original Sandwich Shoppe's version is a standout among the surprising amount of good subs in the West Village. It doesn't stray too far from what you're expecting -- prosciutto, Genoa salami, and provolone topped with red pepper sauce on a toasted semolina baguette -- and it's just really well executed.
West Village
What you're getting: The Super Mario Sub
The Super Mario Sub at La Panineria is definitely the most expensive, most Nintendo-y option here, but the mozzarella and tomatoes are as fresh as they get, and it's got hitting-the-shortcut-jump-perfectly-on-Rainbow Road-caliber prosciutto.
West Village
What you're getting: The Italian Special
This place looks like a deli from a movie that's set in a New York deli (note to self: work on screenplay). It's been in this location since the early 1940s. This sub, too, looks exactly like a sub is supposed to look, filled with the perfect amount of ham, salami, and provolone. It's the quintessential Italian sub. Pro tip: eat half and save half for later, it actually tastes better as the oil and vinegar seep perfectly into the bread.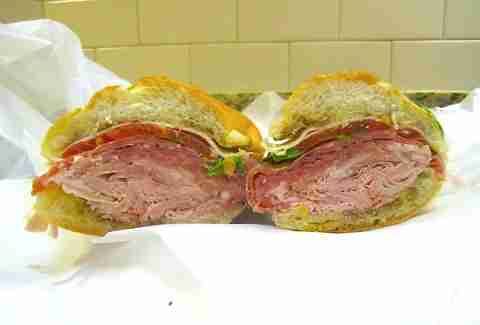 Upper East Side & Greenwich Village
What you're getting: Italian Combo
You can get a hefty Agata & Valentina Italian Combo sub at the original location in the Upper East Side or in the new location on University Pl, although Freddie from the Village location boasts about their presentation being the best. It's honestly a coin toss -- they both deliver the cured meat and balsamic-dressed goods.
Multiple locations
What you're getting: Italian Combo
This Italian Combo is a staple of sub connoisseurs in Brooklyn and the Court Street Grocers sandwich shop inside the fancy new Gotham West Market is worth the walk to 11th Ave. It has everything you expect in a great Italian sub (i.e. the bread is deliciously crispy), it's just not as stuffed as some of the others. Side note: if you're not a fan of olives, you'll want to punt on their hoagie spread.
Sign up here for our daily NYC email and be the first to get all the food/drink/fun New York has to offer.
Jeff Finkle is a freelance writer who once boasted about mastering "Hot Cross Buns" on the snare drum in the 5th grade. Follow him on Twitter and read his mostly fictional tales on his blog.