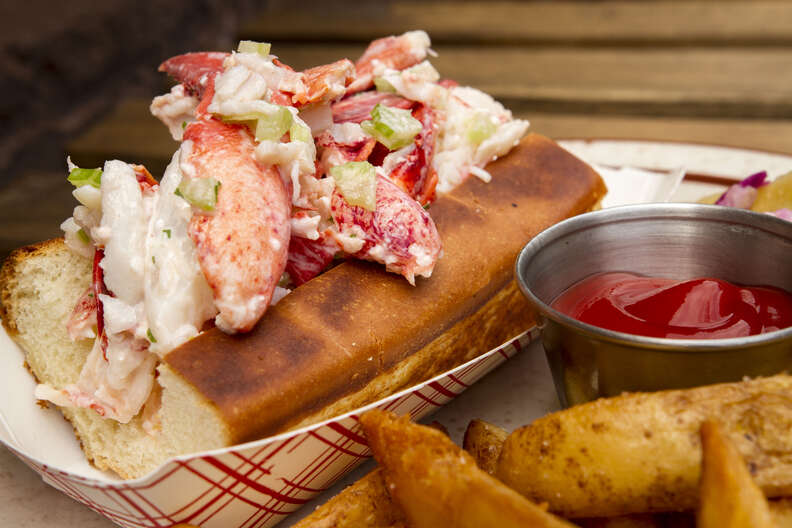 Nothing says summer in NYC like a lobster roll, and after months of eating mostly out of our own fridge, it feels like we've earned it (price tag and all). For an excellent lobster roll, the lobster must be substantial, the mayo (or even better, butter!) should be subtle, and the bun needs to be hefty enough to serve as a proper shellfish vehicle without competing against its raison d'être. And most importantly, according to Steve Kingston, owner of The Clam Shack in Kennebunkport, Maine, fresh lobster meat is vital.
Churning out up to 1,200 pounds of lobster daily, which is 400-500 sandwiches, Kingston knows a few things about what makes a great lobster roll. "It's a really, really simple sandwich but we have to focus on using the very best quality ingredients, and that starts with picking your own lobster meat to keep it as fresh as possible," Kingston says. Lobsters take on the taste of the water that they're in, the ocean essentially marinating the meat, meaning that the less time a lobster spends away from its natural habitat before hitting your plate, the tastier it will be.
Now close your eyes, pretend you're in Maine, and enjoy some of the city's best lobster rolls with your mask on and while safely social distancing.
Greenpoint
This sustainable seafood market, oyster bar, and restaurant in Greenpoint is a go-to for top-notch lobster in Brooklyn. The lobster roll here (plated with pickles, fries and a citrusy slaw) is generous enough to share, but you won't want to, with succulent hand-picked chunks of lobster meat, diced celery for crunch, and a light dressing of mayo, lemon and tarragon for some zing, all tucked into a split brioche bun.
How to order: Order from walk-up window on Nassau Ave., or via Postmates
Red Hook
For the mayo-phobic, Red Hook Lobster Pound's Connecticut-style lobster roll is the way to go. Served warm, claw and knuckle meat is poached in butter and lemon and served on a roll garnished with paprika and scallions, offering all the indulgence of a lobster dinner, without any of the tricky de-shelling work. Other unconventional renditions include a Tuscan-style lobster roll with meat tossed in a basil vinaigrette, and a crisp fried lobster roll, garnished with a generous squirt of kewpie mayo.
How to order: Reserve outdoor seating via Resy, or via Caviar
Crown Heights
Mash-up pastries had their moment, but it's time for New York to obsess about another obvious combo that melds two excellent dishes into one: The Clobster Roll. Half lobster meat, half crab, this hot sandwich marries the richness, sweetness, and saltiness of both meats with a generous dose of melted garlic butter and a cozy home in a potato bun.
How to order: Outdoor seating available or via DoorDash, Grubhub, Uber Eats, Seamless
Bushwick, Williamsburg
This Bushwick favorite recently expanded to the Williamsburg waterfront, where the same sustainable seafood menu is served in a socially distant manner. You won't want to distance yourself from this generously packed lobster roll, however, topped with hot drawn butter and a healthy dose of Old Bay, all stuffed into a split bun and served with a side salad, for health.
How to order: Outdoor seating available or via Caviar, DoorDash, website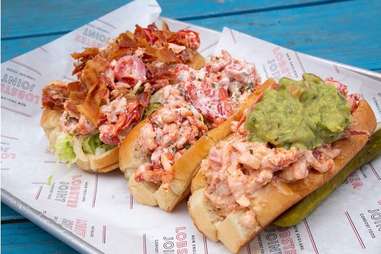 Greenpoint, Williamsburg
Serving "New England Comfort Food," The Lobster Joint offers five varieties of lobster rolls: The classic New England roll with fresh herb mayo, the Connecticut served warm with butter, the Club Roll with avocado and bacon, the B.L.T., and the Mexican roll with pico de gallo and guacamole. And for any low-carb diners, swap out the bun for bibb lettuce.
How to order: Visit walk-in window, sidewalk seating available or via Caviar
Pier 6, Brooklyn Bridge Park
Dining and drinking on the parked historic boat that serves as Pilot's seasonal home may be as close to you get to yachting this summer, and that's totally okay. The lobster roll is top notch, with succulent Maine lobster pieces coated in an herb, fennel, lemon, and dulse (a type of seaweed) emulsion all lined with thinly-sliced pickled cucumbers to keep the toasted bun crisp.
How to order: Make reservations online, or via website
Pier 25, Hudson River Park
This nautical oyster bar atop a historic schooner serves the same lobster rolls as its younger sibling restaurant, Pilot (mentioned above).
How to order: Reservations online, or via website
West Village
The humble lobster roll goes upscale at this romantic restaurant, where it's served as a fried clam and lobster slider. Deep-fried clam strips add a nice crunch on top of a generous scoop of lobster salad, sandwiched between two griddled brioche buns. Add a side of seafood chowder.
How to order: Call 212-242-7420 to reserve outdoor seating, or via website
Multiple locations
Serving exclusively Maine lobsters, Luke's whips up a refined version of the beachside meal, lightly dressing hunks of meat in slightly seasoned mayo and piling the bright red claws into a soft hot dog bun. Upgrade to a jumbo size.
How to order: Walk in to order at the counter, or via Grubhub, Postmates, Uber Eats
West Village
A New England seafood shack meets West Village prestige at Mary's, which serves an old school mayo-soaked lobster roll. Lobster chunks are tucked in a fluffy hot roll with a smattering of chives and fresh lemon to spritz on top. A side of slaw, salad or shoestring fries is included with the $34 entree.
How to order: Outdoor seating available or via website
Sign up here for our daily NYC email and be the first to get all the food/drink/fun New York has to offer.