Khe-Yo

| Michael Condran
Khe-Yo

| Michael Condran
Still making your way through that 15 pounds of dried beans in your cabinet? If you're running out of ways to spice up cannellinis for the 38th lunch in a row, it might be time to order in. While the Zoom calls, Slack messages, and group chats pour in, let us help you find an hour in your workday to eat something totally delicious.
Many of New York City's restaurants are still open for takeout and delivery, and ordering lunch can help keep their doors open through these difficult times. If you're in Tribeca, order in a make-your-own taco bar, a box of homemade Ring Dings, or a Laotian market bowl -- we've rounded up our favorite working from home lunch spots that you can order from the comfort of your couch.
Call 212-920-6270, order via website or Grubhub, Seamless
Offering Mexican food through inventive small plates, Añejo's lunch specials let you choose from tortas, tacos, salads, and quesadillas, and they all come with chips, salsa, and rice and beans for a satisfying lunch. Most importantly, you can add a margarita to your order for an, um, balanced meal. Pair a goat cheese mushroom quesadilla with a smoky mezcal margarita or a cauliflower taco covered in pineapple-arbol glaze with a jalapeno marg and you'll be feeling amazing by your 2pm meeting.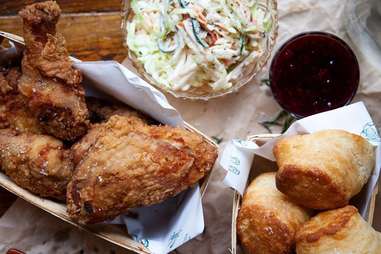 Call 212-219-0666 or via Grubhub
Bubby's has been cooking up their pies and classic American comfort food in Tribeca since 1990. Since pancakes are a 24-hour a day food, go for their flight of three that includes blueberry, Nutella with seasonal jam and whipped cream, and caramelized banana with toasted walnuts. Or their fried chicken picnic package also makes for a nice lunch to enjoy throughout the workweek with eight pieces of chicken, mashed potatoes, coleslaw, four buttermilk biscuits with Vermont Creamery butter and homemade jam, and four slices of pie.
Order via Caviar, Doordash, Grubhub, Postmates, Seamless
When all that dried pasta in your pantry starts to bum you out, it's time to order in a feast from this Shanghai-style spot. Go for one of their daily lunch specials of chicken with chive flower or fried rice with Chinese sausage, or you can have dim sum in your living room and score heaps of crispy lotus root, radish and ham puffs, and pork dumplings swimming in spicy chili oil. Indulge in a little of this, a little of that, and make your weekday lunch an occasion.
Order via website, or Grubhub, Uber Eats
This music venue/urban winery/restaurant will bring their festivities to your work desk with their takeout and delivery service. Short rib tacos with jicama slaw and a cheeseburger with cheddar and caramelized shallot aioli are just a few of the menu selections to help you jam out at home. While you're at it, you might as well re-up your liquor supplies. They're delivering growlers of wine and pitchers of cocktails so you can make your lunch as liquid as you'd like.
Order via website
While we're not hopping on a plane across the world anytime, Estancia's Italian and Spanish (by way of Argentina) menu gives you the chance to do some globetrotting. Order a choripan -- an Argentinian open-faced chorizo sandwich -- or an Italian bistecca sando with strip steak and mozzarella on a toasted baguette. Add a Buenos Aires cocktail (that's vodka with a Malbec float) to toast to your latest trip from your kitchen to your living room.
Call 917-261-4795 or order via Grubhub, Seamless
Greca's Greek menu features the classics -- chicken souvlaki, tart avgolemono soup, and mousaka -- along with unexpected choices like keto-friendly spanakopita and huevos con feta. While you're ordering lunch, check another chore off your list and order some pantry staples. They're delivering lentils, jams, coffee grounds, olive oil, fresh fruits and veggies, and (the most important pantry staple of all) whole bottles of liquor.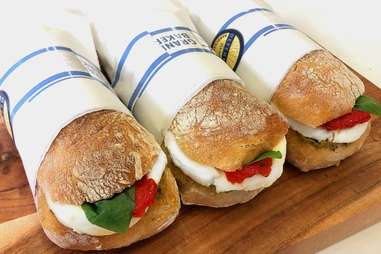 Call 212-334-9435, order via website or Grubhub, Postmates, Uber Eats
Looking for lunch for under $9? Grandaisy Bakery's all about bread, and their sandwiches, paninis, and roman style pizza hit the spot. If you're more into DIY sandwich-making these days, up your game with a loaf of their stirato, Italian baguette, or rustic pugliese instead. While your grocery store might be out of flour and yeast, Grandaisy's still churning out fresh-baked slices and sweets. Go ahead and pretend you made the loaf yourself on Instagram -- your secret's safe with us.
Call 212-587-1089, order via website or Caviar
As one of the first restaurants in New York dedicated to Laotian cuisine, Khe-Yo's menu offers a taste of Laos with the sophistication you've come to expect in Tribeca. For their lunchtime market bowls, choose a base -- sticky or jasmine rice, noodles, or greens -- and top it with charred ginger prawns, crispy pork belly, king salmon, chicken, or skirt steak. If you'd rather have a sandwich, their char sui pork banh mi will put your homemade ham-and-cheese to shame. Add a Beer Lao to your order and toast to not having to cook lunch for yourself.
Order via website
Los Tacos' make-your-own taco bar is the perfect way to say, "Sorry I ate your emergency edible stash" to your roommate. Each person will get four corn or flour tortillas, your choice of fillings (nopal and adobada are all-time faves), onions, cilantro, and lime to top the tacos, plus chips, salsa, and guac to share. Order up lunch for your whole apartment, set the table real nice, and see if your roommate will find it in their heart to forgive you.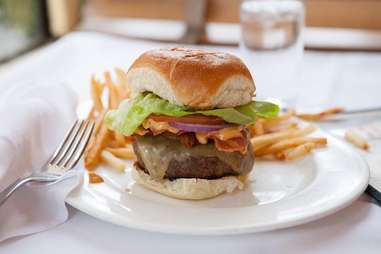 Order via website or via The Odeon app
This iconic New York restaurant that's been the center of downtown cool since the '80s is celebrating their 40th anniversary this year. The Odeon recently reopened for takeout and delivery and the new paired down menu includes some of the restaurant's most popular dishes like the country frisée salad and NY strip steak. And for all orders made through the website or app, they're offering two complimentary cocktails as well.
Call 212-925-2282 or order via Postmates
Sometimes you just need dessert for lunch! When you need a little cheering up while staying in, order some sweets from Ring Ding Bar. Their homemade takes on the '50s desserts include sprinkle-covered funfetti, strawberry shortcake filled with strawberry jam and strawberry cream, and an organic matcha that's bound to rack up likes on the 'gram. There'll be plenty of time to eat your veggies when the city opens up again -- for now, just eat some frosting.
Call 212-775-9000 or order via website or DoorDash, Postmates
The Indian-inspired offerings at Tamarind might not be as beautiful when you plate it yourself at home, but it'll taste just as good. Order an assortment of breads -- minty pudina paratha, naan filled with dried fruit and nuts, and fluffy, deep-fried poori -- to dip into tamarind chicken and tender marinated lamb for a nice lunch. For dessert, there's pistachio kulfi, cardamom creme brulee, or bread pudding with rum-soaked raisins. Is it a little extra for a weekday lunch? Sure -- but you deserve it for getting through another Tuesday.
Call 212-608-5844, order via website, or Caviar, Grubhub, Seamless, Uber Eats
Nothing says "I Love NY" like a bagel from your quintessential local bagel shop. Open since 2006, Zucker's Bagels and Smoked Fish hand-roll and kettle-boil their bagels daily, and offer smoked fish from some of the industry's best like Acme. Zucker's array of cream cheeses include all the staples with additions such as maple raisin walnut, kalamata olive, jalapeño, sun-dried tomato with roasted garlic, and more. Their salads, sandwiches, omelettes, and classic NYC delicatessen items like pastrami and hot corned beef are also a great way to celebrate lunch in the best city of the world.
Sign up here for our daily NYC email and be the first to get all the food/drink/fun New York has to offer.
Rachel Pelz lives and writes in Brooklyn.