Where to Get 8 NYC Mac & Cheeses You Should Be Eating Right Now
The most important dish in the entire eating-your-feelings-and-the-weather category? Yup, mac & cheese. You already know about the all-time, fan-favorite, top mac & cheese places in the city, but there are some absolutely must-eat newcomers -- all opened in the past year. These are those newcomers.
Courtesy of Root & Bone
Alphabet City
Root & Bone is going big on pasta and flavor here, with XL elbow macaroni steeped in a hyper-rich cheese blend -- a combo of both white and yellow cheddar, plus some Parm. It's all topped with crumbled-up, thyme-scented biscuits, generating the perfect blend of down-home and highfalutin-home.
Courtesy of Wilma Jean
Gowanus
This place is not playing. Aside from having some of the best fried chicken of 2014, WJ's got mac & cheese that's a total classic, made with Vermont white cheddar and topped with toasted, buttered panko breadcrumbs -- the perfect combination of ooey-gooey and crispy-crunchy. The dish is a little unusual -- in lieu of béchamel, the folks at Wilma Jean add evaporated milk, giving it less of that casserole feel, and you all kinds of other feels.
 
Chelsea
This brand-new combination restaurant-and-brewery is delivering Greek-style goods to Chelsea, and among them is the bangin' mac & saganaki, which is stuffed with hilopites pasta and cheese, and topped with fried cheese. Man, everything should be topped with fried cheese.
Courtesy of Tuome
East Village
Chef Thomas Chen places "mac & cheese" in quotes on the menu, but not because it's some weird molecular gastronomy experiment that's actually just a wildly disappointing cheese-scented foam. Rather, the flavor profile is just totally unusual: he uses shell pasta, which holds boatloads of the thick béchamel and Gruyere sauce, spices it with a Thai yellow curry, and dots it with blue crab. If you're going to play with a classic, this is the way.
Jess Novak/Thrillist
Bushwick
Pitmaster Tyson Ho? He puts his mac & cheese IN A WAFFLE IRON. End of conversation.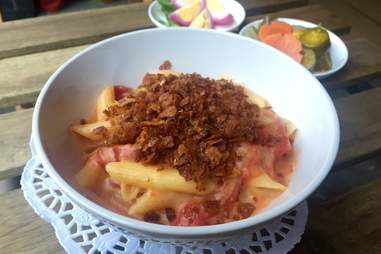 Courtesy of Delaware and Hudson
Williamsburg
Chef Patti Jackson describes her take (a new main course on the lunch menu) as a "fantasy Mom's mac and cheese from my childhood, combining a lot of cheddar, a little cream sauce, and some tomatoes." It's topped off with perfectly crispy, homemade potato chips, because of course it is.
Courtesy of Sekend Sun
Astoria
You're coming here for totally solid cocktails, but if you leave without the mac & cheese, you assed up your trip. It's packed with three cheeses (white cheddar, Parm, Pecorino) and béchamel sauce, broiled, and brought out in a cast iron pan. It's classic, yet layered, and it'll help you drink more drinks.
Courtesy of Four & Twenty Blackbirds
Grand Army Plaza
Yes, you go to Four & Twenty Blackbirds for the insanely amazing pie. But check out the new location inside the Brooklyn Public Library for great -- and thoroughly affordable -- lunch options, including a new mac & cheese. Going the traditional comfort food route, this M&C is ultra cheesy and topped with crunchy breadcrumbs. Pair with one of the green salads, or, you know, more mac & cheese.
Sign up here for our daily NYC email and be the first to get all the food/drink/fun New York has to offer.
Jess Novak is a Thrillist contributor who divides her time equally between drinking Scotch and exploring New York. She'd love nothing more than for you to stalk her on Twitter and Instagram.