While once mostly true, the whole "there's no good Mexican in New York" argument is now totally false. From fine-dining restaurants to back room bodega taquerias, and everything in between, NYC's Mexican food scene is better than it's ever been, with authentic dishes that rival the real thing, alongside inventive new riffs that could only exist in NYC. Here are the 10 spots doing it the best right now.
Recommended Video
Make This Sushi Burrito at Home, Become a Snack Legend
Prospect Heights
El Atoradero evolved out of a Bronx bodega, where proprietress Denisse Lina Chavez would serve her renowned carnitas out of a gargantuan cauldron dragged into the middle of the store. After opining another location next door, rent hikes pushed El Atoradero out of the Bronx, landing it at this much larger Prospect Heights location. Make sure to ask about the daily specials, which are always excellent and in the past have included things like meatballs stuffed with tiny quail eggs, a pork rib stew in salsa verde, or a swarthy mole. And you can still get those carnitas, too -- luscious, fatty chunks of braised pork, piled into tacos, picadas, or sopes.
Chelsea
Los Tacos No. 1 is the Chelsea Market brainchild of three friends from Southern California and Tijuana, Mexico. There's not really anywhere to sit, but that's a good thing in taco circles: as a rule, the less distance the taco has to travel from the grill to your hand, the better. Order at the counter, hand your ticket to one of the cooks, tell them whether you want corn or flour tortillas (you want corn) and watch the assembly. Thirty seconds later the cook hands you a hot, heavy plate. The adobada, pork marinated with chile and vinegar, is especially good. Salsas sit in big molcajetes on the counter; hover near the salsa roja.

Bushwick
The tiny tacos that emerge from this hole-in-the-wall under the JMZ train in Bushwick are order-by-the-dozen-able. There's a whole host of taco fillings, though suadero (braised beef marinated with vinegar, garlic, and oregano) is a local favorite. Tacos come on paper plates, adorned with a pinch of onion and cilantro, a grilled cambray onion, and coins of radish. Squirt on one of the incendiary salsas from the squeeze bottles on the counter.
LES
Danny Bowien may be best known for his creative Chinese-American eats at Mission Chinese, but similar culinary aptitude is found at his Mexican outpost, Mission Cantina. The cooking is playful, clever, and often includes Asian touches. The vegetarian options are as good as the meaty things, like the fried chicken burrito or mole spiced chicken wings, which are served family style, flanked with tortillas. Those tortillas, which he nixtamalizes in-house (the ancient preparation of turning dried corn into corn dough), results in the best in the city: golden, hot, and emitting buttery popcorn aromas.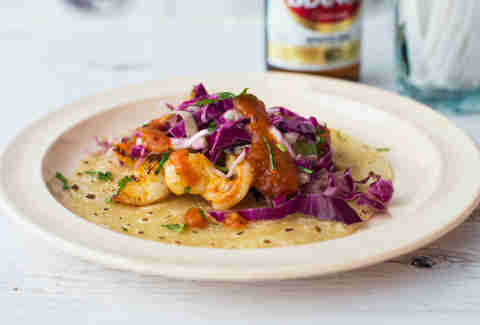 Flatiron
Cafe El Presidente, from the Tacombi group, is an excellent place to stop at any hour of the day: morning for pastries and coffee sourced from Mexico; quesadillas and cold Carta Blancas for lunch; and rounds of tacos and cocktails at night. Chef Jason DeBriere, formerly of Peels, approaches archetypical taco fillings with devotion. Fillings like stewed salt cod with olives, Michoacán-style carnitas, and al pastor with shards of pineapple traverse the various regional cuisines of Mexico.

East Village
Alex Stupak's tortilleria is all the proof you'll need that New York knows its tacos. The eponymous taco is of course the star -- marinated pork that twirls on a vertical rotisserie, splashed with red and green salsa and a sprinkling of cilantro and onion -- but the tripe, beef tongue, and bacon tacos are worth equal praise. Best of all? It's open until 2am on Fridays and Saturdays, so consider your late-night taco cravings fulfilled.
Sunset Park
El Tenampa is a prototypical New York City Mexican grocery-cum-taqueria -- a place to shop for Mexican wares like dried beans and tomatillos; a bodega that stocks toilet paper and piñatas; or a place to sit and eat. The righteous taqueria at the back of the building serves tacos, tortas, soups, heftier platters of chile rellenos and enchiladas, and tamales on the weekend. And just so you can customize your order times infinity, there's a plentiful, free-standing condiment bar stocked with a colorful bricolage of spicy salsas, mild salsas, sliced radish, cucumber, and guacamole.
Gramercy
Cosme was the buzziest opening of winter 2014, when snagging a reservation was harder than figuring out what color this orange is. The hysteria has turned down a notch, though not the electric vibe at celebrity chef Enrique Olvera's first New York City restaurant. Cosme is a bit more approachable (and more expensive) than Olvera's super-cerebral, avant garde cooking at Pujol in Mexico City, but dishes like the lauded duck carnitas and husk meringue are still impressively creative.
East Village
In this dark, clubby restaurant that's just a few steps down from 2nd Ave you can find an excellent bar program based on tequilas and mezcals that utilizes rare Mexican herbs; ingredients like corn juice and agave; and even insects, ground to powders and used as flavoring agents. The kitchen is equally inventive, serving dishes like guacamole with ant salt, zippy ceviches, and goat braised in avocado leaf.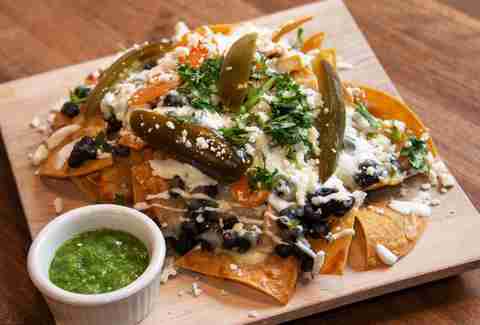 Park Slope (& other locations)
Don't feel like trekking out to Queens to sit at a rickety table in the back of a bodega? Maybe your Mom is in town and wants a margarita? Chef/owner/cookbook author Roberto Santibañez, a Mexico City expat, operates three solid locations of his popular Fonda restaurants that serve classic Mexican cooking. The chairs are comfortable, the lighting is dim, and the tortillas are made from heirloom corn varieties -- all the better for scooping up guacamole.

Sign up here for our daily NYC email and be the first to get all the food/drink/fun New York has to offer.

Scarlett Lindeman covers the city's best taquerias, fondas, and cantinas. She writes the ¡Oye! Comida column for Fork in the Road. Follow her on Twitter, Instagram, and Facebook.