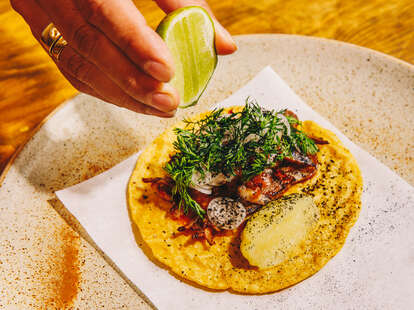 With new regional representation and concepts ranging from fast-casual to fine dining, NYC's Mexican food scene has greatly expanded over the past few years—and few neighborhoods have seen that expansion more than Williamsburg.
Dozens of tried-and-true taquerias have called Brooklyn home for decades and buzzy new Mexican restaurants also draw folks to the borough, but Williamsburg's Mexican food landscape has expanded over the past few years to include some of the city's best hand-pressed masa, Mexico City-inspired mezcal-sipping spots, and taco trucks drawing lines that stretch down the block. So from family-run favorites like De Mole to neighborhood outposts of NYC chainlets like Tacombi, here's our list of all the best places to get Mexican food in Williamsburg.
Since opening its doors over the summer, Aldama has been channeling the late-night bars of Mexico City with ready-to-sip mezcal, bar snacks, and chef and partner Gerardo Alcaraz's take on classic dishes. Along with owner Christopher Reyes (formerly of Cosme), Alcaraz created a menu that hinges on hand-milled masa and regional dishes from Tijuana, Mexico City, and his hometown of León, Guanajuato. Main dishes include roasted chicken with pippian blanco, a vegan mole dish, and pulpo zarandeado, or grilled marinated octopus, serrano ashes aioli, and pickled onion. On the beverage side, the bar stocks agave-focused cocktails including a citrus fizz and a frozen mezcal drink, and also offers a handful of mezcals for sipping straight with a wedge of orange on the side.
Born in Jackson Heights, this wildly popular food truck has a second vehicle posted up on Metropolitan Avenue where lines regularly stretch to dozens of people—and everyone is there to order the same thing. Birria-Landia is known for its Tijuana-style birria de res, a taco that consists of beef marinated and cooked in adobo, served atop tortillas or a pair of quesadillas to create an extra decadent mulitas version, and served with a side of rich consomme broth for dipping. With only four items on the menu—birria de res dressed up as tacos, mulitas, or tostadas, plus the consomme—this cash-only spot has proven to be way more than just a trend.
This restaurant's dedication to regional home cooking has been transporting diners to Mexico City through its menu and art deco-inspired interior design for the past four years. Kick off dinner at Casa Publica with frozen margaritas in flavors like prickly pear, pineapple chipotle, and cucumber jalapeño, in addition to all the usual suspects: chiles toreados, guacamole and chips, and quelites. The small menu is helmed by two larger entrees: enchiladas suizas with potato and spinach, salsa verde, and crema; and pollo en mole casero crusted in nuts and with mole negro. Those dishes can be supplemented with an array of tacos and sides like Mexican rice and beans with queso fresco. Plus, desserts like flan and tres chocolates (a chocolate take on tres leches) round out the menu.
Tucked away on Hope Street in the heart of Williamsburg, this homey spot takes a staple dish and runs with it. At De Mole, guests will find tacos, burritos, and sharable starters, but chef Jose Luis Flores' signature dish is, you guessed it, mole poblano. His version is a three-generation-old recipe that includes 26 spices, all smoked and ground by hand in a process that takes five days to complete. It's served atop a slow-roasted chicken leg with red rice, beans, and corn tortillas or in chicken enchiladas.
With four locations in NYC (including this Williamsburg offshoot), Jajaja is a hip, plant-based powerhouse that offers an animal-free take on Mexican classics. The restaurant's signature earthy, colorful aesthetic matches the menu items, with offerings like jackfruit tamales, Paleo Caveman tacos made with a coconut and arrowroot tortilla, and popular nachos with turmeric queso fundido. An all-day brunch menu is also available with items like kale pancakes, and the restaurant has a curated tequila and mezcal program alongside signature cocktails and Mexican beers on tap.
Felipe Mendez-Candelas opened La Superior in 2008 to fill a gap he saw in the city for authentic taquerias and "legit" Mexican street food. The result is La Superior, a neighborhood fixture that's known as a casual spot for tacos with fillings like carne asada, lengua, and chicken with a 26-ingredient homemade mole. Beyond tacos, the Mexico City native's restaurant also offers street-style quesadillas, torta ahogada (a classic dish from Guadalajara of sourdough bread stuffed with carnitas and beans and topped with extra hot arbol sauce and milk tomato sauce), and street food favorites like gorditas and esquites.
Mexico City native chef Ivan Garcia helms this Graham Avenue spot, where classic dishes reign supreme. Mesa Coyocan's menu features tamales, esquites, and guacamole to start before moving through a slate of tacos on handmade corn tortillas, ceviches, and traditional tortilla soup or a seafood sopa. Main dishes cover a variety of enchiladas, carne asada, mole poblano with chicken, and the spot's signature dish: chiles en nogada which features roasted poblano pepper stuffed with shredded pork, chicken, peaches, pears, apples, and almonds before being covered in a walnut sauce and topped with pomegranate seeds.
Chef Zack Wangeman and his wife, Diana, recently unveiled a new Bushwick restaurant, but Sobre Masa's original location in Williamsburg is still a star. Opened in early 2021, the spot is a casual all-day cafe, restaurant, and bar that's best known for serving hand-pressed masa made with heirloom corn. By day, breakfast tacos are a sure bet and come with toppings like applewood smoked bacon, avocado, and salsa macha or charred poblano, queso fresco, and salsa verde. For dinner, the menu expands to include starters like guacamole and fluke ceviche, plus larger entrees like mole negro, pork albondigas with rice and salsa, and a Oaxacan-style tlayuda for two with a half-pound of steak, refried beans, Oaxaca cheese, tomato, avocado, radish, and salsas.
With two locations in Brooklyn, seven in Manhattan, and one in Long Island City, this Mexican chainlet is everywhere in NYC. Tacombi's al pastor tacos—with thinly sliced Mexico City-style heritage pork dressed with roasted, shaved pineapple—are basically checked off on every visitor's order card. But for more of the shop's regionally inspired tacos, go for the Yucatan-spiked recado rojo (spicy-citrusy achiote sauce) chicken or the beer-battered Baja fish. Margaritas are another favorite (especially because they are available by the glass or by the pitcher), along with micheladas and other Mexican-style cocktails.
This NYC favorite's second location in Williamsburg still serves oversized burritos and sprawling trays of nachos, but does so in a larger space that's more apt for gathering than its East Village sister location. Taqueria Diana's simple menu covers tacos, nachos, fries, quesadillas, and plates where you can choose a protein topping to go along with beans, cheese, salsa, and the works, but the spot's main draw is a Mission-style burrito you can fill with chicken, al pastor, carne asada, or shrimp.