The Best Middle Eastern Restaurants in NYC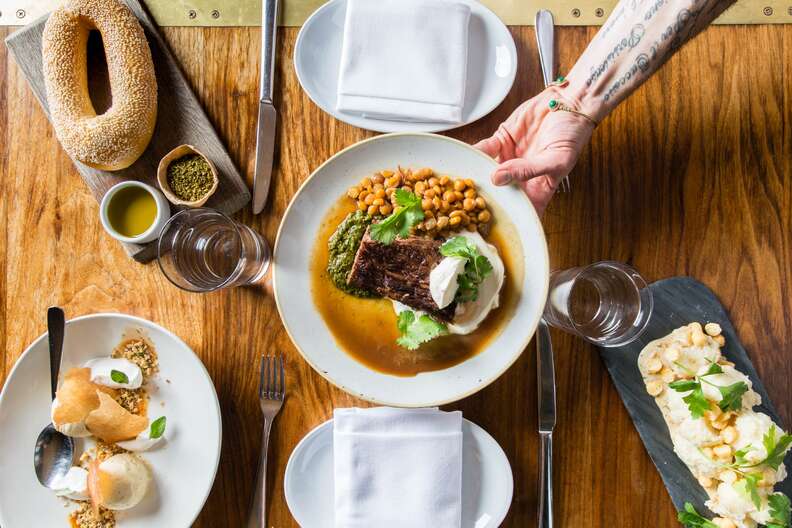 The mysterious way falafel and hummus seem to turn up in everything these days could be the work of a clandestine chickpea lobby... or it could just be that they're really, really tasty. Either way, there's a whole lot more to Middle Eastern cuisine, so please, for pita's sake, branch out. We've rounded up the best NYC restaurants serving dishes from the many countries under the MENA (Middle East and North Africa) umbrella -- from Persian herb stews and Egyptian sausage, to Palestinian baklava and modern Israeli street fare.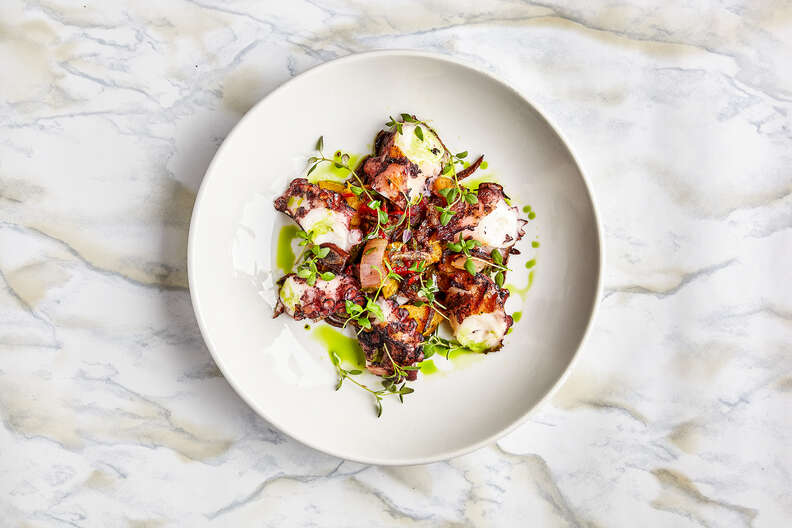 Flatiron
If you're at all familiar with Lebanon, you'll know Beirut for its gloriously over-the-top nightlife and fine dining scene. So it's a bit surprising that New York has only one haute-Lebanese restaurant with that hedonistic ambiance: ilili. Order an entree if you must; even better is a small army of hot and cold meze, including at least one cubed falafel and pomegranate-sprinkled baba ghanouj. Still hungry? Go for the chunky beef shawarma coated in tahini with green lentil croquettes, grilled octopus, and a side of minted labne yogurt.
West Village
Every New Yorker is entitled to an opinion on bagels, except the crazies who get theirs scooped. Even so, Bar Bolonat's oblong Jerusalem bagels, doused in olive oil and za'atar, will win a lot of converts. And if you're a fan of the harissa falafel at Taim or the fried olives at Balaboosta, Bar Bolonat is for you. The owner of all three is Einat Admony, who specializes in modern Israeli cuisine with hints of the Levant and North Africa. In other words, it has a whole lot more than run-of-the-mill pita and hummus. Start with the beets in pistachio yogurt and za'atar pesto, follow that with the brisket and sweet pickled figs for entree, and, if you still have room, finish off with baklava and pistachio ice cream.
Upper East Side
There's nothing quite like Grandma's cooking, but Ravagh's stews come close. Order the ghormeh sabzi, a national dish of Iran, packed with herbs (parsley, scallions, dried leaves of fenugreek) as well as chunks of beef and white rice. For dessert, ask for the saffron-infused ice cream, made with vanilla, pistachio, rosewater, and (duh) saffron.
Cobble Hill
It may not look like much, but this place has been a beloved Cobble Hill fixture since 1986 for good reason -- namely the fluffy house-made flatbread, complimentary salad and soul-warming marag (a flavorful broth of lamb or chicken). But what brings diners here in droves is the traditional haneeth -- supremely tender lamb shank slow-roasted for five hours in an airtight oven, then served with rice and veg, just like at Yemeni weddings. Grab a cup of sweet black tea after your meal: it's home-brewed and might help you digest all that bread you didn't intend to eat but ended up downing anyway.
Sunnyside
El Shater literally translates to "the guy who's good at everything" -- which is what owner and cook Ahmad Osman has been known as for the 20 years he's been running his grocery store/lunch counter. Sunnyside's El Shater imports canned and jarred goods from the Middle East -- pickled baby eggplants, jugs of olive oil and cans of Sprite labeled in Arabic -- but the real draw is the simple homestyle cooking. While you can get street fare like falafel sandwiches or shawarma pitas, go for traditional plates like kibbe (ground beef in a bulgur-wheat shell), spinach pies, or the daily lunch special -- which is usually a hot stew that makes you go "aaah." Work your way up to a regular and Ahmad might slip you a dessert on the house.
East Village
This East Village institution (with a second location in Williamsburg) has been serving Moroccan favorites to an NYU crowd since 1983. Yes, meze is definitely on the menu -- but don't play it safe with hummus or falafel when you can have matbucha: a cold dish of cooked tomatoes, garlic, and bell pepper. For a main, try the hearty tagine, a slow-cooked savory stew named after the earthenware pot in which it's made. The best thing about tagine is that the flavors are customizable. Choose between chicken or lamb and several different types of stew -- such as lemon and olive, saffron and potato, or the spicy green chermoula sauce. For a twist, try the savory-sweet bastilla dish: a phyllo-wrapped herby mince of chicken, eggs, and almonds, topped with powdered sugar and cinnamon.
Astoria
If you're looking to go on a multi-country food tour in one afternoon, head to Astoria's Steinway Street. Since the '70s at least, people from Egypt, Lebanon, Yemen, Syria, and across the Middle East and North Africa have come to Astoria, and that particular stretch of Steinway Street is known today as Little Egypt. Mombar is the standout here, literally, with a facade decked out in eclectic masonry. Owner/chef Mustafa Sayed also happens to be an artist, and he exhibits pieces on the walls, tables, and bathrooms. To eat, start with the braised lamb cheek; tender and tasty in equal measure, it comes with enough pita that you can leave your fork untouched. The restaurant's eponymous dish, mombar, is an old recipe Al Sayed's grandmother would make for him in Alexandria: a stuffed sausage with rice, beef, and lamb. The baba ghanouj has a just-right smokiness and filling if you hog the whole appetizer yourself. Bonus: the rice is served in pyramids (the shapes, not the ancient wonders).
Greenwich Village
This tiny bakery named for a type of Lebanese flatbreads bustles constantly. On weekends, you'll find an after-party crowd looking for something other than a slice; on weekdays, you'll meet Middle Eastern tourists who've heard about Manousheh and are making the pilgrimage. Go for the "cocktail" manousheh, a mix of za'atar and melted akkawi cheese. Ask for slices of cucumber and tomato on the inside to mimic a classic Beiruti breakfast, or add some avocado if you're feeling fancy.
Bay Ridge
Tanoreen has claimed awards like Michelin's Bib Gourmand, but it has got street cred, too; the local Arab community knows it as the place to impress visiting relatives, or to trust with catering a special event. This loyalty is a testament to owner and chef Rawia Bishara and her devotion to dishes other restaurants don't have the time (or skill) to tackle. We're talking the likes of stuffed squash in yogurt and grape leaves patiently stewed in citrusy broth. Save room for dessert, too, because this is the home of Bishara's famous knafeh, a deep-dish delight made with sweet cheeses and phyllo dough, drizzled in rosewater and orange-blossom syrup.
Sign up here for our daily NYC email and be the first to get all the food/drink/fun New York has to offer.
Emma Diab is a lifelong New Yorker who sometimes writes and edits things. She thinks hummus is inferior to baba ghanouj and is contractually obligated to state that her grandma's cooking is better than all of these other places.