Between going to the beach, drinking on every rooftop that's ever existed, and hitting alllllllll the festivals, you kinda didn't have time to keep track of the hottest restaurants and bars opening in NYC last month. Luckily, your Michelbrogelos at Thrillist totally did. Here are the 17 hottest of the hot, from a mezcal speakeasy to a new Asian spot doing the "Korean version of mac 'n' cheese."

Soho
Chances are you aren't a famous movie star, and you can't whisk away to the French Riviera (we've never "whisked" anywhere), but you can still get some French Riviera vibes courtesy of this spot that's been serving the real-life French Riviera for 23 years and is just now landing in Soho with staples like linguine frutti di mare and osso buco.
East Village
Created by two vets of the Seoul restaurant scene, this small spot for Korean shared plates hooks you up with goods like slow-cooked pork belly with kimchi and "the Korean version of mac 'n' cheese" (because of its status as comfort food, not its ingredients), Jang-jo-rim, which is really buttery rice, braised beef shank, pickled daikon, mushrooms, and shishito peppers.

Tribeca
Oh, you want to go to a mezcal speakeasy underneath a Mexican spot opened by a former Top Chef constestant? Well Angelo Sosa's latest is exactly that -- offering eats like gyro tacos and fried guacamole and drinks like barrel-aged mezcal or the S6X Train, a concoction of reposado, bitters, Citron Sauvage, fresh grapefruit, spice, and atomized mezcal.
Bushwick
With hopes to keep things as local as possible, all the pasta at this Brooklyn spot is made using wheat flour from upstate NY, and then weaved into a seasonal American menu that currently includes wood-fired scallops, beef tartare with pickled mustard seed, pork cheek lasagna, and bucatini with chicken confit, alpine cheese, chili, and basil.

Nolita
Located beneath neighborhood staple Jacques on Prince St, this underground cocktail haven is doubling up the awesome with eats from the restaurant above like tart flambé (thin-crust pizza basically) with bacon, Gruyere & onion, truffle fries, and unique libations including the Smoke & Fire (tequila, mezcal, lemon, honey, red chili, and smoked salt) and Spring South Side (gin, St. Germain, cucumber, muddled mint, and yuzu bitters).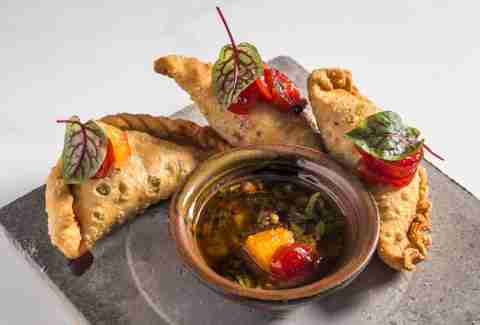 West Village
The group behind Black Ant and Ofrenda just dropped this Mediterranean-leaning Latin spot with dishes like yerba mate-braised short rib empanadas, grilled octopus with romesco, and cocktails like the Le Mexicain with mezcal, peach liquor, lavender bitters, and crystallized lavender sugar.

Boerum Hill
This is one of the buzziest bars openings of the spring. The team includes heavy hitters from Prime Meats, Rucola, Mile End, Alder, plus photographer Daniel Krieger, they've got cocktails like the Arrowhead LTD with mezcal, Campari, Carpano Antica, and IPA, and eats like oysters, pizza (w/ ricotta, tomato jam, and artichokes), and smoked octopus.
Alphabet City
Chefs from heavy hitters Locanda Verde and Per Se have joined forces to create this 38-seat American spot that's busting with great dishes like the stuffed suckling pig with fennel, strawberries, and sherry, the crispy sweetbreads with apricot, pea leaves, and charred lemon, and the duck breast with plum, cilantro, and plum vinaigrette.

Flatiron
This hotel restaurant boasts some serious food-making chops in the form of Michelin-starred chef Jason Atherton and big-deal restaurateur Stephen Starr, who together have put together a gorgeous setting where you'll bang out plates of spiced Colorado lamb, 40-day dry-aged cote de boeuf, and cocktails like the American Serial Killer made with rye, cereal milk (???), bourbon vanilla syrup, and Angostura bitters.
Hell's Kitchen
Tacos, margaritas, rooftop. Not much else you really need to know here.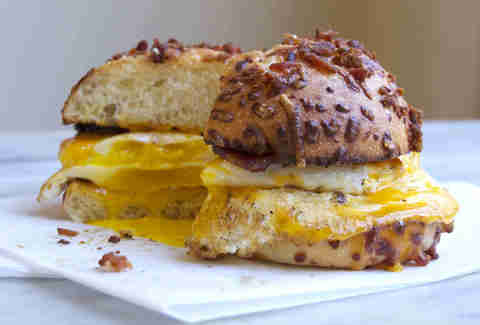 Hell's Kitchen
It stands for bacon, egg, and cheese, and it's all breakfast sandwiches, all the time.

Chelsea
Pigs in a blanket, clams casino, lemon bars, and cocktails will be on hand at this retro piano bar/cocktail lounge.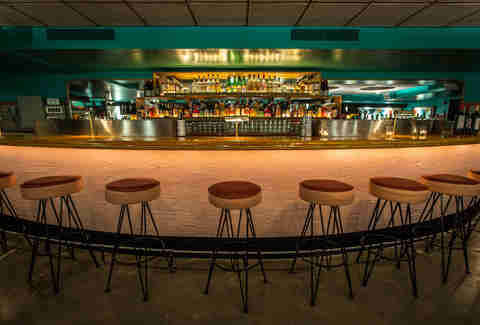 Lower East Side
'Tis the season of underground (or rooftop) tequila; get on board with this one underneath Tijuana Picnic where they're slinging flights of tequila and mezcal, tacos, and cocktails.
Carroll Gardens
From big-deal cocktailers Ivy Mix and Julie Reiner, this Brooklyn "pan-Latin" cocktail spot highlights mezcal (just do it, people), rum, pisco, cachaca, sotol, raicilla, and maybe some other under-the-radar liquors you don't know about yet in all kinds of cocktail deliciousness. Go for the Stir Key (a bunch of different rums, macadamia nut orgeat, and bitters) and the Palo Negro, with reposado tequila, Palo Cortado sherry, black strap rum, Grand Marnier, and demerara syrup.

Upper East Side
Disco fries topped with crispy pork belly, Cincinnati chili, a Vietnamese dip (like a French dip but with bánh mì fixin's and a cup of beef pho on the side), and steamed clams with smoked pig tail and toasted garlic are all on hand at this 2nd Ave winner.
West Village
Below the already-excellent Happiest Hour, this bar within a bar throws it back to the more black-and-white days of Hollywood, with classic cocktails and food from upstairs.

East Village
Taking over the former Odessa space, The Black Rose is aiming to be a rock 'n roll spot for the neighborhood (what neighborhood doesn't need that?), with top-notch drinks from a former Nomad bartender that include the Comfortably Numb (gin, Cointreau, lemon juice, and marmalade) and the Light My Fire with bourbon, apricot preserve, and lemon.
Sign up here for our daily NYC email and be the first to get all the food/drink/fun New York has to offer.
Andrew Zimmer is Thrillist's NYC editor and he wishes more bars with WiFi would open at noon on weekdays. Follow him on Instagram and Twitter.
Other Stuff You'll Like In Openings Cheat Sheet