You did it -- you made it through winter. You can now feel free to leave your apartment for the first time in weeks. You can also feel free to make up for nights lost to freezing rain, snow, and sidewalk slush canals by dining at any/all/definitely-all of these: the 12 best NYC restaurants to open this winter.
Kips Bay
Chef Angelo Romano is cranking out pies for the restaurant and an accompanying to-go window (mmm... to-go pizza...) as well as top-notch modern Italian-American options like a pumpkin-shaped zucca with pork ragu.

Williamsburg
Naturally named after the river where the husband of one of the owners grew up fishing in Ireland (naturally), this wine bar is stocking grape-y alcohol for every taste as well as bites like pretzel nuggets with mustard and beer cheese and house-cured pastrami.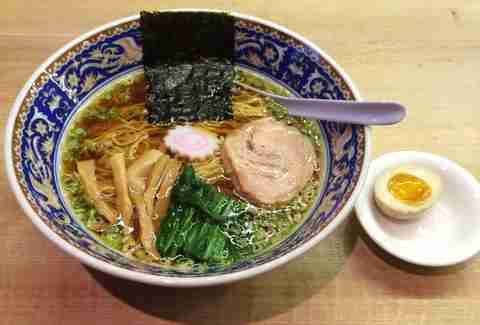 Nolita
Famed noodle maker Sun Noodle finally opened its own shop with just two types of superb ramen (and some gyoza to go along with it). Get there early, or prepare to brave the lines later.

Chelsea
From the guys who do Dirty French, Carbone, and a ton more of the city's buzziest spots, this Italian seaside spot near the Highline is plating you all the seafood and veggies you can handle (and by the looks of you, that's a lot of seafood and veggies!), including spaghetti with blue crab, lobster Catalan, and squash carpaccio.
Downtown Brooklyn
A sequel to nearby Ganso Ramen, this spot from Chef Tadashi Ono and Harris Salat has a broad menu that's inspired by street food in Japan and includes the likes of whole Surume squid, Nagoya-style chicken wings, and the classic okonomiyaki pancake with cabbage and pork belly.

West Village
Stepping up the sports bar game in the West Village, this place has a couple of chefs from Michelin-starred Saul in Brooklyn slinging pub eats like smoked wings with serrano and herbed yogurt, chili cheese fries, and a prime beef burger with "secret sauce." Hey now.
Soho
Have you ever been in Soho and been like: "Hey, I could really go for, like, a crap load of different kinds of burgers created by a Michelin-starred chef and some craft beer." Well, if you have (and you probably have), then you're in luck, because Black Tap is rolling seven burgers deep with creations like the steak au poivre prime steak burger (with blue cheese and green peppercorn sauce), the lamb burger (with Swiss and homemade pickles), and the falafel burger (with tahini, pickled onion, feta, and hummus).

Nolita
From team behind next door Cocoron (aka probably the best soba shop in the city), this curry joint (which says its bowls have all kinds of health benefits) will ladle you either plain or veggie curry with optional (hahahahaha... right) toppings ranging from a poached egg, to Japanese pickles, to deep-fried chicken katsu.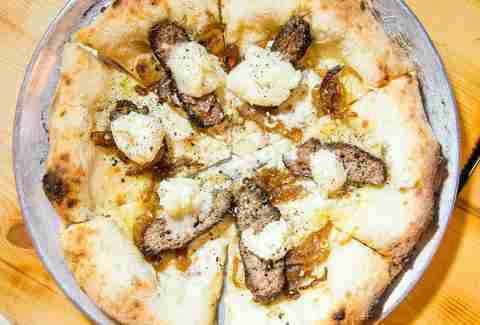 Noho
It's a pizza speakeasy, and it's got a pizza topped with lardo, burrata, truffle, and leeks. We know, you were sold at "pizza speakeasy."
Union Square
Boldy claiming to do the joys of actual Tex-Mex cuisine justice, this cantina -- complete with boar taxidermy! -- is offering tacos with all kinds of fillings (brisket, carnitas, lamb...), skirt steak nachos, the San Antonio puffy taco with marinated pork shoulder, and the "Bob Armstrong," which is either regular or white queso with guac, ground beef, pico de gallo, and sour cream. We fully expect Texans to report back on this place's authenticity.
Upper East Side
Despite the crippling depression we go into every time we realize there is no actual pizza on a beach here, the seaside vibe and delicious pizza (which's rocking fresh-ass ingredients like lamb merguez with shishito peppers and fresh cilantro) are pretty good consolation.
West Village
It's got one of the best new steaks around, and It's optimized for your health (nutritionist on staff bonus, +1), which means you don't have to feel bad while you're prepping to show off all your soon-to-be-sweater-less parts.
Sign up here for our daily NYC email and be the first to get all the food/drink/fun New York has to offer.
Andrew Zimmer is Thrillist's NYC Editor and he's already ripped the sleeves off all his sweaters. Follow him on Twitter and Instagram.