If you've spent far too many hours sitting in front of your A/C, binge-watching Ozark and questioning your moral compass, here are eight excellent reasons to finally leave your apartment: the best new bars and restaurants that opened in NYC this past month -- from bacon omakase to waterfront oysters and beer.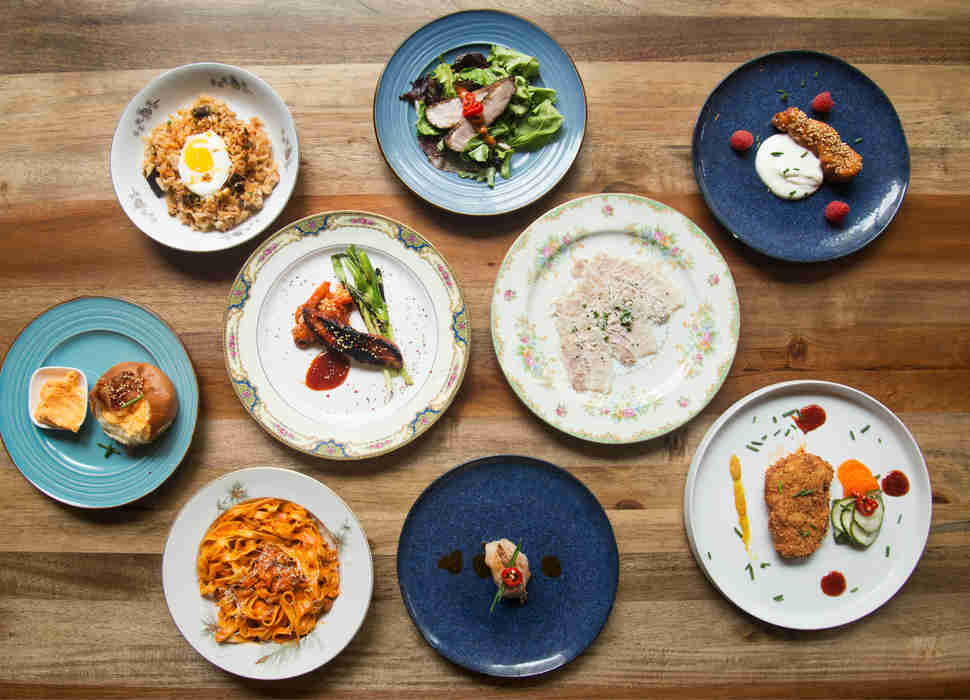 Williamsburg
Home to New York's first "bacon omakase menu," this pork-centric Korean spot offers a nine-course tasting menu, featuring the likes of bacon carpaccio, bacon sushi (sliced pork belly over sushi rice), and fresh pasta with homemade pork sausage. You can also opt for a shorter, five-course menu at lunchtime, or grab one of four à la carte menu items, like the Belly Sandwich with house-made gochujang-glazed pork belly, pickled cucumbers, and Korean coleslaw on Balthazar bread.
Midtown East
Did you just somehow come into a colossal sum of money? First of all, congrats. Second, now is a great time to dine at Major Food Group's latest addition to the former Four Seasons space, which will cost you approximately one extra-fancy Fitbit per person. The Pool maintains the Four Seasons' iconic pool in the center of the room, and offers a lavish seafood-focused menu, featuring things like caviar service, raw bar options, ribbons of foie gras, and lobster Floridian.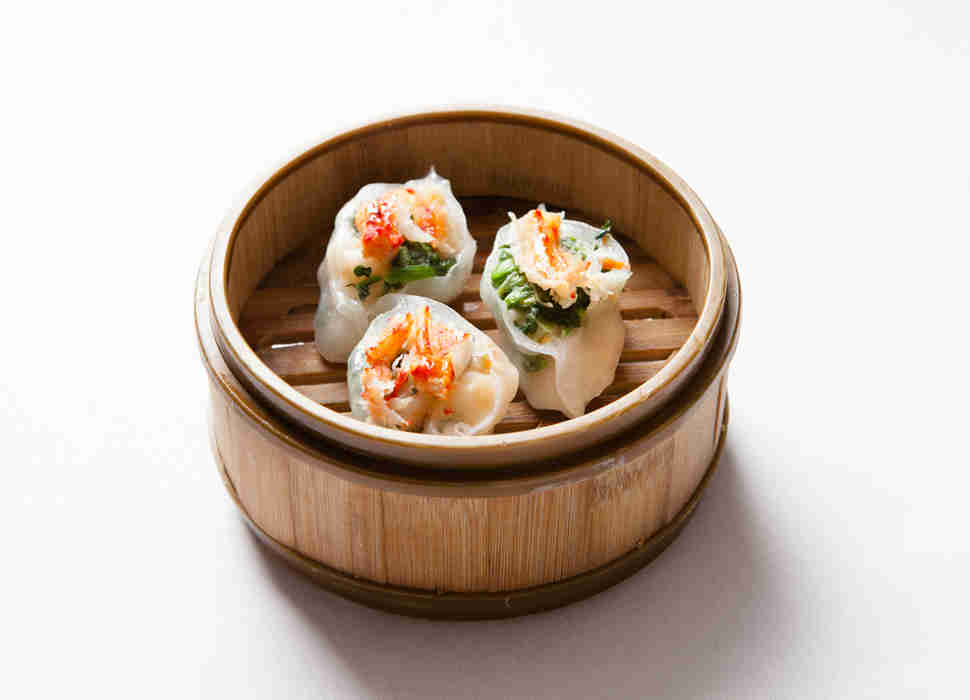 Upper West Side
The Upper West Side isn't exactly a dim sum hotbed, so this smaller offshoot of Chinatown favorite Jing Fong is a welcome addition to the neighborhood. The Cantonese-centric menu features favorites like Peking pork chop, beef chow fun, and "The Usual" (aka chicken and broccoli) but your best bet is to opt for the all-day dim sum offerings, like har gow, siu mai, and pork buns, which you can get at a 10-seat chef's counter -- sadly, there are no carts to chase after here.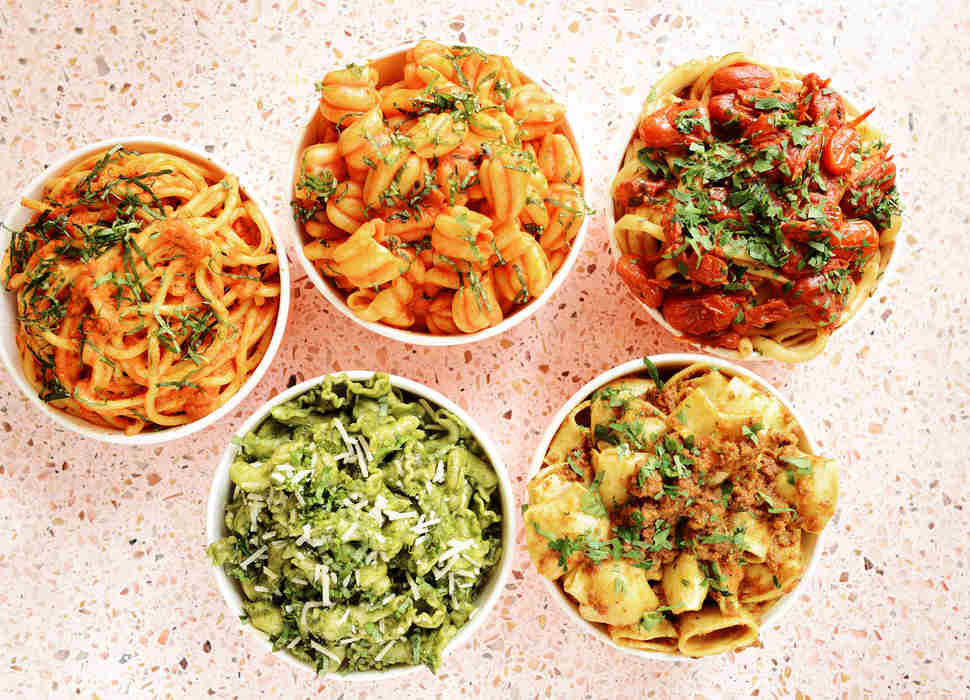 Nolita
By Chloe Creative Director Samantha Wasser's latest project is decidedly non-vegan, but similarly built for Instagram: a fast-casual pasta concept offering $10-$13 pastas like paccheri bolognese and bucatini arrabbiata alongside focaccia sandwiches, antipasto, and salads. Pasta portions run fairly small, so be sure to add on sides like meatballs and roasted cauliflower.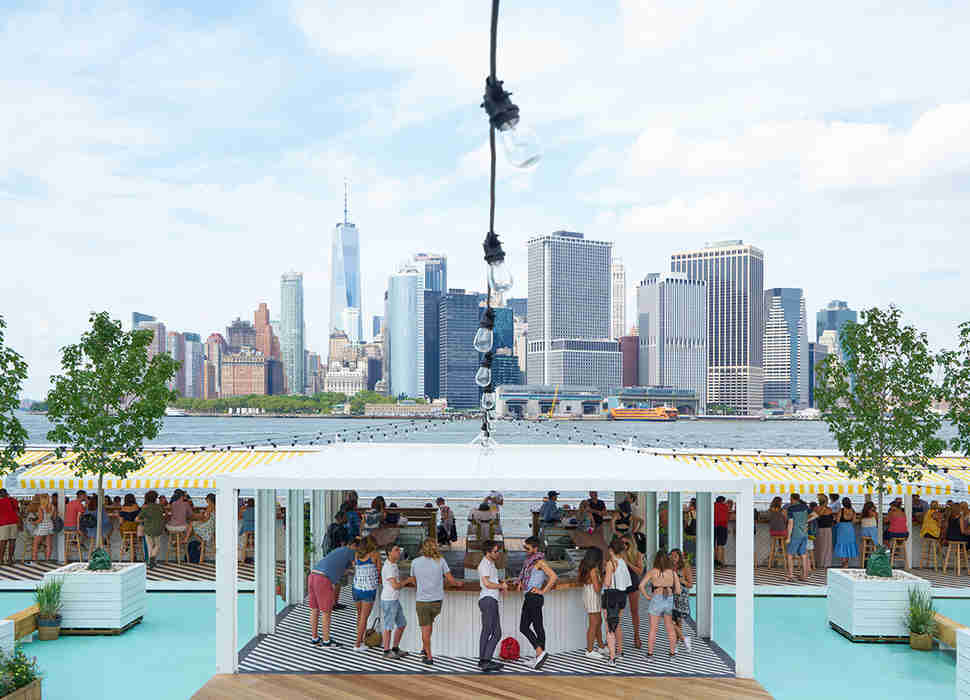 Governors Island
If you've been meaning to go explore Governors Island but keep putting it off, here's your reason to finally get there: Island Oyster, a new waterfront oyster bar from the team behind Grand Banks. The 32,000-square-foot spot (which is currently just open for cocktails, wine, beer, and oysters) will soon launch a full food menu featuring a raw bar, lobster rolls, fish tacos, and other summertime-waterfront-bar-approved foods.
Alphabet City
The team behind Mother's Ruin in SoHo has brought that bar's laid-back vibe to Avenue C, in the form of a neighborhoody cocktail and pizza spot called Loverboy. None of the drinks will cost you more than $12, there will be slushies (MR's signature drink), and the pizza (which has yet to arrive on the menu) will be available by the pie or slice.
East Village
Located next door to Narcissa in the Standard, East Village, narcbar is the perfect place to sit outside and watch people walk down Bowery while you sip a summery cocktail (like the Souvenir with blanco tequila, watermelon, Campari, and lime) and eat fancy bar bites from Narcissa Chef John Fraser -- like steak tartare, crab croquettes, and khachapuri (Georgian flatbread with cheese and a sunny-side-up egg).
Fort Greene
This all-day cafe/take-out spot/wine bar comes from couple Megan Johnson, an industry vet (formerly of Gramercy Tavern and Gottino), and Jen LaPorta, a fashion industry veteran, who wanted to open a restaurant that fostered a sense of community in the neighborhood. The straightforward but comforting menu offers egg sandwiches and coffee in the morning, hefty sandwiches and salads at lunch, and at dinner, a trademarked (literally) Double Brown sandwich -- a riff on the KFC Double Down, with two hash browns standing in for the bread.
Sign up here for our daily NYC email and be the first to get all the food/drink/fun New York has to offer.