Wipe away all your 13 Reasons Why-induced tears because New York is in that sweet spot where the sidewalk is completely monopolized by outdoor seating but we haven't quite reached peak tourist takeover. On top of that, April brought a handful of great new bars and restaurants, including burgers and ice cream served out of an Airstream trailer, traditional Japanese kaiseki, and drinks at a not-for-profit cocktail bar. These are the ones you need to hit.
Recommended Video
These Onion Rings Are Stuffed With Cheeseburgers
Theater District
While an expensive dinner near Times Square may sound about as appealing as eating a piece of dust that just rolled across the G train floor, the owner behind this new underground sushi spot is enough to convince you otherwise. Toshio Suzuki trained Iron Chef Masaharu Morimoto and was also behind the famed Sushi Zen, which closed last year after more than 30 years in NYC. His new spot is broken down into three different sections: a sushi bar called Satsuki, a cocktail bar called Three Pillars, and Suzuki, a traditional kaiseki restaurant that serves seasonal Japanese food in set tasting menus (for April, there was homemade tofu in sesame sauce with paprika jelly; scallops; assorted sashimi; béchamel gratin; and a hot pot.) The kaiseki menus run between $70-$150, but if you're feeling splurgy and want some beautifully plated dishes, it's worth it.
Cooper Square
If each breaking-news alert brings you increased dread, meet the aptly named Coup: a totally not-for-profit bar from cocktail maestro Ravi DeRossi (Death & Co., Amor y Amargo). One-hundred percent of Coup's earnings will go to organizations that support those oppressed by the current administration, beginning with Planned Parenthood and the ACLU. The bar has already lined up an impressive roster of rotating guest bartenders, including Ivy Mix (Leyenda), Jim Meehan (PDT), Damon Boelte (Grand Army), and plenty of Death & Co. alums -- and guests can easily choose what cause they'd like to donate to by dropping a token into a labeled jar.
Williamsburg
Really trying to lean into the warm weather? Good news: Andrew Carmellini's burger and ice cream Airstream trailer has reopened for the season inside the park at Williamsburg's William Vale. In addition to several types of grilled burgers (including one with chilies, Jack cheese, and Sriracha verde), you'll find waffle fries and dairy dips, like the new Berry Gibbs soft serve, dipped in a strawberry shell, served in a crushed Nilla Wafer cone, and topped with a boozy strawberry.
Midtown West
Located inside the old Back Room space at the Park Hyatt, Bevy is doing upscale New American food that's perfect for the next time your parents visit. The menu includes dishes like seared scallops, whole roast chicken, and bone-in bison rib-eye, but the actual draw may be the dessert menu, featuring a personal apple pie with a sugar cookie crust, drizzled with hot caramel at the table.
Times Square
Another reason you'll actually want to dine near the M&M's store this spring? Ortzi, the second NYC restaurant from famed Philly chef Jose Garces, now open inside the Luma Hotel in Times Square. This time the focus is on Basque cuisine, including hearty dishes like rabbit stew and blood sausage alongside lighter tapas a la planxa.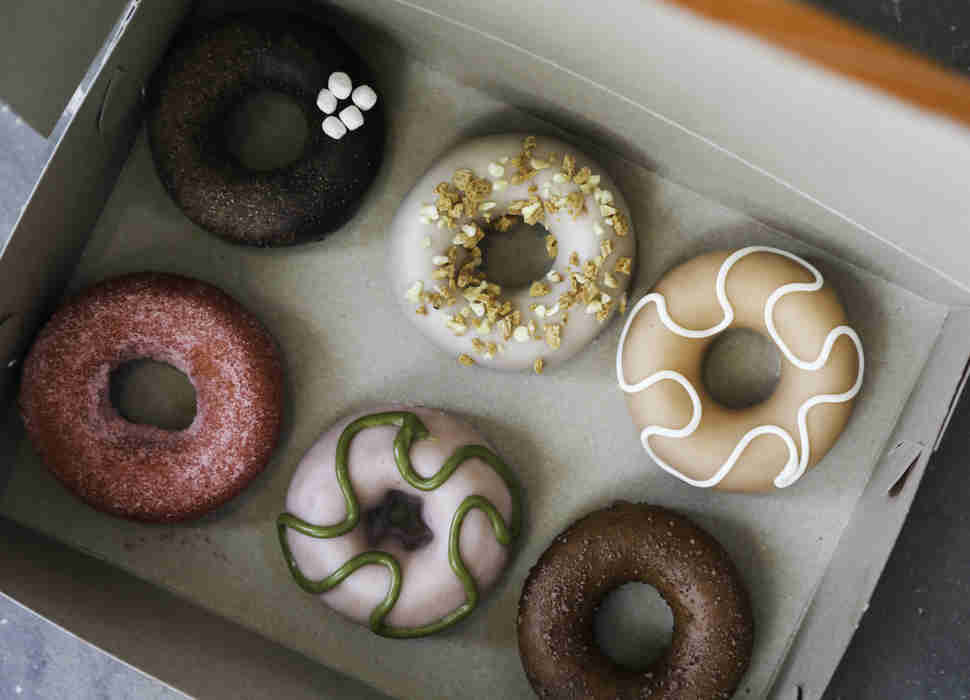 Williamsburg
If you're already at the William Vale for Mister Dips, be sure to make a pitstop for cake donuts at famed wd~50 chef Wylie Dufresne's just-opened Du's Donuts and Coffee, right next to the hotel. Dufresne has always been known for his out-there creations, and while the donuts may seem more tame than "eggs Benedict" made with a fried cube of hollandaise and sous-vide egg yolk, there's still plenty of experimenting happening here, with flavors including Creamsicle, Pistachio Pink Lemonade, and Malted Coffee, to be paired with actual coffee from Brooklyn Roasting Company.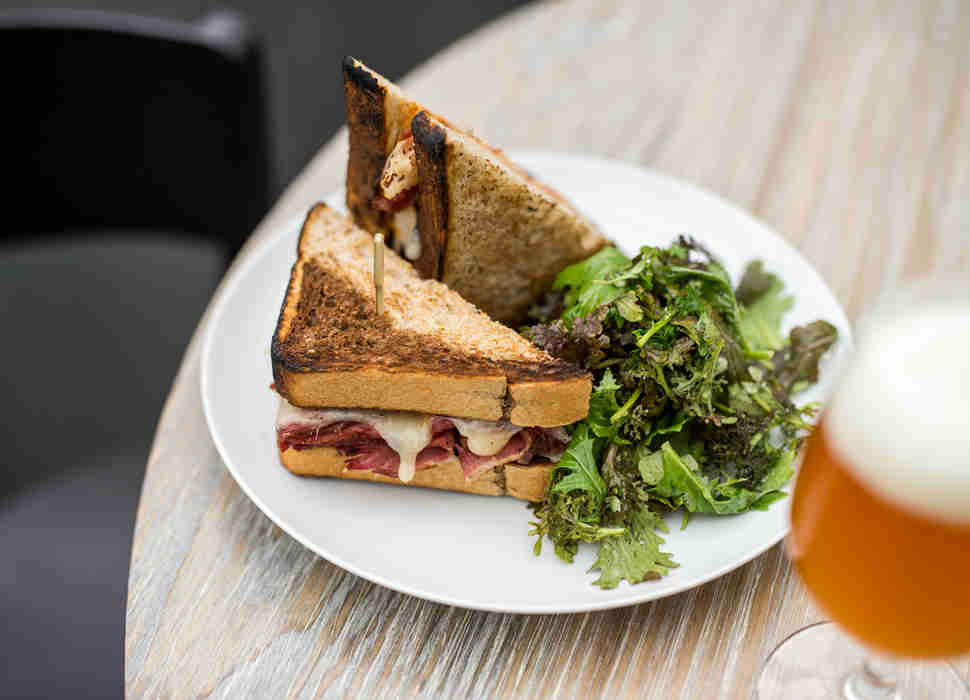 Prospect Heights
If you need further proof that some of New York's best food can be found in museums, meet the Yellow Magnolia Cafe, the restaurant now open at the Brooklyn Botanic Garden (meaning you can get your cherry blossom fix and excellent food all in one shot). The restaurant comes from Wilma Jean chef/owner Rob Newton and features plenty of health-conscious and spring-appropriate dishes, plus modern takes on classic New York foods, like the "Brooklyn-cured" pastrami sandwich and matzo ball soup.
Sign up here for our daily NYC email and be the first to get all the food/drink/fun New York has to offer.