You're definitely waking up before 10am this Sunday. But if, by some totally unlikely chance, you don't do that, do one of these instead: 10 awesome new NYC brunches, ensuring that you're even more paralyzed by choices than you already were. Just pick one and don't look back.
Midtown East
This recently opened modern American eatery is hitting your early-afternoon brunching sweet spot with goods like avocado toast, eggs Benedict, buttermilk fried chicken (which is totally a breakfast/lunch food if you want it to be, shut up), and a 28-day dry-aged beef with raclette, avocado, and egg.
Flatiron
Meatball Benedicts, Hangover Pizzas, and burrata french toasts: all things you can now eat (along with a Margherita pizza-inspired Bloody w/ grappa and San Marzano tomatoes) at this beauty of a trattoria spinoff from Il Mulino proper.
Tribeca
Floyd Cardoz's glamorous new spot is now doing brunch, too, and doing it super well, with options like a Hangtown Fry omelette with bacon, caramelized onions, and crispy oysters; fried chicken wings with maple butter & a fried egg; and a Mangalitsa pork burger on a brioche bun with kimchi slaw and a fried egg.
Murray Hill
Yes, they've got In-N-Out-style burgers for lunch, which is awesome, but their brunch is worthy of a switch-up -- cinnamon monkey rolls, breakfast sausage from The Meat Hook, breakfast risotto with English muffin croutons, a blend-your-own Bellini bar, and a few Bloody options, including the Autumn Smoked Mary topped with Aecht Schlenkerla smoked beer.
West Village
Despite experiencing a few hiccups after opening, this fine farm-to-table dining spot is playing up brunch goodness like short rib hash w/ two sunny-side-up eggs, French toast with vanilla-roasted figs, and a version of the chef's Grandpa's sausage patties.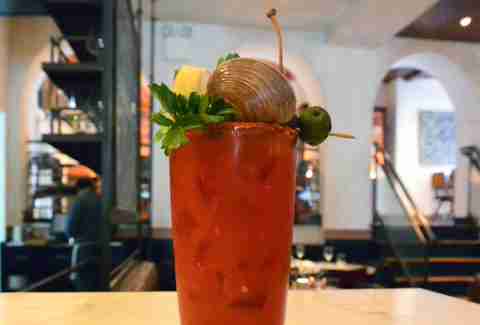 Chelsea
Check this out: the seafood-centric spot from John Meadow and Dave Pasternack is doing clam-topped Bloodys, a burger, a lobster roll, and a baguette pumpkin French toast with apple-raisin compote and maple syrup.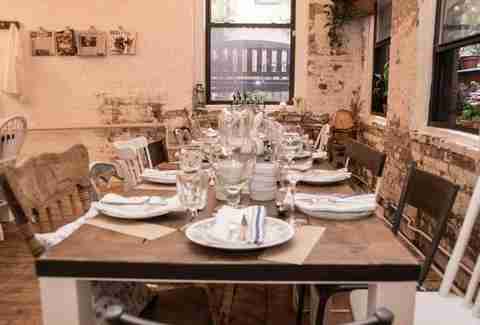 Soho
With a Michelin-starred chef at the helm, this small cafe is impressing with small plates and baked goods, including a croque madame with ham, Comté & Béchamel on homemade bread; quiche done with roasted red peppers and eggplant; and tartinettes topped with goat cheese, honey-grilled peaches, and prosciutto.
Upper East Side
This re-launched UES-er is now pumping up your brunch with a Petaluma Scramble that's loaded with braised short rib, breakfast carbonara made w/ udon, bacon & eggs, and a peach pizza.
Midtown West
Are you looking for a new place to get a Bloody Mary with lobster in it? Here's your spot. Bonus: the Angry Lobster Bloody Mary with chipotle vodka, Halo del Santo Fiery Chile salt rim, and poached lobster goes great with their French toast nuggets or South American breakfast with crispy pork belly, arepas, poached egg, and sweet plantains.
East Village
This popular East Village tavern, from the guys behind crazy (and crazy-awesome) ice cream spot Morgenstern's, has pointed its pizza-making game towards brunch and come up with pies like the La Prima, with Italian breakfast sausage, egg, and mozzarella, to go along with breakfast sandwiches, a pan-seared burger with "secret" sauce, and spoon bread.
Sign up here for our daily NYC email and be the first to get all the food/drink/fun New York has to offer.
Andrew Zimmer is Thrillist's NYC Editor and he agrees that a good brunch is a great way to start your day. Follow him on Twitter and Instagram.