It doesn't matter how long the wait times are, or how watered down the bottomless mimosas are (OK, it matters a little bit how watered down the bottomless mimosas are), or how many bad decisions all-you-can-drinking leads to, we'll never stop loving brunch. Especially the hottest new brunches in NYC, so here's some of that.
(Oh, and if you make it through all 10 of these, you can always go back to our Ultimate 2015 NYC Brunch Guide.)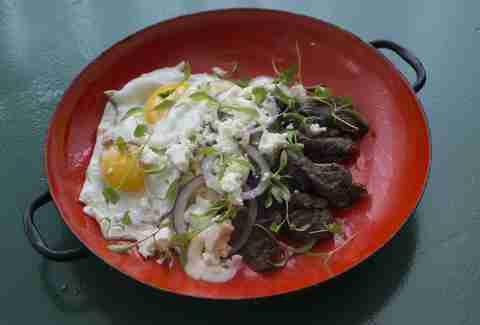 Lower East Side
Deciding that excellent mezcal and tequila cocktails weren't a restful enough place for their laurels, this bar has a brand-new brunch with Mexican/Chinese mash-up options like drowned eggs (poached eggs up to their yolks in cumin-tinged salsa, black beans, serrano chilies, onions, epazote, and Chinese sausage) and its version of French toast, which doesn't sound very French at all with Mexican bolillo bread and Chinese five-spice powder topped with spicy agave syrup and dulce de leche.
Chelsea
Pimento cheese is essentially a mixture of mayonnaise, peppers, and cheese and it's ensorcelled many a Northerner with its tangy, creamy, Southern charms. Be one of those Northerners at the "Summer Sundays 'til Sundown," an all-day brunch at Danny Meyer's first standalone bar that'll be serving a sandwich filled with the "caviar of the South," along with a Double Trouble Bison Burger and a different special each time (the first one was a Louisiana crawfish boil).

Flatiron
Jason Atherton and Stephen Starr's much talked-about spot is banging out winners for brunch like a full English breakfast loaded with herb and garlic sausage, bacon & black pudding, avocado toast with poached eggs, and a king crab thermidor sandwich on brioche.
East Village
When's the last time you had a croque-monsieur or -madame? You should really make that a more regular thing here.

Lower East Side
Breakfast ramen sounds like something you may do on a particularly desperate Sunday morning, but it's about 100x better coming from a professional rather than someone who spent the previous night texting "u out" to every one of their contacts. The new weekend brunch here features the aforementioned ramen -- a combination of whole-wheat noodles, cheddar broth, crispy bacon, and scallion omelet -- as well as buckwheat waffles with peaches and ginger syrup, Dough donuts filled with matcha cream and dark chocolate, and the LES bun piled with pastrami, karashi mayo, and daikon slaw.

Crown Heights
The boozy-pie makers are baking the fuck out of some biscuits -- do them up with some deli-style scrambled eggs, thick-cut bacon, and sharp cheddar, pour some gravy over one, or go non-'scuit and take down a magic bun with croissant dough covered in orange five-spice caramel.
Nolita
With what it thinks is a contender for one of the best breakfast sandwiches in the city, this second-floor Barack Obama hangout is doing a brunch that brings its innovative small plates to the late-morning crowd, including slab bacon, duck egg, and spicy marmalade or an omelet with fava beans and Gouda.
Little Italy
Usually bottomless beer brunches don't roll out the crafts, but this new one from the Randolph Group (actually available at all of their spots) does -- $35 gets you all the beer you want and eats like a fried chicken sandwich, pulled pork hash, and shrimp & grits. Also, "pants are optional."
Williamsburg
Another spot for breakfast ramen (this one's doing it with tonkotsu broth, braised pork belly, and two poached eggs), this fusion-y, split-level Asian eatery is also a spot for pork belly Benedict, cornflake-crusted French toast, and a dry-aged bacon, egg, and cheeseburger.

Fort Greene
Not "new" exactly, but newly revitalized after being shuttered by a fire, this Brooklyn favorite is back with a brunch where you can sit out in the garden and eat pancakes "El Bizcocho" with Mexican chocolate syrup, cochinita chilaquiles topped with coffee-rubbed pulled pork, tomatillo salsa, and cotija cheese, and the Surf, Turf, and Some Eggs, which is exactly what it sounds like it is -- grilled skirt steak, half a langoustine, and two scrambled eggs.
Andrew Zimmer is Thrillist's NYC editor and, hear him out here, what about a brunch restaurant that just serves tons of different kinds of pizza bagels? That would be awesome right?!? Follow him on Instagram, Twitter, and Pinterest, that's right, Pinterest.