It's been a little less than a year since we updated you on the best the NYC burger world has to offer. WHAT THE FUCK HAS BEEN GOING ON IN THE WORLD OF BURGERS SINCE THEN? These 11 occasionally cheesy, sometimes funky, always meaty, badass burgers, that's what.
Peruse them below, do like 50 crunches or whatever, then eat them all with totally guiltless gusto.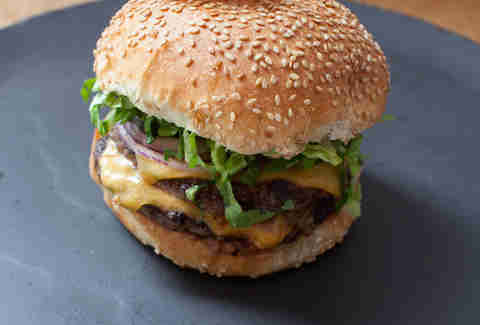 Upland Cheeseburger
Upland (address and info)
Murray Hill
This universally enjoyable spot from Chef Justin Smillie launched its lunch earlier this year and on it is a burger that speaks to the general California-ness of the restaurant; it uses a Pat LaFrieda grass-fed brisket-chuck blend with clothbound cheddar, cilantro, gem lettuce, Peppadew peppers, avocado, tomato, and herb aioli.
The Happiest Burger
The Happiest Hour (address and info)
West Village
Tropicália meets California at The Happiest Hour where pink flamingoes on the wall provide the backdrop for daily Tiki drinks on tap (a Mai Tai was the choice on a recent visit) in the West Village. You should make its burger meet your face at your earliest convenience. It's two small-ish all-beef patties stacked up with American cheese, lettuce, tomato, pickles, confit onions, and special sauce. It's incredibly tempting to eat this way too fast.
Cheeseburger
Rose's (address and info)
Fort Greene
From the owners of Franny's (and housed in Franny's original location), this new bar & grill exudes "neighborhood spot" and it has the simple-yet-excellent cheese-smothered burger to match.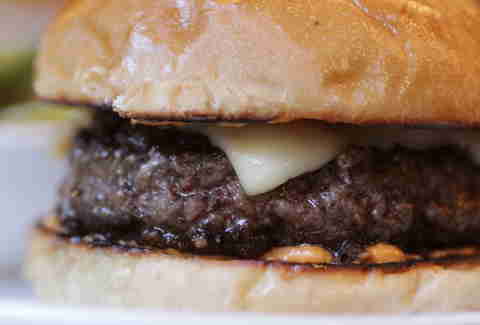 Cheeseburger
Bowery Meat Co. (address and info)
East Village
This dry-aged patty has the earthy funk you want from this style of burger, plus a noteworthy mashup of complementary flavors achieved with raclette cheese, griddled onions, and tomato aioli.
All'onda Burger
All'onda (address and info)
Union Square
It was one of our favorite restaurants of all of 2014, and that was mostly because of the top-notch Italian/Asian stylings of dishes like the briny, smoky, creamy Uni Bucatini. Around October, though, it dropped a burger (topped with sottocenere truffled cheese, Treviso, and caramelized onions) on its lunch and brunch menus, and it lived up to the already high standards set here.
"Off-menu" burger
American Cut (address and info)
Tribeca
Who doesn't love a burger that offers a veil of mystery and scarcity, the kind that makes you feel like you're in some elite burger club for geniuses, amirite?? This dry-aged, funkified, beer cheese- and bourbon onion-topped bastard is only served at the bar at American Cut, and only in very limited quantities each day, and AC announces how many it'll be serving at 4:20pm every day on Twitter. You may be annoyed by the hoops you have to jump through for this, but it's delicious, and you're intrigued.
The Park Avenue Burger
Park Ave Summer (address and info)
Murray Hill
Based off the burger that has inspired devotion from the West Coast's teeming cult of secret menu-loving, mustard-cooked patty fanatics, this burger (which remains a constant on its lunch menu despite changing styles/most menu items seasonally) tops a brisket, chuck, and short rib mix with American cheese and a trade secret sauce that's got a "little something" the In-N-Out version doesn't. Oh, and they come two to an order. Hell yeah they do.
Burger
Boilermaker (address and info)
East Village
Get it single, or double, or get two singles, or get two doubles, or a single with bacon, and then later, a double because you're a big guy and you're not quite full but then afterwards you realized maybe you've overdone it a bit with a second bigger burger. Whatever you do, just get at least one of the burgers designed by Miguel Trinidad of nearby Jeepney with pickled vegetables, fig aioli, L, T, & O.

Burger
Alder (address and info)
East Village
Among Wylie Dufresne's many, many culinary triumphs, there's never been a burger before they launched one at his take on a pub on 2nd Ave. It, of course, has all kinds of interesting gastronomical magic going on including shio kombu cooked in sake and tamari that's added to the chuck/brisket mix and a top layer of house-made beer cheese.
Mutton Burger
Seamstress (address and info)
Upper East Side
Have you ever had a mutton burger? No? Well it's time to break the seal with this mutton burger, piled high with triple-crème cheese, buttermilk-fermented carrots, and fried rosemary.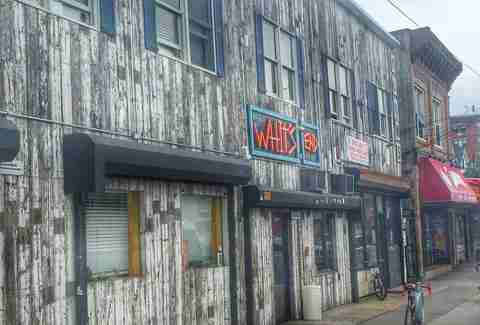 Fuckin Good Burger
Whit's End (address and info)
Rockaway Beach
We're putting this last, because there's a chance this Rockaway Beach burger was around last summer and we just didn't get a chance to eat it, but, the burger at this pizza spot (side note: you need to get the fucking pizza here, too) is excellent and worthy of some respect. Its time in the wood-burning oven gives it a killer meaty crust, the cheese is tangy and elastic, and the hot pepper jam offers a welcome hit of sweet and spicy. Also, be warned, they'll probably curse at you and give you the finger here, but unless you're an asshole, it's all pretty good-natured and you'll be fine.

Sign up here for our daily NYC email and be the first to get all the food/drink/fun New York has to offer.

Andrew Zimmer is Thrillist's NYC editor and he thinks burgers are an essential part of a balanced diet and he will plug his ears with his fingers while singing "Unbreak My Heart" if you try to tell him different. Follow him on Facebook and Instagram.