All the Best New Food at This Weekend's Governors Ball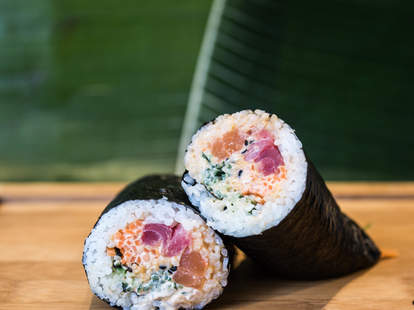 Courtesy of Uma Temakeria
Governors Ball kicks off this Friday, June 3rd on Randall's Island, and the line-up for the three-day music festival is stacked with heavy hitters like Kanye, Robyn, Father John Misty, Beck, Action Bronson, Haim, Chvrches, Thundercat, and many more. But most importantly, there will also be some really good food. 
For a second year in the row, The Infatuation has curated a selection of vendors that represent some of New York's most popular restaurants and food items. Festival-goers who require three to five meals a day during sets (dancing makes you hungry... ) will find this year's roster is full of a wide variety of dishes that are both quick and finger-friendly -- from Seamore's poke to Black Tap milkshakes to by CHLOE burgers.
So forget about planning what you're listening to, because these are the best new foods to line up for at this year's Governors Ball. (Plus, we already have you covered with getting there and who to see.)
Courtesy of Seamore's
Seamore's
This fishy cousin to The Meatball Shop will be serving up a special tuna poke with ponzu, peanuts, and avocado over brown rice ($15). In the restaurant, Seamore's popular poke is served with tortilla chips, but the raw fish dish got a festival-friendly bowl-shaped makeover just for Governors Ball.
Dan and John's Wings
Since you're undoubtedly going to be drinking copious amounts of beer, you're going to want wings, and lucky for you, the East Village's favorite new wing spot will be on hand with chicken, boneless, and vegetarian varieties (five pieces will go for $8.27 and 10 pieces for $15.60). A special wing flavor, Garlic Parm, formerly of Citi Field and Smorgasburg fame, will be served as well, so make sure you grab them while you can (they won't return again until football season).
Courtesy of Spaghetti Incident
Spaghetti Incident
What better way to slurp spaghetti than from a cone? The Lower East Side's Spaghetti Incident (which appropriately borrowed its name from a Guns N' Roses album) will be serving its homemade spaghetti ragu ($13) and spaghetti chitarra topped with fresh basil and mozzarella ($14) out of paper cones. Fork optional.
Wowfulls
Waffle cones get a major upgrade with Wowfulls' homemade Hong Kong Egg Waffles ($9), which are also new to Smorgasburg this year. The springy waffle cones will be stuffed with vanilla or chocolate ice cream and adorned with special festival toppings including graham crumbs, Nerds candies, Fruity Pebble dust, and more colorful surprises.
Courtesy of Black Tap
Black Tap
New York's over-the-top milkshake maestro is at it again with a special Governors Ball Shake ($15) that will certainly accrue lines longer than some set lists. The special Oreo shake will be made with chocolate syrup on the inside rim; vanilla icing with crushed Oreos on the outside rim; rainbow whirly pop stuck inside; and a mini black and white cookie, whipped cream, crushed Oreos, and mini marshmallows on top, all drizzled with chocolate syrup. If hard-to-eat milkshakes in the blazing heat aren't really your thing, Black Tap's All-American Burger ($12) topped with American cheese and special sauce will also be offered.
Bluestone Lane
Bluestone's famed Avocado Smash will momentarily make you forget how sick you are of avocado toast. A square slice of toast topped with smashed avocado, extra virgin olive oil, chili flakes, and lemon, served on an Eco plate (of course) may be the healthiest bite you take all weekend. Gluten-free toast will also be available along with gluten-free donuts, gluten-free banana bread, and a sip of coffee shop culture with espresso drinks and the Aussie Iced Latte ($7), featuring a double shot of espresso with milk and ice cream.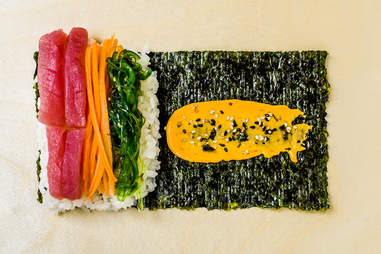 Courtesy of Uma Temakeria
Uma Temakeria
This year marks the first time that anyone will be fist-pumping at a concert with a sushi burrito in hand, and that's all thanks to Chelsea's Uma Temakeria, which will be offering its signature Uma-rito, rolled to order, with salmon, tuna, tobanjan mayo (spicy!), cucumber, carrots, tempura crunch, and sesame seeds inside of a giant maki roll (a vegetarian option will also be available, both for $10).
Melissa Kravitz/Thrillist
Streetbird Rotisserie 
Want to make a massive festival feel like your own backyard barbecue? Marcus Samuelsson's Uptown diner will be serving comfort foods that'll do just that. Exclusive to Governors Ball will be the Uptown Noodles topped with shredded brisket, apple, cucumber, and black bean-soy vinaigrette ($8) as well as a Big Pimpin' Platter ($14) piled high with Streetbird's signature rotisserie chicken, smokey Q sauce, summer tomato salad, and cornbread. Other favorites will include the Crispy Bird Sandwich ($9) made with crispy chicken and cheddar and served on a potato roll. To chase it all down: the Watermelon Coolio ($6), a watermelon-mint lemonade.
Mario By Mary
Mary Giuliani and Mario Batali's new Italian sandwich spot will be pressing two special, cheesy sandwiches for Governors Ball: Buffalo Chicken Grilled Cheese ($9) and the Spicy Capicola Grilled Cheese ($9). Off the regular menu will be the fan-favorite Truffle Grilled Cheese ($8) melding together Fontina, Gruyere, secret truffle spread, and a drizzle of black truffle honey.  
Courtesy of By Chloe
by CHLOE
You'll try to fight it, but you know you're going to end up taking a Snapchat selfie with the $8 by CHLOE Coconut from this exceedingly trendy vegan fast-food spot. Other offerings include the famed veggie burger ($12), a kale Caesar salad ($12), a selection of juices ($12), and a gluten-free chocolate chip cookie ($4). Who said festival food isn't healthy?
Harry & Ida's Meat and Supply Co.
Manhattan's hottest pastrami purveyors will be serving a meaty Pastrami Sandwich ($15) adorned with cucumber kraut and anchovy mustard -- but the real showstopper will be the exclusive to Governors Ball Pastrami Nachos ($10) loaded with pastrami burnt ends, cheese, smoked cream, chili, pickled radish, and cilantro. To munch, Spicy Brisket Jerky ($5) will also be available.
Sign up here for our daily NYC email and be the first to get all the food/drink/fun New York has to offer.
Melissa Kravitz is a freelance writer based in New York City. She plans to eat six meals a day at Gov. Ball, which is a bit of a stretch from her usual four or five. Follow Melissa on Twitter and Instagram.