Spring has officially arrived in New York, but before you rush off to Central Park in a still weather-inappropriate bathing suit, consider some slightly more practical ways to enjoy these still very-in-between temps, like visiting the crop of great new bars and restaurants that opened in NYC last month -- from tropical drinks in Bed-Stuy to pizza from a ramen master.
Recommended Video
Fast Casual Vegan Junk Food Is Now a Thing
Flatiron
From the people behind Sugarfish, KazuNori is another LA sushi transplant to land in Flatiron with hour-long waits. This time, the focus is strictly on hand rolls (a popular item on Sugarfish's affordable omakase menu), which can be ordered in sets of three, four, five, and six with fish options including salmon, bay scallop, lobster, crab, and more. Be sure to stop by at an off-hour to avoid the lines.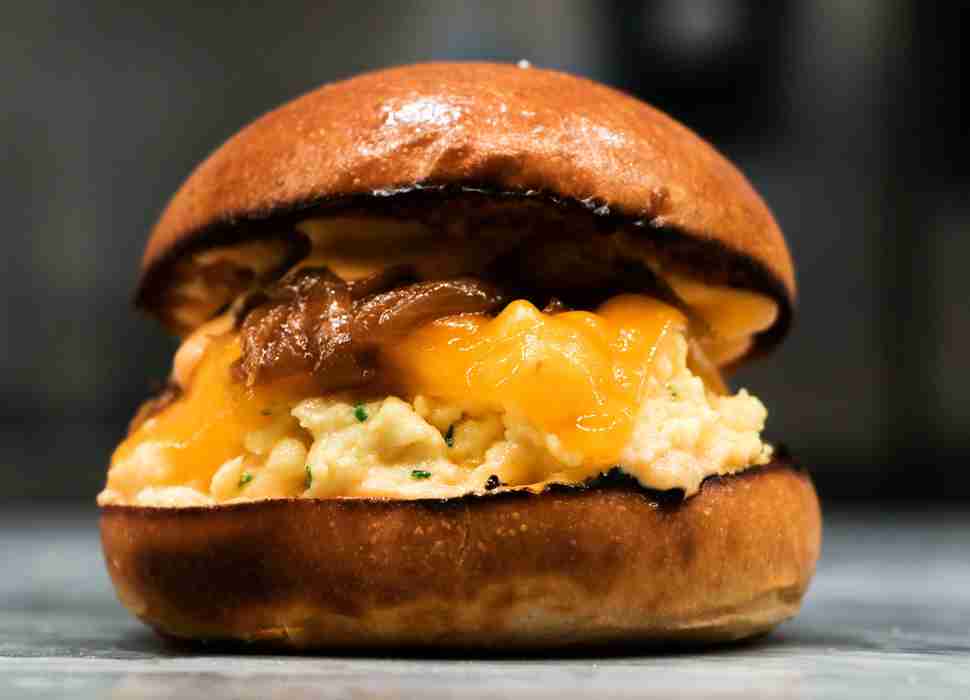 Soho
This offshoot of Nolita's Chefs Club is following in the original restaurant's footsteps, serving food by notable chefs from around the country -- though this time, it's a fast-casual model and each rotating chef's dish will last three months. Up first is breakfast sandwiches from LA's beloved Eggslut, duck rice from Aldea, a ham-and-cheese baguette from Eric Kayser, and a burger from Jean-Georges Vongerichten, among others.
Noho
Chefs Enrique Olvera and Daniela Soto-Innes' much-anticipated follow-up to Cosme is a pretty big departure from the upscale Mexican theme. At Atla, there's a stronger focus on casual, somewhat healthy, and veg-forward dishes. For breakfast, you can expect things like kale tamales and chilaquiles with flaxseed tortillas, and for lunch and dinner, nopal (cactus) tostadas and chicharrón with salsa verde. Unlike Cosme (which serves $89 duck carnitas) dining at Atla doesn't require an expense account -- many of the dishes fall around $20.
Hell's Kitchen
You wouldn't necessarily expect a ramen master to make good pizza, but Ivan Orkin has proven he knows more than noodles at his new pizza joint, Corner Slice, located inside Gotham West Market. Orkin's doing the ever-popular square slice here, though his take is far lighter than most others. You can get yours by the pie or slice in either tomato, cheese, or white varieties, with toppings like sopressata, meatballs, and roasted onion.
Bed-Stuy
The team behind beloved LES cocktail bar Attaboy has opened a new tropical-ish bar in Bed-Stuy, complete with a slushie machine, lots of leafy plants, and turquoise leather bar stools and booths. Be sure to try the slushy version of the Attaboy's famed whiskey cocktail, the Penicillin (here, appropriately called the "Penichillin"), served far more casually than the original, with a straw and an umbrella.
Midtown
After years of growing his Mexican-inspired empire, with three distinct locations bearing the Empellon name, Alex Stupak has finally launched a flagship Empellon. The new Midtown spot is certainly more Midtown-y than the other locations, but the food hardly caters to the power-lunch steakhouse set. Stupak's inventive tacos -- like one made with falafel are still the main draw here -- but there's also plenty of snacks and large plates worth trying, like crab nachos with sea urchin "queso" and roasted red prawns with chipotle.
East Village
It may not exactly be noodle soup season anymore, but don't let that stop you from trying the traditional Yunnan noodles (called mixian) at this new East Village spot from a wd~50 alum. The thin rice noodles are served several ways here: with pork broth, minced pork belly, and vegetables in the Little Pot Mixian, and with ground pork and green peppercorn oil in the Mala Dan Dan Mixian, among others. The rest of the menu is fairly small (you're obviously here for the noodles) but there are familiar appetizers like pork wontons and egg drop soup.
Sign up here for our daily NYC email and be the first to get all the food/drink/fun New York has to offer.