Because you can never ever, ever, ever, BRO EVER have enough NYC brunch options, restaurants are doing you a solid by adding them by the buffet-full this year. Almost two and a half months into 2015, here are the 16 best that've popped up since the ball dropped.
Union Square
This vino specialist has got a brand-new menu with goods like the Hangtown Fry with crispy oysters, bacon, and scallion in scrambled eggs, eggs Benny with pork belly, and Insta-bait avocado toast.

Chelsea
Spirit launched a new set of brunch cruises, so if you like your turkey sausage and bagels with a side of Titanic jokes and Statue of Liberty views, this is your jam.
Lower East Side
This Downtown spot is mashing up brunch with Italian classics to create dishes like the breakfast bucatini (with cream cheese, bacon, Parmigiano-Reggiano, and a fried egg), a hangover platter (with rice balls, mozzarella chips, and chicken Parm sliders), and Italian toast with grilled focaccia, prosciutto, fried egg, and marinara. Mangia!

Midtown
Along with brunch dishes like crab cake Benedict with creole sauce; a skillet filled with roast pork, pork belly, bacon cheddar grits, and poached eggs; and a brunch burger topped with a fried egg, P&Q's also unleashed "Bloody Boards," which feature a carafe of Bloody accompanied by a c-load of toppings like hot sauces, pepperjack cheese, bacon, and pickled veggies.
East Village
For only 18 bones, hit up this new prix fixe Downtown with one complimentary drink (mimosa, bellini, sangria, or beer), coffee, and goods like the falafel Benedict with spicy tomato sauce, or house-made hummus with shawarma. Or just keep it a la cate with chili shakshuka baked eggs or a croque monsieur. OR DO BOTH.

Long Island City
Get to this Queens meatery for unique takes on brunch dishes like seafood sausage and eggs Benedict, the bone-in burger, and a Russian waffle with smoked sturgeon, paddlefish caviar, trout roe, hard boiled eggs, and a potato waffle.
Upper West Side
Poached eggs and tater tots, 10 different grilled cheese sandos, a breakfast banana split, and the Bloody Brewski, are all real/spectacular at this brand-new, offbeat Uptown spot.
Nolita
The Thai favorite recently dropped some new burnch-age, which includes the Boons Plate loaded with Thai-style fried eggs, Issan sausage over jasmine rice with chili jam, and a Bloody Boons with Thai bird chilies, wild ginger, and cilantro.
Battery Park City
With a new chef at the helm, the Southern spot is launching the crap out of its very first brunch with biscuit sandwiches, a breakfast burrito with clothbound cheddar, potatoes, and your choice of chopped BBQ, sausage, or bacon, and a brisket burnt end sandwich with scrambled eggs on a brioche.
Bushwick
They're checking a lot of your boxes here with things like "oatmeal-style" quinoa, the always underrated chilaquiles, and a Reuben Benedict with house made corned beef, rye, sauerkraut, poached eggs, and Thousand Island hollandaise.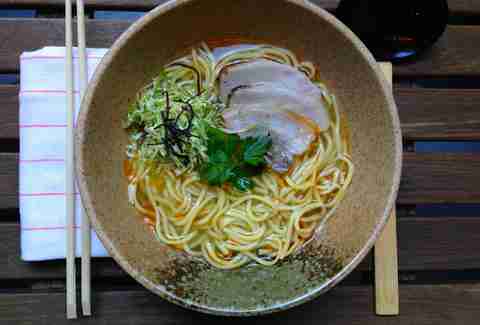 Union Square
One of our favorite restaurants of last year just unleashed ramen on its brunch crowd. The Italian-ized take on everyone's favorite noodle soup features porchetta, shaved Brussels sprouts, Calabrian chili oil, and house-made noodles in a Parmesan dashi broth.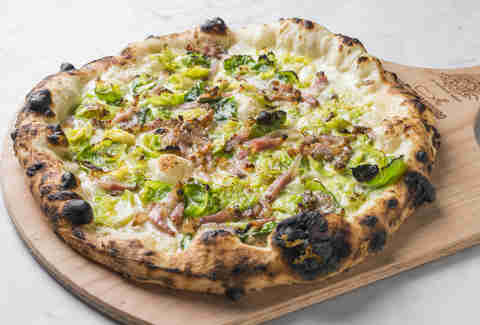 West Village
Hit this Eataly spinoff for the braised pork, fried egg, and polenta or just roll with a pizza like the Broccoletta topped with Brussels sprouts, guanciale, and creme fraiche, or the cacio e uova topped with pecorino, mozzarella, and a soft egg.

Williamsburg
This brand-new wine bar is also bringing it with brunch, which includes mostly classics like corned beef hash, eggs any style with Nueske's bacon, and a breakfast burrito with scrambled eggs, black beans, sausage, cheddar, and a slightly less throbbing headache.
Murray Hill
Another hugely buzzy opening from the winter has started doing brunch, with options like a roasted porchetta egg sandwich; smoked salmon pizza with cloumage (you know what that is, right?), sunflower sprouts (these too, right??), and caper berries (uh huh???); and spaghettini with a fried egg, roasted pepper, and bread crumbs.

Crown Heights
The hot Caribbean spot is brightening your early weekend afternoons with options like jerk pulled pork hash, French toast, and the Solomon Gundy Scramble.
Prospect Heights
If you like your key lime ricotta French toast stuffed, your Benedicts topped with fried oysters, and your milk to taste like fruity pebbles, this is your damn spot.
Sign up here for our daily NYC email and be the first to get all the food/drink/fun New York has to offer.
Andrew Zimmer is Thrillist's New York Editor and he believes it should be illegal to have milk that doesn't taste like Fruity Pebbles served at brunch. Follow him on Twitter and Instagram.