Ignore the fact that temps are going to be dipping soon, and instead focus on the fact that you can soon be dipping... things in drawn butter! But only if you read this round up of the best new bars and restaurants to open in NYC this August, which includes a spot with foie gras dumplings & a restaurant completely dedicated to egg sandwiches.

LES
Opened by Eleven Madison Park alum Thomas Chen, this American eatery's doing refined takes on casual eats, like the Pig Out for Two (Berkshire pork cooked in duck fat!!!), oxtail Spring rolls with bone marrow, and soft-shell crab with burrata, heirloom tomato, and herb/lime sauce.
Greenpoint
This bright, semi-beachy spot up in North Brooklyn is offering some of the freshest sea-eats around, from stupid-fresh lobster rolls, to tacos made with seasonal excellence, to an oyster bar that allows you to pick up a dozen, take them to the nearby park, and shuck the crap out of them.
Williamsburg
The sister spot to the resto at Dream Downtown, this Japanese drinking/food joint is hitting you with shochu cocktails, crazy dumplings filled with things like foie gras, and of course, brown butter miso ramen.
Hell's Kitchen
From the team behind craft brew stalwarts NY Beer Co and The House of Brews, TJM is taking on the Belgian beer bar in a serious way with waffle sliders, Chimay poutine (wut), six kinds of mussels, Belgian frites with about one billion dipping sauces, and pours like La Chouffe, Tripel Karmeliet, Delirium Tremens, and Weyerbacher Merry Monks Tripel.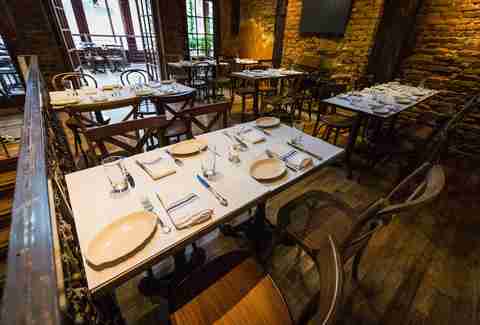 Alphabet City
Once a neighborhood spot on Cleveland Place in Soho, Le Jardin's been looking for a home since its closure in 2010, and it finally found one on Ave C, with this bi-level beauty that's got an outdoor patio, oyster bar, and is basically the charming, French spot you think it is. The food keeps the theme tight with dishes like escargot, steak frites, a short rib/brisket blend burger topped with Gruyere, and duck leg confit.

East Village
It's a burger place, but all the buns are made out of rice patties. And sure, they've got beef patties, but doesn't a BBQ eel burger sound just a little bit better right now?
Midtown
A nod to Havana's Chinatown in its 1870s heyday, this Chinese-Cuban fusion spot from Chef Humberto Guallpa and owner Marco Britti hits the mark on its weirdly specific historical target with duck empanadas, fluke ceviche with habanero/passion fruit vinaigrette, Peking-style roasted chicken, a goat burger, and whole-roasted fish with Jinhua ham and chili bean sauce.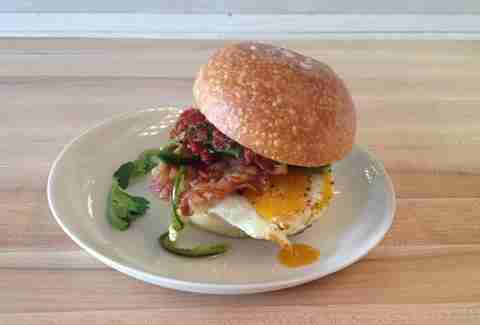 Nolita
"Man, why doesn't someone just open a restaurant entirely dedicated to egg sandwiches?" said everyone, ever. "Fine, we'll do it", said the pair behind this bright, welcoming cafe, which features a deep menu of eggy options anchored by sandwiches like the standout Beast with pulled pork, sunny-side-up eggs, cilantro, pickled onion, and chipotle/bourbon ketchup.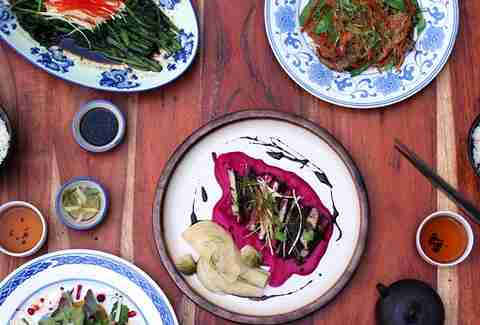 Gowanus
This Cantonese spot (opened by a native of Hong Kong who -- yawwwwwwn -- trained at the French Culinary Institute) offers a roast duck feast that requires 24hrs notice, serves four/five people, and includes silken tofu, wilted seasonal greens, sour plum compote, and saffron rice, in addition to several versions of char siu, spicy pulled chicken salad with Sichuan peppercorn dressing, and imperial sweet & sour with fried pork chunks and pineapple.

Bushwick
This stationary po'boy truck has set up on a corner in Bushwick -- so head there for New Orleans-y sandos stuffed with fried oysters, fried catfish, or roast beef.
West Village
One of the best BBQ spots in the city has opened up a location just for West Siders who don't wanna have to go all the way across town for a killer beef rib.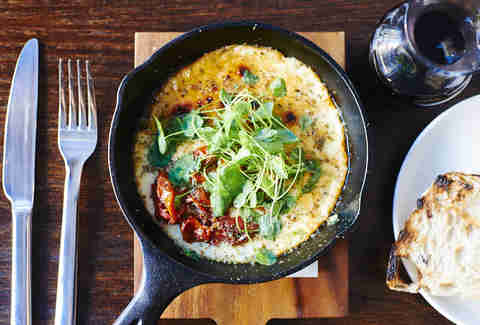 LES
In addition to the traditional focus on lots and lots of meat (skirt steak, strip loin, bone-in rib eye, etc.), this Argentine spot is making moves to please the veggie lovers out there with a focus on meatless dishes as well, including burrata with grilled peaches and ricotta cavatelli with tomato confit, lava beans, spinach, and fiore sardo cheese.
Alphabet City
If you're not familiar with H.P. Lovecraft, we can't really help you with the space we have here (try this). But if you are, then you should get very excited for this horror-themed bar modeled mostly after his writings, with drinks that include The Green God (absinthe w/ lemon twist) and Dropsey (tequila, vermouth, and orange), plus bar eats like calamari with diablo sauce. Hail Cthulhu!
Sign up here for our daily NYC email and be the first to get all the food/drink/fun New York has to offer.
Andrew Zimmer is Thrillist's NYC Editor, and brings his own drawn butter to restaurants so he can dip whatever he wants, whenever he wants. Follow him on Twitter and Instagram.