Is it embarrassing to have to explain you're wearing your T-shirt in the pool because you "just don't want to get sunburned"? Yes, yes it is. Is it also totally worth it that you got that way because you indulged yourself at every single one of May's best openings in NYC? You're damn right it is. Here're all 17 of the best new May openers -- damn the beach body and get to work.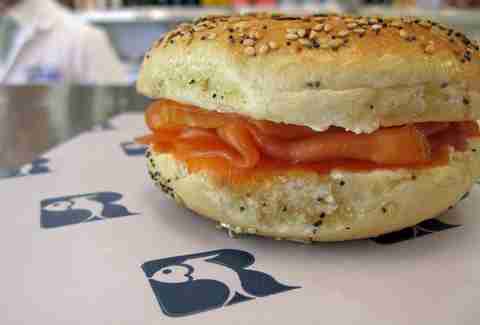 Russ & Daughters Cafe (click here for address and info)
Lower East Side
The super OG delicious food purveyor has finally gone and opened up a proper cafe. Get down here for their supremely fresh and tasty fish, some new egg dishes, egg creams, and a surprisingly interesting cocktail list for a place with such throwback roots.
Après (click here for address and info)
East Village
The former Apiary spot on 3rd Ave snagged the former chef of The Elm in Williamsburg for this small-plating, veggie-centric resto doing "modern New York cuisine" like "egg drop soup" (w/ king crab, Spring garlic, and water spinach), or Pommes Kao -- a mix of octopus, peanut, and bacon XO sauce.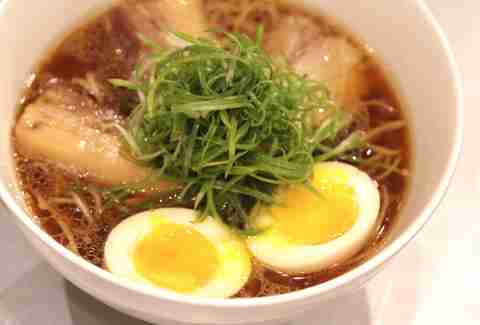 Ivan Ramen (click here for address and info)
LES
The massively hyped and long-awaited ramen shop from Ivan Orkin -- who teased us with the Slurp Shop in Gotham West Market -- is finally here and it's bursting with innovative Asian food like 1,000-year-old deviled eggs, pork meatballs with buttermilk dressing and "bulldog sauce", and the Lancaster okonomiyaki, which is the only Asian dish in existence that we know of that's managed to incorporate scrapple. Of course, there're interesting ramens too, like a four-cheese mazemen and the triple-pork/triple-garlic mazemen with tonkotsu broth, pork chashu, and whole wheat noodles.
The Pavilion (click here for address and info)
Union Square
The beautiful structure at the North end of Union Square is now a restaurant that's entirely al fresco (but you already knew that), serving drinks with ingredients sourced from a few feet away at the Greenmarket, and top-notch bistro eats. You'll want to go here AT LEAST once this Summer.
Claudette (click here for address and info)
West Village
The team from Rosemary's has opened this Provencal-leaning beauty, with a menu that revolves around veggies and seafood like their bouillabaisse en croute with monkfish, octopus, mussels, and puff pastry. Don't worry, losers with shellfish allergies, there're a couple land-bound dishes too, including a grilled lamb served with za'atar and yogurt vinaigrette.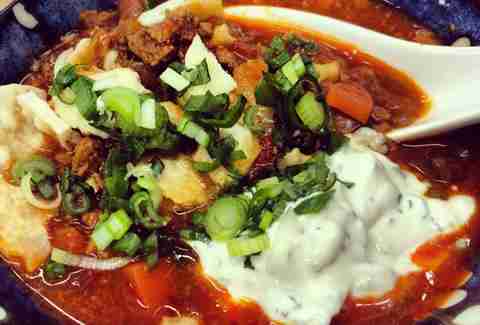 Mokbar (click here for address and info)
Chelsea
Bolstering the already-pretty-impressive roster of eats in Chelsea Market, this new ramen spot has noodles with kimchi bacon broth or classic braised pork broth, and, in an amazing move that should be sung from the mountaintops, they have disco fries with ramen gravy. Disco fries. With ramen gravy.
The Eddy (click here for address and info)
East Village
A small spot from a former Jack's Luxury Oyster Bar chef (who was also the exec chef at Tasting Table's test kitchen) and a serious cocktailer from Wallflower, the Eddy marries next-level libations like the Carrancho (w/ rose hip-infused rum, guava falernum, plum gin, and lime) with eats like bacon tater tots and grass-fed ribeye steaks served with Brillat-Savarin fondue.
Blenheim (click here for address and info)
West Village
With ingredients coming directly from the owner's farm in the Catskills (because you're wondering: Blenheim Hill Farms) to the chef from the recently shuttered (but excellent) Gwynnett St, this rustic date spot is coming mad correct with fresh-as-hell seasonal plates like beefsteak with asparagus, morels, and dill Havarti; turbot in beurre blanc with ham and ramps; and lamb with roasted spinach and mentholated yogurt.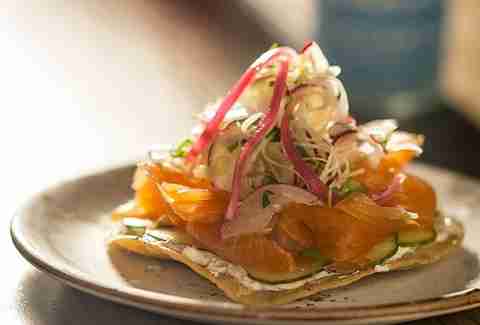 Horchata (click here for address and info)
Greenwich Village
This project from ESquared Hospitality group and Top Chef Manuel Trevino highlights Mexican eats and liquor with a deep set of tequila and mescal options to help you wash down four types of guac (including one loaded with chorizo and cheese), pork belly tacos, and a citrus-roasted half chicken with garlic and chimichurri.
The Derby (click here for address and info)
LES
If your thing is fried food, this place has you covered with chicken and waffles and a chicken-fried steak (remember?). If you're more into burgers and whiskey, they've got you covered there, too, with a pimento cheese-covered patty melt and a deep selection of bourbons and juleps.
Bâtard (click here for address and info)
Tribeca
Big-deal restaurateur Drew Nieporent's new spot (kitchen-minded by Chef Markus Glocker) doesn't have an a la carte menu, but you can choose between two and four courses with dishes like octopus "pastrami", roasted rack of lamb for two, and a veal tenderloin.
Delaware and Hudson (click here for address and info)
Williamsburg
The old Egg space in Williamsburg is now home to this ode to Mid-Atlantic eats, which's doing high-minded and fresh(... -minded?) takes on goods like pretzel rolls, funnel cakes, crab cakes, and scrapple.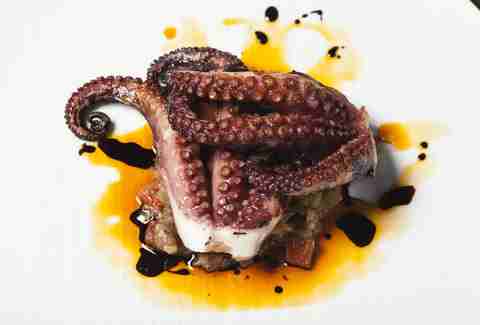 Bacchanal (click here for address and info)
Nolita
Channeling Gilded Age style and party vibes, this Bowery dining spot is pushing old world wines forward while kicking up eats like hand-carved jamon iberico, braised short ribs, and slow-roasted chicken, all complimented by a bar program led by Naren Young.
Bar Primi (click here for address and info)
East Village
Filling in the spot recently vacated by Peels, BP is the next notch in Andrew Carmellini's culinary belt and its focus is squarely on pasta. Dishes include fiore di carciofi with smoked bacon and pecorino; a roast beef, italian peppers, and provolone number known only as "The Sandwich"; and bucatini with lamb amatriciana.
Tender (click here for address and info)
Midtown
This sexy spot in the Sanctuary Hotel is part lounge, part steakhouse, and part sushi joint -- get the omakase from a former Sushi of Gari chef, or premium cuts of beef like a dry-aged NY strip.
Andrew Zimmer is Thrillist's NYC Editor, and when everyone else goes to the Hamptons or the beach he's going to snag all the best reservations this Summer. Follow him on Twitter and Instagram.
Other Stuff You'll Like In Openings Cheat Sheet