Despite the fact that there were a ton of awesome things to do this year, you didn't do any of them since you were mad busy marathoning House of Cards... and Homeland... and Game of Thrones... oh, and Below Deck... duuuuude and The Walking Dead (AND Sons of Anarchy [AND AND AND American Horror Story]). Make up for it by actually hitting these: NYC's 11 best restaurant openings of the year.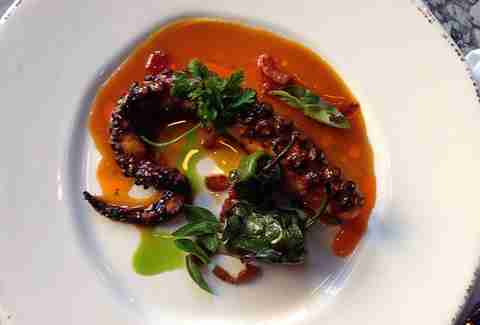 Noho
Not resting on his Throwdown laurels, celeb chef Bobby Flay opened this blockbuster back in March and it's been perpetually packed ever since, thanks to some of the best eats of the year -- from killer bar bites like the lamb tenderloin or eleven-layer potato to more formal apps and entrees, including a bomb tender roasted octopus, a lamb sausage & tomato jam pizza, and charred beef with blue cheese brown butter and red wine. Oh, and it all pairs nicely with a vibrant bar scene and cocktails (get the smokey Tony Juarez).
NoMad
Among some strong options for pizza place of the year, Danny Meyer and Nick Anderer's Marta stands out with Roman-style, cracker-thin pies like the patate alla carbonara with guanciale, pecorino, and egg, or the salsiccia with mozzarella, pork sausage, and crimini mushrooms as well as some amazing grilled entrees (the trout saltimbocca with prosciutto, sage, & lemon is a standout).
Carroll Gardens
This place from the team behind nearby Nightingale 9 and the former Seersucker is one of the biggest reasons fried chicken had such a big year in NYC (along with this and this), but the fact that it's touting the whole simple package is what makes this one of our favorites. The menu is a collection of homey, well-executed comfort food, with go-tos like the moist, crunchy chicken dinner and double burger (single if you want to pay less than $10) topped with pimento cheese.
Union Square
This Venetian spot (with just a hint of Asian influence) is nice enough to qualify as fine dining, casual enough to not be intimidating, and delicious enough for neither to matter. The uni bucatini was one of the best pasta dishes of the year, the cocktails and wine fit well, and the rest of Chris Jaeckle's moves are on point as well -- including the black truffle arancini, the short rib with saffron risotto, and the lumache with aged duck ragu, treviso, and chocolate.
West Village
First of all, this place is an underground Peking duck restaurant, which is just cool. Second, it's also delicious. Located just below its sibling restaurant Red Farm, it can actually be a tight fit, but the Decoy Chips -- which are actually fried branzino skin with black garlic dip (that they usually offer for free to start the meal) -- help immediately.
The cocktails are top notch and interesting, and the main attraction, Peking duck, is everything you want it to be -- the flavors mix traditional with fusion thanks to the sauces, including hoisin, sesame, and cranberry, and the pancakes manage to hold up to stuffing despite being incredibly thin. Definitely try to come with a small group, though, so you can go beyond the duck with things like an excellent steak, lobster with rice noodles, and shrimp and snow pea leaf dumplings.
Greenpoint
We're suckers for an excellent lobster roll, and this place has one, put together fresh and in-house daily. The space also doubles as a fresh-as-hell fish market, which creates dishes like a fish taco that rocks whatever the optimal seasonal fish of the moment is, loads of oysters, whole lobsters, steamers, and thai curry green mussels.
Bushwick
We don't care what people from other states say; NYC is turning into a damn good BBQ town, and this whole-hog, Carolina-style BBQ spot from Chef Tyson Ho, which's whipping up pork belly, sausage, ribs, and a giant turkey leg, is another reason why.
LES
The biggest ramen opening of the year is also the best (the spot in Gotham West Market is also amazing, but the LES version is a more complete experience). The Tokyo shio or shoyu is always a great move (get it fully loaded), but you may as well take this opportunity to try something like the BLT mazemen with kewpie, dashi, bacon, lettuce, & tomato. Instead of ordering two bowls of ramen, though, you can also load up on goodness like the roast pork musubi, pork meatballs, or tofu Coney Island topped with miso mushroom chili, mustard, and scallion.
Tribeca
This bustling spot from restaurateur Drew Nieporent (who also ran Montrachet, the previous incarnation of this space) delivers fine dining without ever getting overly refined or stuffy. The prix fixe menu is flexible, with two courses for $55, three for $65, or four for $75, and delivers dishes like octopus "pastrami" with braised ham hock, pommery mustard, and new potatoes; the Granny Smith & sweetbread strudel; and branzino with butternut squash, grilled lettuce, and pumpkin seed vinaigrette.
LES
After receiving an almost deafening amount of buzz before opening, this spot from the team behind Carbone, Torrisi, ZZ's Clam Bar, and Parm unleashed an excellent one-two punch with The Lobby Bar at the Ludlow Hotel and this spot. It's hitting you with kick-ass French plates, like aged duck a l'orange with ras el hanout and preserved oranges; lamb saddle with potato and cumin; boudin with trinity pickles and Creole mustard; and a cote de boeuf for two.
East Village
On the forefront of the kinda-scary-but-kinda-delicious, vegetable-forward movement, Narcissa's Chef John Fraser is turning out some eats worth your consideration, from carrot fries and rotisserie beets, to whole rotisserie branzino with fennel/soft herb vinaigrette, and braised lamb with celery root hummus, delicate squash, and sesame seeds.
Sign up here for our daily NYC email and be the first to get all the food/drink/fun New York has to offer.
Andrew Zimmer is Thrillist's NYC Editor and he's excited for 2015 so he can start making another list. Follow him on Instagram and Twitter.