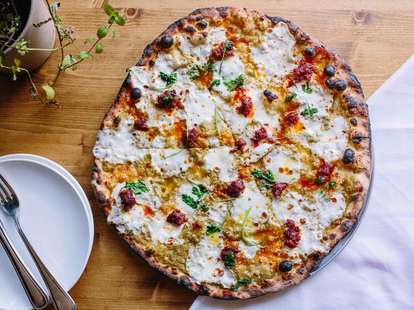 Roberta's. Motorino. Lombardi's. Grimaldi's. Joe's. L&B Spumoni Gardens. Patsy's. Totonno's. Without fail, the same handful of classic pizza places pop up in pretty much every best-pizza-in-NYC argument. Well, we say it's time to mix things up: here are the best new pizza spots to open in NYC in the last year(ish), at least a few of which might end up being part of that best-ever conversation...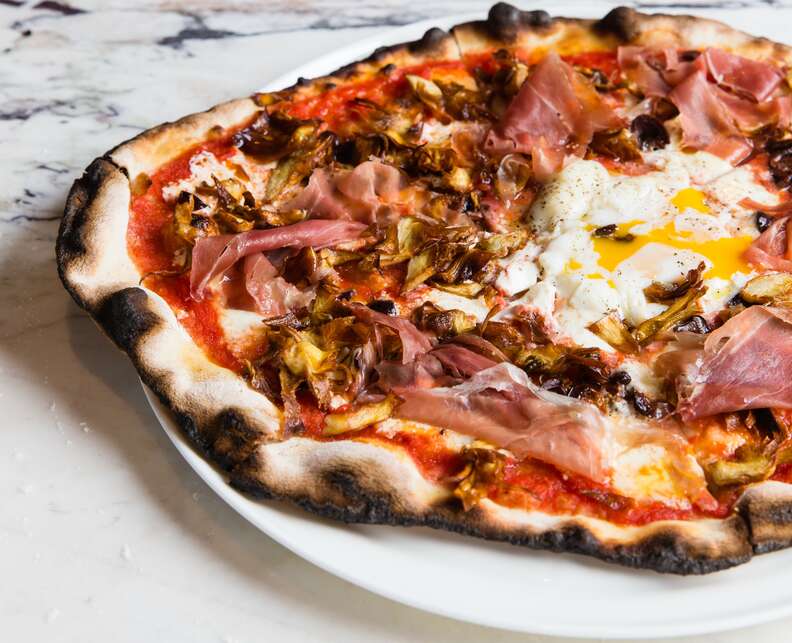 NoMad
Brand new and perpetually packed, this place from Danny Meyer and Nick Anderer (from Maialino) serves Roman-style pizzas that come thin & crispy, and include the patate alla carbonara with potatoes, guanciale, black pepper, pecorino, and egg, as well as the salsiccia with mozzarella, pork sausage, and crimini mushrooms.
Alphabet City
This isn't a pizza place, strictly speaking, but 1) you're not the boss of us, and 2) they do have some dope pizzas. Try the thick Grandma Style, the 1986 with spicy sopressata, fennel agrodolce, pickled peppers, and anise hyssop, or the Capo The Great, which's loaded with littlenecks, cockles, razor clams, and mozzarella/ricotta.
Ridgewood
Located within a former brewery-turned-art space, this spot creates top-notch wood-fired Neapolitan pies like the Margherita and the Habanera, with habanero peppers and cured pork loin.
Clinton Hill
Started by a couple (one of them is named Emily, duh) with a love for pizza, this American pizza joint rolls out artisanal, carefully crafted & composed, occasionally untraditional pies, like the Camp Randall with sausage, mushrooms, peppers, and cheddar curds, and the North Maple with Fontina, mozzarella, Benton's bacon, pecans, and maple syrup. Bonus non-pizza info: they have a killer burger and a s'mores calzone.
Nolita
Everyone's favorite Montreal/New York hybrid bagel spot finally launched late-night pizza bagels, and they're delicious.

Bushwick
Edging into Roberta's Bushwick pizza dominance, this Italian-owned Troutman spot fills out a converted warehouse space and makes simple, delicious pizzas, like the salame piccante with spicy chorizo and mozzarella, or the Napoli topped with tomato, black olives, capers, anchovies, and oregano.
West Village
Look, we disparage Chicago deep dish as much as the next guy, but it can be delicious, especially when it's made in NYC and not Chicago. And, at this place, it is.
Hell's Kitchen
From a team who knows a thing or two about opening solid neighborhood spots comes this Italian joint with excellent pizza and beer. Pro tip: order the clam pie that comes with slices of grilled octopus on it.
Astoria
Opened by two brothers, this Queens spot is wood firing Neapolitan pies like the classic Margherita -- a dope, cheese-less pomodoro pie with tomato, garlic, sea salt, and oregano. You can also get modern takes, like the Corn on the Hog (with corn, goat cheese, mozzarella, and bacon), and the awesomely named Abe Froman, with charred onions, pork sausage, and Grand Padano.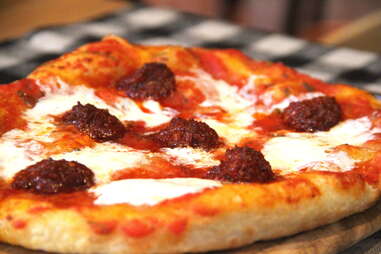 Gramercy
It's brand new and it's not technically a pizza place, but this new California/Italian-inspired restaurant from big-deal chef Justin Smillie has one of the best pizzas going right now, with their 'nduja pizza with stracciatella and passata.
Sign up here for our daily NYC email and be the first to get all the food/drink/fun New York has to offer.
Andrew Zimmer is Thrillist's NYC Editor, and eating pizza is probably his favorite thing to do ever. Follow him on Twitter and Instagram.