Well, New York, as your wheezing radiator that keeps you up through the night should have made clear by now, the cold is upon us. But before you resign yourself to a life of staying inside reading Westworld theories and refusing to see your friends for fear of a single gust of wind, make sure to check out these new restaurants that opened this October -- from a reborn West Village staple to three promising new spots in Bushwick.
All of the restaurants on this list are part of our ongoing quest to find this year's best new restaurants in America, and we're combing through every opening in every Thrillist city. Get involved on Instagram -- #BestRest2016 -- to let us know your picks and your favorite dishes at each of these new spots.
West Village
It's fairly hard to justify spending $200 a head on dinner, but when that dinner is prepared by chef Yoichi Akashi, who previously served as the chef de cuisine at Sushi Nakazawa, it's easier to find reason with yourself. At his new namesake restaurant, Chef Akashi (who's also a Sushi Yasuda alum) isn't doing your standard raw-fish omakase. Instead, it's kappo-style omakase, which amounts to about 20 courses of seasonal fish from both Japan and the US served a variety of ways, including raw, boiled, fried, and stewed. There are a few tables and a private dining room, but if you're willing to spend the money to eat here, you better be doing it in front of the chef at the 10-seat sushi counter.
Williamsburg
Andrew Carmellini's second of three new ventures at Williamsburg's William Vale hotel, Mister Dips, opened at the tail end of September -- which is a shame only because it would have been perfect for summertime. The ice cream and burger spot is set up in a '70s Airstream trailer in the hotel's park and offers several types of burgers (including one with chilies, Jack cheese, and Sriracha verde) in addition to seasonally inappropriate but still very welcome dairy dips, like the Hawaii Five-0 with Tahitian vanilla, pineapple preserve, and toasted coconut.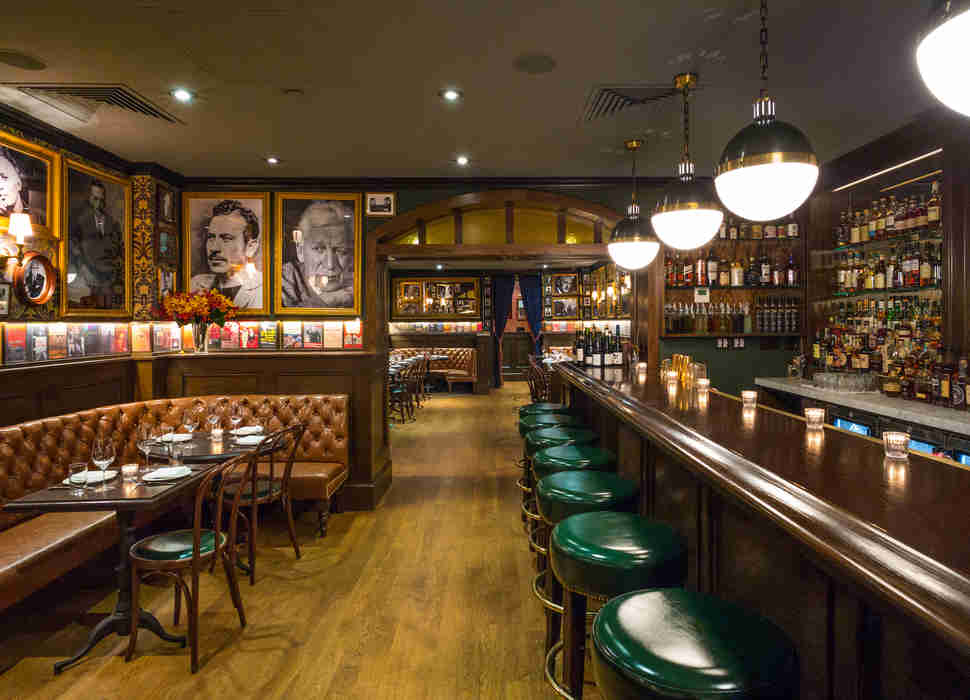 West Village
It may not look exactly like the old Chumley's (the famed West Village speakeasy/pub that opened in 1922 and closed in 2007 after the building collapsed), but Chumley's is very much back, now under the ownership of restaurateur Alessandro Borgognone of Sushi Nakazawa. Generally, things are little fancier than they once were -- leather banquettes have replaced old wooden booths and tables, there are upscale cocktails and a full dinner menu featuring a $25 burger with bone marrow -- but the walls are still full of the old, restored images and book covers from years ago, and for a neighborhood that's been mourning its loss for the last nine years, Chumley's return is still a welcome one.
Bushwick
From the team behind popular Williamsburg restaurants Mesa Coyoacan and Zona Rosa, Bushwick's Guadalupe Inn focuses on authentic Mexican dishes inspired by chef/owner Ivan Garcia's home in Mexico City. Expect hearty items like beef tongue tacos and Flor de Calabaza Rellena (beer-battered squash blossom, queso fresco, grilled corn, epazote, and dark plum mole) and a tequila- and mezcal-focused drink menu (because the mezcal obsession is clearly not going anywhere). Unlike its sister restaurants, the sound-engineered Guadalupe Inn will also host frequent live music performances.
Little Italy
Located inside the colorful building on the corner of Howard and Centre Streets, which previously housed a $5 Chinese buffet, Nickel & Diner is inspired by old-school diners and five & dime lunch counters. In a similar vein to Greenpoint's Hail Mary (another opening from this year), the menu here is a modernized take on traditional American diner fare -- think chicken soup with plump ricotta dumplings and a grilled BLT with cheese and truffle vinaigrette that's really more of a croque monsieur than a BLT (in a good way).
Bushwick
The first US outpost of beloved Japanese ramen chain Ichiran has finally opened in Bushwick, and here, in addition to tonkotsu (pork bone) broth and house-made noodles, it's all about dining solo -- in its most extreme form. That means literally no communication with anyone -- not a hostess, not a waiter, and definitely not a companion. Should you opt out of dining in the communal area (which you should), you'll sit alone in a single-person booth with a bamboo curtain, which will be raised only when a staff member comes to collect your filled-out order form (you'll see their arms only) and later when they slide you your customized bowl of ramen, which comes with some of the best noodles in the city.
Financial District
Tom Colicchio's new spot inside The Beekman (a just-opened Thompson Hotel that will also house Keith McNally's forthcoming Augustine) is grand in a way that few new restaurants are these days. The bar area is filled with plush velvet chairs and leather banquettes, Persian rugs, and books in dark-wood cases, and the restaurant features multicolored stained-glass windows, ornate light fixtures, and a long, antique mirror. The menu goes along with this sensibility -- think old-New-York-style French/American dishes like oysters Rockefeller, diver scallops, and rabbit schnitzel.
Bushwick
If you want to pretend temperatures aren't actually dipping into the 50s, head to this Caribbean-themed restaurant from the team behind Featherweight. In addition to jerk chicken, cod fish cakes, and a burger topped with grilled pineapple and bacon, Sally Roots also has a large patio out back with string lights and umbrellas that will certainly be put to better use when we aren't nearing winter.

Sign up here for our daily NYC email and be the first to get all the food/drink/fun New York has to offer.