In between catching Doduos on every single New York City street corner, it's important to keep up with regular human activities, such as eating and drinking. Plus, without proper fuel, how are you going to catch all those rare Pokémon? For that, head to these: the best new bars and restaurants that opened in New York in July; from a Crown Heights Tiki bar to a Bowery outdoor food market.
All of the restaurants on this list are part of our ongoing quest to find this year's best new restaurants in America, and we're combing through every opening in every Thrillist city. Get involved on Instagram -- #BestRest2016 -- to let us know your picks and your favorite dishes at each of these new spots.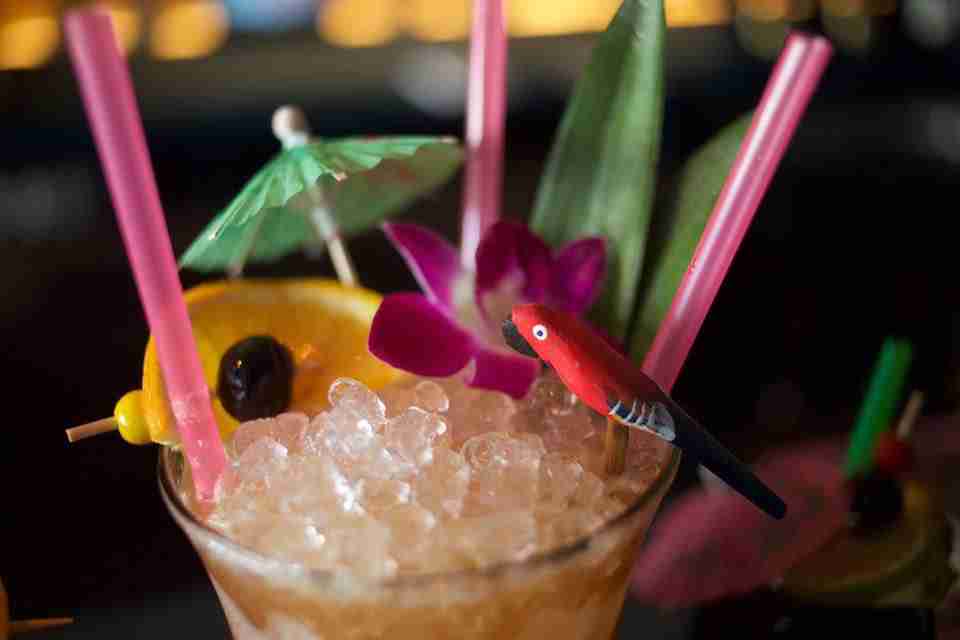 Crown Heights
Last year was seemingly the summer of Tiki bars, with at least 14,000 new places full of tropical decor and fruity cocktails -- but absolutely none of them had banh mi hot dogs, a pinball machine, and drinks for just $10. Super Power, located on Nostrand Ave in Crown Heights, is the brainchild of the team behind Gowanus Yacht Club and Bearded Lady. And yes, there is a full menu of drinks that are sadly, though accurately, considered "cheap" at just 10 bucks, not to mention over 100 types of rum, a neon palm tree and volcano on the wall, and lots of fun glassware. If you're looking to spend a little more, order the rum punch-esque John the Beachcomber (three types of rum, allspice dram, grenadine, pineapple, and lime juice) in its "super size" format, which comes with multiple straws for $20.
TriBeCa
If you know anything about Chicago, you know about the city's deep, eternal love for Italian beef. Unfortunately for New Yorkers, the beautifully delicious mess that is thinly sliced, slow-roasted beef soaked in au jus and topped with peppers inside French bread has yet to be fully integrated into our dining vernacular, but one Chicago native is trying to change that. Hank's Juicy Beef, previously a pop-up vendor at different markets and festivals, has set up a brick-and-mortar shop in TriBeCa, with real-deal Italian beef (or as real-deal as you can currently get in New York) based on the owner's old-school Chicago family recipe. There are several variations here, but be sure to get the original sandwich hot or mild (with options to make it "sweet" or "cheesy").
West Village
In what's probably the most exciting non-Pokémon related news this month, you no longer need to trek to Staten Island for some of New York's best pizza (though that ferry ride is still highly recommended). SI's beloved pizzeria Denino's has opened in the West Village, with the same thin-crust pies it's done for nearly 80 years, and so far, it stands up to the original. Opt for the famous Garbage Pie topped heavily with sausage, meatballs, pepperoni, mushrooms, and onions. Then once you've convinced your friends that the best pizza comes from Staten Island, do a proper SI pizza crawl.
East Village
Ravi DeRossi and Daniel Kessler's small-plates favorite Bergen Hill closed its Carroll Gardens doors this past April, but has now found a new home in the far less Bergen Hill-y Cooper Square. The menu is still seafood-heavy, but also builds upon what it was doing across the river. There will be crudos aplenty, but also lots of vegetarian and vegan dishes -- a nod to DeRossi's very veg-forward outlook of late. There's also a excellent wine list curated by the sommelier team from Charlie Bird and Pasquale Jones, as well as an impressive cocktail program by Sother Teague of Amor y Amargo.
Gowanus
In the last couple years, Threes has made a name for itself as one of the best breweries in New York state, but it's also known for its beer garden, events, and restaurant pop-ups -- which have featured everyone from Roberta's to DBGB. Now the brewery is ditching the pop-up model in favor of a full-time partnership with Williamsburg whole butcher shop The Meat Hook. Meat Hook is known for its local, grass-fed meat, as well as its beloved off-shoot sandwich shop, which closed just before the partnership at Threes began. At the brewery, you can expect burgers, sandwiches, sausages, charcuterie, and some veggie options -- all of which should absolutely be paired with an IPA.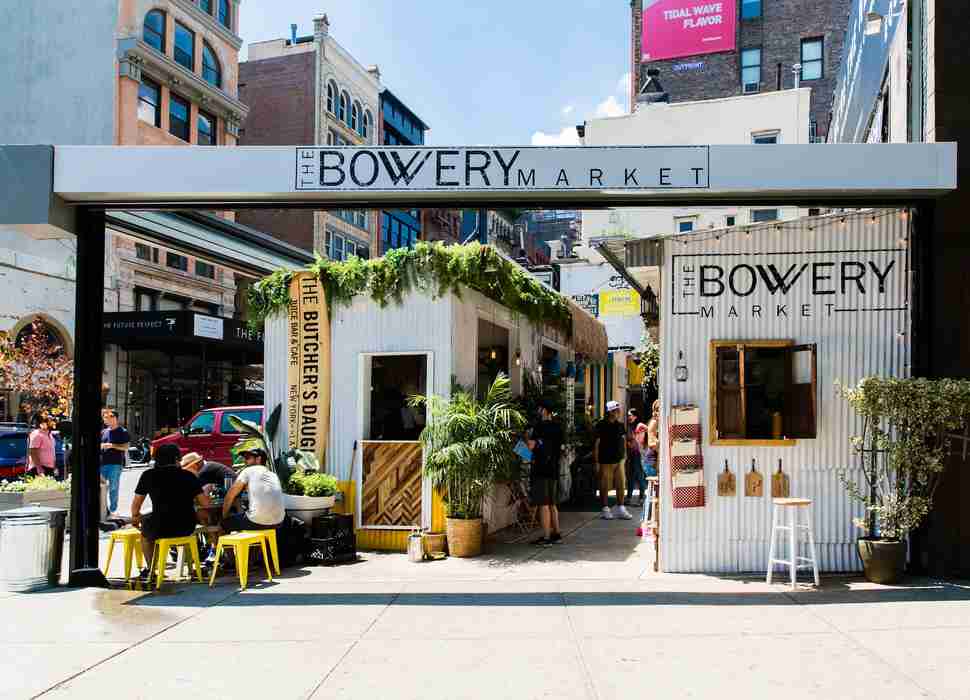 East Village
It's becoming almost difficult to keep up with how many new food halls and markets are opening in the city, but that doesn't mean this new outdoor spot on Bowery should get overlooked. Located in the space of a former auto body shop, the 1000sqft Bowery Market is home to vendors like Italian sandwich favorite Alidoro, healthy eatery The Butcher's Daughter, a new omakase stand called Sushi on Jones, and Greenpoint's Champion Coffee, among others. Each stall has been designed specifically to represent the vendor (naturally, The Butcher's Daughter is outfitted with a surfboard and lots of greenery), and you can expect the same menu options from the vendor's other locations (though this time you'll probably want to take everything to go -- seats are scarce).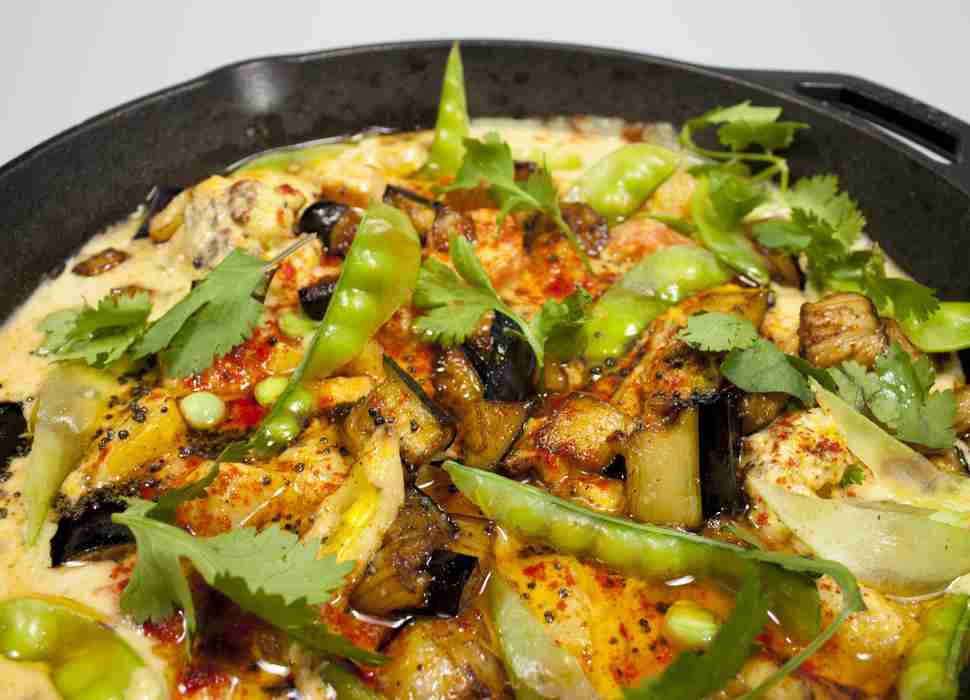 NoMad
Houston born-and-bred Pondicheri is known for its affordable Indian street food, like dosas, curries, and roti -- plus freshly baked goods from its Bake Lab. In its new NYC home in NoMad (its first outside Houston), it's doing lots of old favorites (currently just breakfast, lunch, and snacks), plus some new items specifically for New York, like avial, a South Indian coconut & ginger stew with cauliflower, squash, turnips, carrots, and eggplant, and patra fish, a fish fillet marinated in coconut, with mint and cilantro masala, steamed in banana leaves. Nearly everything on the menu is priced at or under $15, with a more formal dinner service to come later this summer. The Bake Lab up front will be open all day long, offering fresh-made pastries and drinks.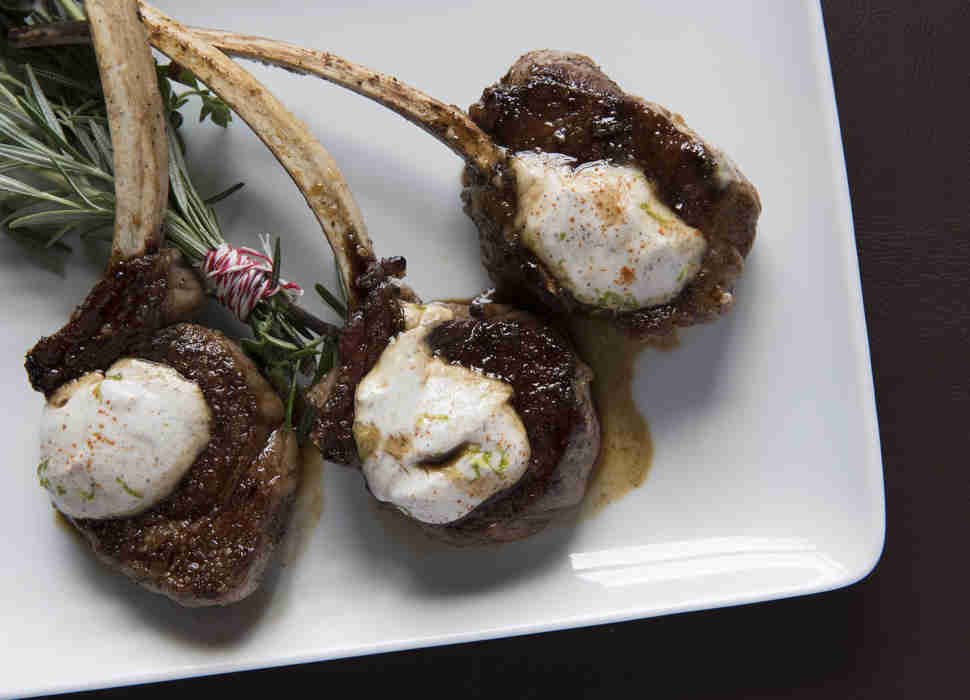 Saratoga
Acclaimed chef Gray Kunz (of the now-closed Lespinasse) has made his way back to New York -- well, to Saratoga more specifically. But the trip there is well worth it for this modern steakhouse, which marks Kunz's return to the states after more than seven years abroad. On the menu, you can expect several cuts of local meat, including rib-eye and pork chop, as well as wagyu and dry-aged tomahawk, and fresh seafood dishes.
Greenwich Village
Ravi DeRossi's veg obsession continues at Ladybird, a vegetable tapas bar located in his old Bourgeois Pig space on Macdougal. The new concept is a collaborative effort with chef Daphne Cheng, who's also behind the vegan-centric menu at Mother of Pearl. The space has gotten an upgraded look, complete with chandeliers, emerald curtains and chairs, and lots of white marble (specifically on the bar, tables, and floor). On the no-meat menu, you can expect light dishes like vegetable charcuterie; saganaki with flaming mozzarella, smoked carrot, and gremolata; and quinoa croqueta with Szechuan salsa, crème fraîche, and micro wasabi. Behind the beverage menu is Ariel Arce, from DeRossi's downstairs Champagne bar, Riddling Widow. The drinks will be low-ABV and centered around ingredients from the kitchen, like the Red Rail, with fresh beet juice, port, amaro, and lime. Not only is it a healthy option, but eating and drinking here is also a charitable effort -- some proceeds from the restaurant will benefit DeRossi's BEAST foundation, dedicated to stopping animal cruelty.
Park Slope
It's all about grains at this new Park Slope restaurant from chef Jake Novick-Finder (previously of Union Square Café, Gramercy Tavern, and Ribelle in Brookline, MA), which sources nearly every ingredient on the menu from local New York farms. You can expect carb-heavy (but fresh) dishes like curds & whey, with house-made garganelle and fresh whey in porcini broth; garlic knots made with two types of flour; and several types of pizza, including pepperoni with honey. There's also a substantial "sweet" selection, including homemade pies and ice cream.

Sign up here for our daily NYC email and be the first to get all the food/drink/fun New York has to offer.