While the weather in NYC this April was cold, and then warm, and then cold again, the restaurant openings were hot pretty much the entire way through. These 15 are the hottest of the hot, from a place doing pierogies stuffed with mac & cheese, to a new spot that boasts the city's first "hot sauce sommelier."
Gramercy
Created by a team from Barbounia and Rayuela, this Chinese/Spanish mashup is pushing out dishes like duck & curry dumplings, lava salt-cured tuna, ginger-glazed lobster, and teriyaki-marinated octopus.

Bed-Stuy
The team from The Pines opened up this small spot with expectedly inventive options like a chicken liver cannoli, boar belly with snap peas and sunchokes, and a butter-poached porgy with zucchini, black garlic, and wild rice.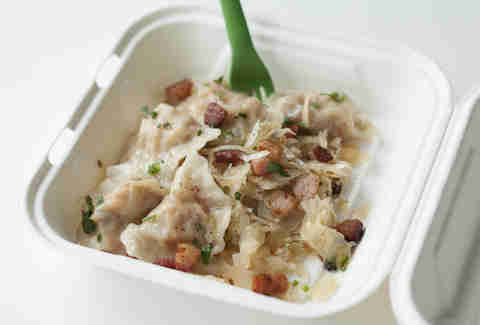 Gowanus
The single-dish restaurant trend has made it to these Eastern European dumplings, and Baba's is beefing them up by filling 'em with all kinds of non-traditional stuff, like bacon mac & cheese, spinach & feta, or chocolate.
Williamsburg
You never knew you would need a "hot sauce sommelier," but there is one at this hot sauce store, along with a ton of interesting and hard-to-find sauces.

Financial District
This massive French food hall is now getting after it down near the Hudson River, armed with all kinds of markets, a bar, and a restaurant -- all filling just about every French culinary desire you could muster.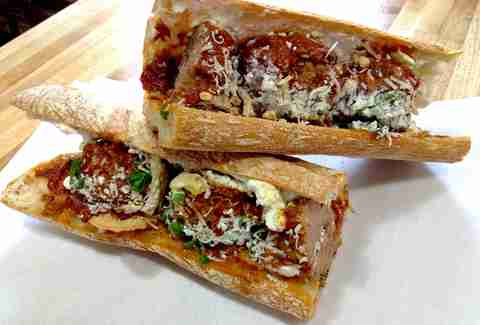 East Village
Massive meaty sandwiches from Chef Corey Cova are on the docket at this takeout sando operation and include beasts like a hot beef with pickles, and a meatball number packed with fried onions, mozz, cheddar, and miso-Sriracha mayo.
Harlem
Celeb Chef and owner of nearby Red Rooster Marcus Samuelsson is focusing on the poultry at this "Harlem Americana"-inspired spot with boom boxes covering the walls. Get involved with an eclectic array of eats, including the namesake Rotisserie with your choice of sauce (Smokey Q, Sweet Soy, Jamerican, Green Cowboy, or Hot Sauce), General Ye's crispy chicken with mango and peanuts, or the Crispy Bird sandwich with cheddar on a potato roll.
Little Italy
This offshoot from excellent burger stand Genuine Roadside in Gotham West Market has enlisted heavy hitters like Sam Mason, Paul Liebrandt, and Eben Freeman to help design its menu. There's the much-loved Super Duper Stack burger on hand, as well as new offerings like fish 'n chips, and an ice cream sandwich that's actually a sandwich made with Oddfellow's Ice Cream stuffed in a brioche bun with crunchy bits and syrups, all toasted super briefly on a panini press.

Flatiron
Around a gorgeous oval bar, the chef from Aldea, George Mendes, will dish out all manner of Portuguese wine, beer, and eats -- like crispy shrimp turnovers, grilled asparagus with dried sea urchin, oven-baked octopus, and a lamb leg cooked over charcoal with Sea Island red peas and tomato.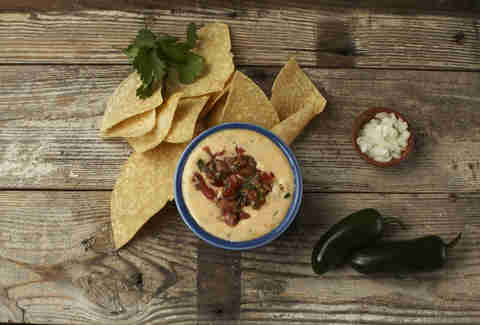 Hell's Kitchen
Continuing the much-buzzed-about groundswell of actually good Tex-Mex spots in the city, this joint, started by a James Beard award-winning blogger, is using fresh ingredients and attention to detail to try and change your mind about things like chile con queso, frito pies, nachos, and chicken fried steak.

East Village
Bringing Mexican to the bright window-walled corner of 2nd and 2nd, this spot centers around a central grill and works up regional Mexican dishes like tlacoyo (fava-filled masa cakes... duh), brisket tostadas, Veracruz-style octopus salad, and pork ribs stew with plantain, pineapple, olives, raisins, and almonds.
Lower East Side
This cousin to nearby Pearl & Ash features a 1,500-deep wine list, a classically inspired cocktail list, and a modern set of bites to choose from, including scallops with sea urchin, oysters, and beet bourguignon with carrots, pearl onions, and mushrooms.

Midtown
Shea Gallante and Charles Masson, both big deals in the dining world, have opened up this fine dining resto in the Baccarat Hotel and are serving modern luxury fare like caviar, Japanese yellowtail "cru", bouillabaisse with saffron crostini, and veal loin & sweetbread with toasted pine nut puree.
East Village
In the space that once housed his Bowery Diner, and then the pop-up/prelude to this restaurant Chez Jef, Mathieu Palombino has now unleashed this French brasserie with all the goods you'd want in something like that, including pot au feu, steak frites, and duck confit with sweet garlic mashed potatoes, mushroom jus, and frisee. Okay, almost all the goods you'd want (sorry, frisee).

Downtown
Along with views of the boats and the water right near the Seaport, this new spot from Merchants Hospitality also offers up wood-fired pizza, burrata, steak with grilled summer squash ribbons and smoked pepper salsa, and chocolate pizza.
Sign up here for our daily NYC email and be the first to get all the food/drink/fun New York has to offer.
Andrew Zimmer is Thrillist's NYC Editor and he bets you can't go to all of these before the next roundup of hottest restaurants comes out. We'll give you a month. Follow him on Instagram and Twitter.
Other Stuff You'll Like In Openings Cheat Sheet