Since you've probably spent the first half of Summer lounging around on beaches and rooftops instead of slavishly tracking the best July restaurant openings in NYC, we've put together a cheat sheet to help get you up to speed. Time to go breakfast taco-ing!

Hell's Kitchen
This expanding taco stand (already with locations in the West Village and Flatiron) is getting in on the excellent Gotham West Market action with its Mexican beachside-style eats, which include tacos, burritos, tostadas, and actually somewhat-of-a-rarity breakfast tacos. Get there early.
Williamsburg
Super-weirdly housed inside of an Urban Outfitters on N 6th St in Williamsburg, this Scottish/Jewish LA import (from Knife Fight-er and Top Chef season 2 winner Ilan Hall) is flaming up wood fire-grilled goods like banh mi poutine (!?), bacon-wrapped matzoh balls, and hanger steak with "mad onions".
Gramercy
David Waltuck of Chanterelle (a dining destination that served lower Manhattan for 30 years) has a new spot on Park Ave South, where he'll do classics like his famous grilled seafood sausage along with newbies like sea urchin guacamole, stuffed chicken wings, General Tso's sweetbreads, and fettuccine with scallops and duck fat. Also, shhhhhhhh, there's a not-so-secret, off-menu duck burger (w/ bacon mayo, foie gras, and fig & caramelized onion chutney) that's worth the trip alone.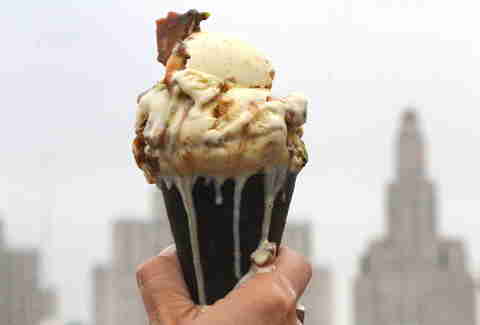 Gowanus
There might not be anything better than eating amazing ice cream on an NYC rooftop, which means there might not be anything better than Ample Hills Creamery (remember this place?) -- a new combo ice cream shop/factory/rooftop lounge in Gowanus. Get the Pistachio Squared or the brand-new It Came From Gowanus.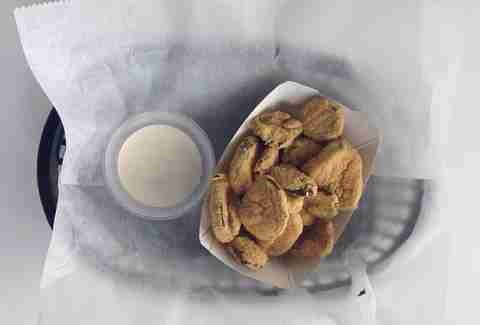 Carroll Gardens
After closing Seersucker to open up more space for their other spot, Nightingale 9, the same team has opened Wilma Jean in the old Nightingale 9 space (stay with us). They've got the same Southern vibe as Seersucker, married with a menu filled with double cheeseburgers, fried bologna sandwiches, fried pickles, and of course, fried chicken with buttermilk dressing.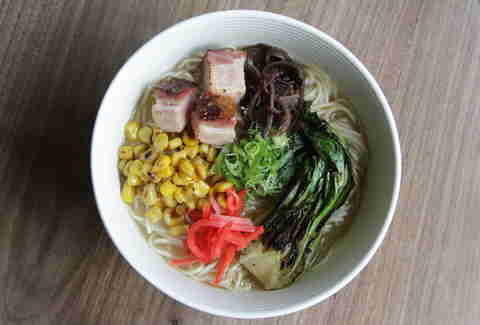 Williamsburg
Brother to Cherry at Dream Downtown, this split-leveler (with a beautiful, front-arched bar sporting a comfortable, raised dining room) is going all contemporary-Japanese on you with Suntory-glazed short ribs, chorizo-stuffed calamari, and sushi that's both traditional and outside of the box. Black Caesar roll with bacon and Caesar dressing, anyone?
West Village
If you're in the West Village around 3am, you no longer need to hoof it over to the East Village to shove some of the city's best hot dogs in your face. The new Crif Dogs outpost is doing our favorite, the Tsunami, plus the new-to-us Lil Ma, which is topped with peanut butter, pickles, and crushed chips.

East Village
Previously only out in Jackson Heights, this Korean fried chicken spot (which was VERY buzzed about during the Korean fried chicken boom of 2007) has finally brought its juicy/crispy fried chicken game to Manhattan. It's got options like a pork bulgogi burger and a whole chicken, all in the space that was formerly Apiary/Apres.
Midtown East
Huzzah, its biggest shop yet! Luke's in Midtown is bringing the lobster roll madness -- along with outdoor seating -- in a small park for picnicking, and happy hour every day of the week. You know you want lobster rolls.
Tribeca
So, we've actually been talking quite a lot about this place. But in case you haven't heard, there's a gorgeous boat parked off Pier 25 that's pairing oysters and cocktails with amazing views.

Williamsburg
This interesting spot is an "American tasting room" that comes from a partner at neighborhood favorite Brooklyn Star, and comes with a rotating roster of chefs from places like Brooklyn Brewery, Best Pizza, and OTB. They each swing through on different nights and hook diners up with creative menus featuring everything from beer cheese to pork belly cracklins and root beer floats.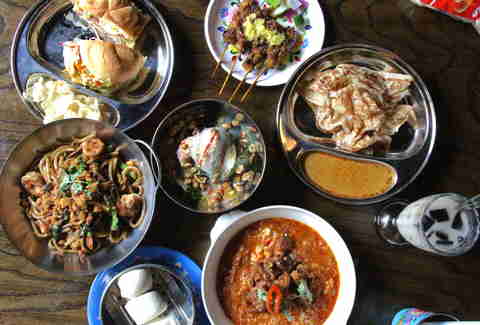 Williamsburg
This Williamsburg resto is bringing the feel of a Malaysian night market to Grand St, with an open roti station (where it slings s'mores roti from its secret menu), herbal restorative drinks like the black & white "Michael Jackson", burgers wrapped in egg and cheese, and soft-shell crab chili.
This list -- and all the rest -- look even sexier in our iPhone app. Get it now!
Andrew Zimmer is Thrillist's NYC Editor, and he never lets his beach-going interfere with his restaurant-going. If at all possible, he does them both at the same time. Follow him on Twitter and Instagram.