I
I

n the last year, New York continued to be a magnet for all different types of restaurants and cuisines. We saw new openings ranging in cuisine from Filipino, to Israeli, to Welsh, plus a return to the classics of 20+ years ago -- namely, homestyle Italian, fancy French food, and big-ticket dining across the board (a notable change from last year's focus on fast-casual). And, of course, the seasonal American, small-plate restaurant continued its rapid rise.
To determine the "best" of these restaurants for 2016, we considered a number of things: whether a place filled a void in the dining landscape, or reinvigorated an old beloved style of eating -- and, with the cost of dining out in New York steadily reaching upward, whether the quality of these places actually merited the investment. Out of all the new restaurants in town, these places not only meet our criteria, they each add something completely unique to the mix.
Williamsburg
2016 was a good year to be eating Italian in NYC. From Pasquale Jones to Café Altro Paradiso to Barano, there was no shortage of pizzas and pastas and cheeses and meats to eat. But nothing quite rivaled the return of Chef Missy Robbins, who opened Lilia in a former auto body shop in Williamsburg this past January, three years after her departure from A Voce. The pasta at Lilia on its own speaks to why Robbins' cooking was so deeply needed in New York.

Take the mafaldini, which features handmade ruffled noodles, cooked perfectly al dente and tossed simply with Parmesan, butter, and ground pink peppercorns. It's the kind of pasta dish you'd imagine cooking at home and eating on your couch in front of the TV on a cold Sunday night -- except you are not Missy Robbins. That's the key to Robbins' cooking, and ultimately, what makes Lilia such an appealing restaurant. Each dish focuses on just a few, simple ingredients executed flawlessly: grilled clams topped with chili and breadcrumbs; grilled veal flank steak with hot peppers and basil; cacio e pepe "fritters" (a notably fun take one of the buzziest dishes of the year). You may be sitting in a packed, converted garage that was very much designed to fit the current tone of Williamsburg (metal chairs, gray banquettes, exposed wood beams and white-painted brick walls), but each dish at Lilia will make you feel like you're at home, eating on your couch in front of the TV on a cold Sunday night. -LM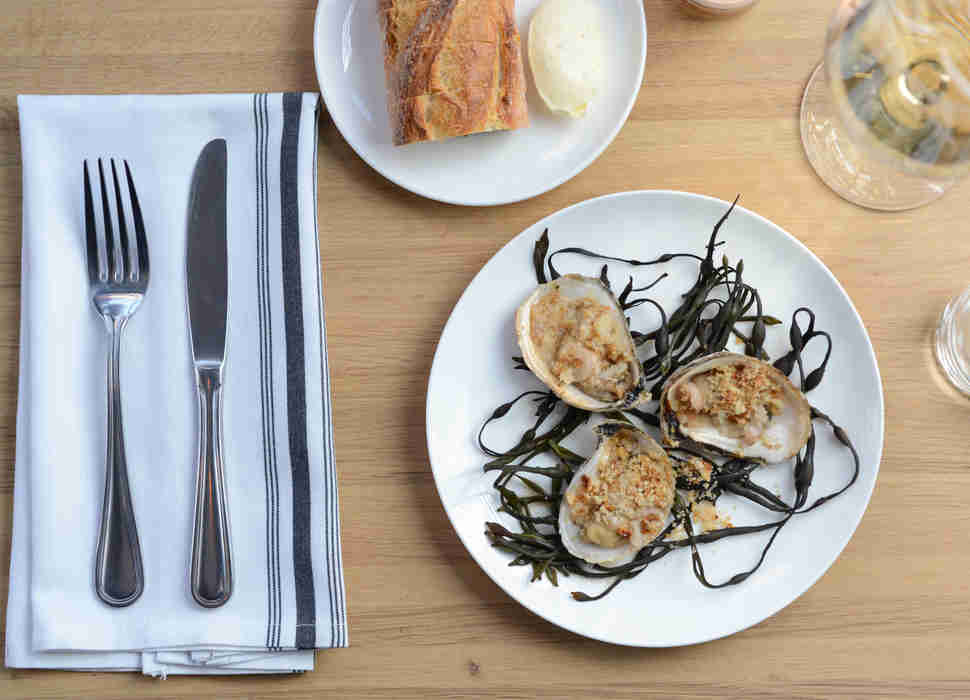 Gowanus
It's hard to imagine now, but long ago, Dutch settlers used to harvest fresh oysters from the tidal inlet now known as the Gowanus Canal. That was before the South Brooklyn neighborhood became an industrial wasteland with an open sewer running through it. Today, this once-forlorn area is a rapidly changing place, with a giant Whole Foods replacing a former toxic-cleanup site and an increasing number of cool bars and restaurants surrounding it. But the neighborhood didn't really have a destination-worthy dining spot until Freek's Mill came along earlier this year.

A stylish brick-walled space with an aromatic wood-burning oven, the restaurant is one of those seasonal-themed, small-plates sort of joints with an ample cocktail list, which seems like standard MO for modern Brooklyn -- but this place does it better than most. The fashionably open kitchen is run by Union Square Cafe alum Chad Shaner, who cranks out an array of well-executed dishes like dry-aged duck with cranberry beans and roasted pork jowl with smashed cucumbers. In keeping with the seasonal theme, the menu changes regularly, but one constant is the wood-roasted oysters, spritzed with lemon and sprinkled with garlic-y breadcrumbs. That's a good thing, because they're probably the best dish on the entire menu. Early Dutch settlers would be proud. -CS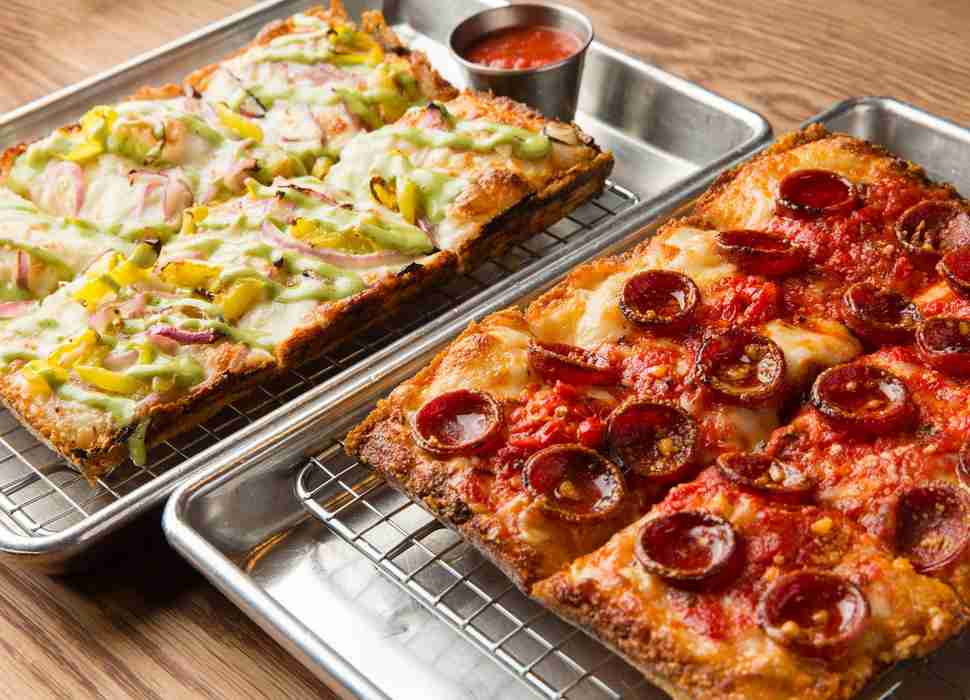 Williamsburg
It was basically impossible to scroll through your Instagram feed this year without spotting a picture of Emmy Squared's square pizza. And while that may make you roll your eyes, know that it's with good reason. Yes, it's a photogenic pie -- with crispy, cheesy edges and dollops of sauce on top -- but it's also part of a bigger movement in the NYC dining world that's worth noting: a (however shocking) push away from the standard New York slice towards other regional styles of pizza. In the last couple of years, the city has become home to Chicago-style deep dish (Emmett's), St. Louis-style Provel cheese pies (Speedy Romeo), and now, Detroit-style squares at Emmy Squared, the spinoff of Emily and Matt Hyland's original much-hyped pizza joint, Emily.

The pies at Emmy Squared check all the Detroit-style boxes they should, and run the gamut from the Roni Supreme (pepperoni & Calabrian chili) to The Emmy (banana peppers, onions, ranch). But just like Emily is about more than just the pizza (hello, Emmy burger), Emmy Squared is also good at more than just square pies. There are the crispy cheddar curds, an upgrade from your standard mozzarella sticks; a hefty, spicy chicken sandwich topped with salsa and ranch on a pretzel bun; and, because Matt Hyland knows his burgers, a downstairs burger bar open on weekends with Le Big Matt: a fast-food-style burger with beef patties from Fleishers, American cheese, pickles, and the pleasantly spicy "Sammy sauce." You're not going to leave Emmy Squared feeling especially light -- your end goal here should be a verging-on-uncomfortable level of fullness. -LM
SoHo
In 1997, Keith McNally opened Balthazar, a Parisian-style brasserie in a then still art-bent SoHo that would go on to become the Parisian-style brasserie in New York, known for its elegant seafood towers, Sex and the City cameos, and a continued popularity despite high prices and even higher numbers of tourists. In 2016, SoHo looks a bit different -- there's less art and more Zaras (and even more tourists, mostly because of the Zaras). There's also, for the first time in almost 20 years, a new contender for "the Parisian brasserie": Chef Daniel Rose and restaurateur Stephen Starr's Le Coucou.

Le Coucou is very much about the grandeur: tall ceilings adorned with chandeliers, sweeping white curtains flanking what are nearly floor-to-ceiling windows; elegant tablecloth settings atop the innumerable tables that fill the dining room. That same grandeur is reflected in the menu as well (note the very high prices) but the food outshines anything going on superficially here. This is American-born Chef Rose's first time cooking in the states, having previously opened two successful restaurants in Paris. You can taste that experience in any number of classic French dishes on the menu, from the delicate veal terrine to the lean filet de boeuf coated in bone marrow jus. This is certainly not a once-a-month dining experience (and possibly not even once-a-year), but if you're lucky enough to afford it, it's worth your time to experience this brand-new, old-school approach to French dining in New York. -LM
Midtown
Midtown Manhattan isn't exactly the epicenter of exciting new restaurant openings in the city. But this New Delhi import is a rare exception. It's a spin-off of one of Asia's most acclaimed restaurants, known for applying modern culinary techniques to traditional Indian flavors. Located in Le Parker Meridien Hotel, the restaurant is gorgeously designed without going ridiculously ornate, featuring bright wood floors, plush charcoal-colored seating, a sleek marble bar, and gold-tinted accents throughout.

Chef Manish Mehrotra's New York menu is a bit different from that of the original India location. But it still offers several things that you typically don't see stateside, like the sweet potato shakarkandi, served with kohlrabi and crisp okra, and roomali roti, a thin foldable style of pancake used to scoop up the house's delicious ghee-roasted lamb. (Sorry, no chicken tikka masala here.) Even if you know nothing about real Indian cooking, or any of its many facets, you'll be thrilled with Mehrotra's sticky sweet pork ribs, topped with pickled mango and onion seeds -- unquestionably one of the best new dishes in town. -CS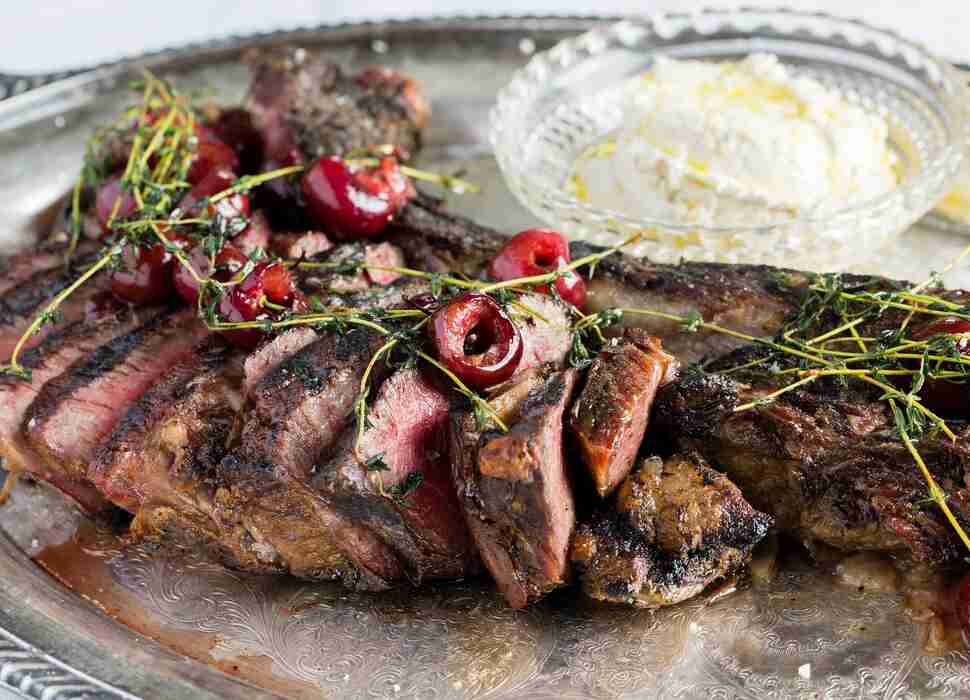 West Village
From 2006-2009, if you were a relatively young and relatively "cool" person in the NYC fashion/film/music/art world, you spent your nights at The Beatrice. The West Village club, a favorite among the Olsens, an in between-rehab Lindsay Lohan, and Chloë Sevigny (whose brother, Paul, was an original owner), was known for its strict door, famous clientele, and loud parties. That is, until April 2009, when the city raided it and shut it all down. After that, Vanity Fair editor Graydon Carter tried to make it into a restaurant -- which never really took hold. But In 2013, Carter hired Spotted Pig sous chef Angie Mar, who promptly changed up the menu. This year, Mar (our NYC chef of the year) changed that menu even further, and, more importantly, she became the restaurant's owner.

The "new" Beatrice is all about meat: lamb burgers, roast duck flambée, a whiskey-aged tomahawk rib-eye... a stark contrast to the veg-forward last year we've seen with headline-grabbing dishes like Nishi's Impossible Burger and just about anything sold at by CHLOE. In fact, there's probably no one in New York putting as much emphasis on meat as Angie Mar right now. That whiskey-aged tomahawk rib-eye (which uses a technique hardly anyone is doing in-house right now) may not be in-budget, but you can still get a taste of Mar's approach to animals with the (admittedly still pricy) $38 45-day dry-aged burger, topped simply with red wine caramelized onions and creamy d'Affinois cheese. -LM
Greenwich Village
Mimi, the exceptionally tiny and unassumingly cool restaurant on a fairly quiet block of Sullivan St, has tapped into something that's been missing for a while in New York: classic, unfussy French food. The menu, which changes daily, is all about indulgence without pretension. Pork rillettes are served with an enormous jar of cornichons, mustard, and perfectly crispy bread; fresh, thinly sliced madai swim in rich brown butter and lemon curd; whole Maine lobster gets drenched in escargot butter; and the roast chicken, which is perfectly crispy on the outside and juicy on the inside, is served alongside delicate potato dumplings and escarole coated in mustard. It's stylish bistro food as it should be -- unfussy but decadent. That same attitude is reflected in the interiors as well; there's a small, curved stainless steel bar at the front and a handful of tables, which are positioned so close together you can listen to your neighbor rave about the beef cheeks he ordered, and then put in an order for yourself.

The most impressive thing about Mimi from the start was undoubtedly its chef, Liz Johnson, who got the job at 25 (after previous jobs at Empellón Cocina and Noma). As of last month, however, Johnson has left the restaurant. In her place is Chef Ivan Corona, who had worked with her in the kitchen prior to her leaving, and has carried on cooking some of her dishes in addition to his own. So far, the transition seems to be a smooth one -- Mimi is still the French bistro we desperately needed. -LM
Nolita
This quaint little restaurant in Nolita is a testament to just how creative New Yorkers can get with incredibly small pieces of real estate. Proprietors Ann Redding and Matt Danzer, who also operate the beloved Thai restaurant Uncle Boons, have somehow managed to squeeze 13 seats and a tiny kitchen into this walk-in closet of a storefront on Mott St.

What it's lacking in elbow room, the place certainly makes up for in old-school charms. With its antique furnishings, vintage menu board, and dainty tableware, the homey restaurant feels like it's been around for decades. Likewise, the menu comes loaded with nostalgia-inducing riffs on American classics. Inspired by Southern-style "meat and three" joints, the lineup includes your pick of entree -- think juicy dry-aged meatloaf, crunchy chicken-fried pork cheeks, or a hefty slab of the best rosy-centered roast beef you've had in your life -- plus two sides and a sauce. But save room for dessert: The cherry-topped banana rum pudding is a must. Not everything here is a throwback: The restaurant oddly doesn't take cash. But at just $19.99 for a four-piece plate, it's an exceptionally great value in this exceedingly expensive town. -CS
Greenpoint
The oyster bar is a longstanding New York tradition. Of all the modern incarnations, there's probably no place more revered than Maison Premiere in Williamsburg, which complements its impressive oyster selection (around two dozen varieties from both coasts) with equally impressive cocktails. Trouble is, it's tiny. So its owners did a smart thing by opening a bigger, 68-seat sister restaurant just a short walk up Bedford Ave. Now, Chef Lisa Griffen, who joined the team in 2013 to expand the dinner menu beyond simple half-shell delights, can further explore what a restaurant with a great raw bar can truly be in today's NYC.

At Sauvage, which exudes a more Parisian vibe than its New Orleans-inspired sibling, oysters are still a specialty. Same goes for the beverage program, which includes, yes, excellent cocktails, but also an in-vogue biodynamic (and heavily French) wine list. It's the broader menu, though, where Griffen pushes expectations higher, with innovative vegetable-centric dishes like carrot carpaccio and expertly prepared, ethically raised meats. Not everyone will be adventurous enough to try the visceral pig-head confit for two, but many will find that the less intimidating pork porterhouse, served on the bone, is one of the most succulent cuts in the city. -CS
Prospect Heights
To describe a restaurant as "farm to table" these days is pretty much stating the obvious. Virtually every new restaurant brags about the freshness and locality of its ingredients, not to mention the farmers who supply them -- sometimes even posting framed portraits of these agrarian celebrities throughout the dining room to prove the point. In recent years, we've seen NYC restaurants take things a step farther, installing tiny backyard or rooftop gardens to bring some of that fresh produce even closer to the actual table in front of us. Olmsted, one of this year's true breakthrough hits, inches us ever nearer to our ultimate urban-pastoral dining utopia.

The restaurant is run by an actual farmer, Ian Rothman, in partnership with an accomplished chef, Greg Baxtrom. Together, they've created a uniquely neo-rustic experience, where guests dine against the backdrop of an expansive, indoor "living wall" of vegetation, outfitted with its own irrigation system, then retreat to a spacious and even more lush backyard to roast marshmallows and make s'mores under the stars. It might all sound a little hokey -- a sort of hipster-geared Rainforest Cafe -- if the food wasn't so wholesome and incredible. Baxtrom seems especially deft in the delicate art of spinning otherwise boring vegetables into hearty dishes suitable for the meat-and-starch crowd, like his ultra-creamy "tagliatelle," made from shockingly al dente strips of rutabaga. He does wonders with real meat, too. The lamb porchetta takes on an almost pastrami-like texture, to the point where you're not really sure which animal you're eating -- lamb, pork, beef? -- and it almost doesn't even matter. It's that good. -CS

Sign up here for our daily NYC email and be the first to get all the food/drink/fun New York has to offer.