In New York City, favorite restaurants are ephemeral. Your former go-to Chinese takeout joint is now a bespoke shoelace boutique. Your tried-and-true dive bar was swallowed by a Williamsburg high-rise. And your local bodega will close when the L train shuts down. But beyond all the venue obits, there's a silver lining: with each closure comes something new.
For all the goodbyes we've said, we've also welcomed a host of excellent new restaurants. This year has already brought us street food from Tel Aviv, North African-inspired lamb, bread by way of Bombay, noodles à la provincial China, and tea from Japan. Before these kitchens merit week-long wait lists of their own (or before they, too, shutter), try out some of our picks for this year's best new restaurants, so far.
Recommended Video
Wood-Grilled Pizza: Pizza or Flatbread?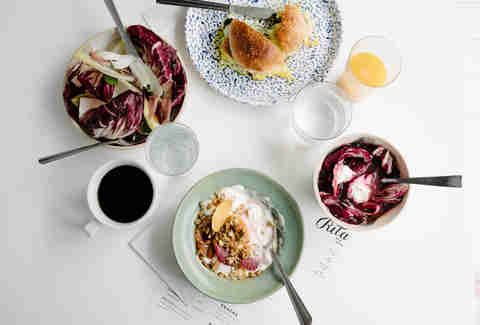 Red Hook
A sunny daytime cafe for light bites
Red Hook has more dining options than its dearth of subway service would suggest. Rita is the latest, from Court Street Grocers alumna Mary Ellen Amato. The bright, airy space is a welcome zag from Brooklyn restaurants' apparent propensity for dim Edison bulb lighting and heavy, reclaimed wood. Novel breakfast items like eggs over pizza bianca, and savory porridge with sweet potato, sauteed greens, and crispy shallots are available all day. Lunchtime brings crispy, gooey grilled cheese sandwiches with bacon-date relish, and chicken broth with cured ham, anchovy, and white bean.

Lower East Side
An Arctic expedition-themed little sister to a new LES classic
Freemans hasn't been a destination for true insiders for more than a decade, but its new upstairs 20-seat nook Banzarbar will have you feeling like it's 2005 all over again. Fashioned as a pseudo-secret, Banzarbar requires that you enter through the restaurant's blue door and get escorted upstairs. For all its pomp, the cocktail program here is terrific. Opt for the (necessarily) low ABV two-hour five-cocktail tasting program, where you'll sip on combinations of vermouth and Champagne, amaro and gin, and Marsala and cognac with seafood bites.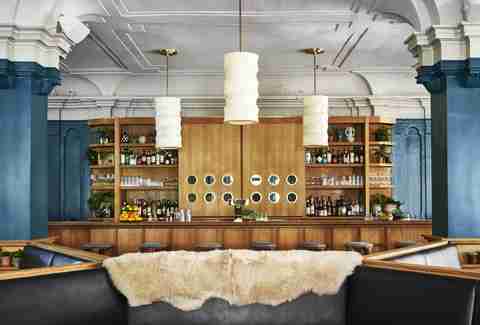 Flatiron
North African fare served in living room-like environs
The Freehand Hotel's new offering is also the latest from West Village restaurateur Gabriel Stulman (Joseph Leonard, Fairfax, Fedora). A living room-esque interior is the stuff of Insta-fantasies: round-framed mirrors, fur carpets, lush foliage. Pick at English pea hummus with lamb merguez before moving on to North African and Near East-inspired dishes like the buttery lamb kefta served over pita with lemon tahini, cucumber relish, and cilantro.
Lower East Side
Dinner parties helmed by a 19-year-old kitchen prodigy
Visiting Gem feels like a homecoming, presuming your home is a pristine manor. Flynn McGarry -- the teenager in charge -- divides his first brick-and-mortar restaurant into a living room and a dining room. The living room is a daytime go-to for coffee, tea, and warm pastries. The dining room accommodates up to 16 guests for two seatings of a 12-course menu Tuesday through Saturday. The $155 tasting begins with light bites like McGarry's take on the Ritz cracker with foie gras, followed by family-style platters of king crab, gamey lamb, and slow-roasted sunchokes.
Chelsea
Real-deal Israeli street food in Chelsea Market
With successful locations in Paris and Tel Aviv, a Miznon outpost has landed in Manhattan. Jerusalem-born Eyal Shani's much-anticipated Mediterranean menu is street food-forward and reliant on pita. The counter-service joint stuffs the soft but sturdy pockets with ratatouille, rib-eye steak, and lamb kebab. Miznon's signature dish, however, is pita-free: crispy, blackened baby cauliflower.
Bushwick
The latest on Bushwick's Sichuan scene
For neighborhood folks feigning loyalty to their corner takeaway spot, General Deb's is a high-end Sichuan godsend. This new joint by Faro founders Kevin and Debbie Adey do provincial Chinese cooking right, with a menu built on dense, hearty noodle dishes bestrewn with spicy meats and veggies.
East Village
Upscale Korean fare with a French flair
Born and raised in South Korea, Soogil Lim paid his NYC restaurant dues at Daniel, where he was the Michelin-starred restaurant's first Korean sous-chef. The menu at his new eponymous spot is layered with his French culinary training. Foie gras is slathered with Korean pear and omija gelee, sweet potato beignets are served alongside kimchi soup, and rice wine and Korean liquor stand in for more pedestrian libations.
SoHo
Reimagined Bombay street food in a Wes Anderson-inspired space
A bold move in a climate of carb and gluten fear, Floyd Cardoz's new take on his old place is a veritable breadbox. The former Paowalla space has been reimagined by a Wes Anderson set director with playful, waxy fruit-patterned tablecloths and a splashy floor-to-ceiling mural. The menu advances Bombay street food, featuring a variety of complex chutneys and pillowy house-made naan, along with new takes on classics like saag paneer pizza, bacon-cheese kulchas, and a marvelously spicy pork vindaloo coupled with tart cucumber raita.
Lower East Side
An update on the traditional Japanese tea house
Sparsely appointed with distressed white walls, exposed brick, and butcher paper menus, Davelle models itself after a traditional Japanese tea house. Mornings here are are for pour-over coffee and imported matcha with plates of salted boiled egg, bread, and potato salad. Lunch brings curry and rice or fried chicken, and the dinner menu features a decadent pork curry, which you can enhance with shabu-shabu washu beef.
SoHo
Fast-casual Italian by day; throwback trattoria by night
After 10 years off the map, this one-time staple of Upper East Side Italian cuisine reemerges downtown with daytime fast-casual service. By night, the venue returns to its roots and slows down to a classic trattoria pace. Stuffed grilled sardines tangle with ribbons of bucatini, beef brisket stews with house-made pappardelle, and seafood forward antipasti plates pair with selections from the restaurant's long wine list.
Sign up here for our daily NYC email and be the first to get all the food/drink/fun New York has to offer.