There are 27,079 eateries in New York City, and every late night slice shop we take for granted, every neighborhood joint with friendly faces and even friendlier buybacks, and every aspirational prix fixe destination is somebody's idea of the best — even if it's just the restaurant owner's mom. This embarrassment of riches makes opening a new spot an act of hope and hubris.
 
I've covered more than half-a-hundred new restaurant openings for Eat Seeker this year, and been to plenty more that weren't ready to be written about. Some were very good, some were fine approaching bad, and some made me worry that anyone I know, love, or have ever met in my life would accidentally spend money there. So choosing the year's best new restaurants really wasn't very hard. 
Each one of these special occasion spots, statement dining destinations, burgeoning local staples, and tourist dazzlers come correct with excellent food and drinks, but so do a handful of other places you won't find here. What separates the best from the rest are their shared qualities of comfort, hospitality, and charisma that'll keep you coming back. Every spot you'll see below is actually worth going back to — even with those other 27,079 venues beckoning like everyone's favorite stock photograph-turned-meme. These are best restaurants that opened in New York City in 2019, worth revisiting next year and beyond.
MORE: Check out the 12 new restaurants we named best in the nation this year
Recommended Video
Ghost Kitchen: How This NYC Restaurant Is Responding to Coronavirus
Financial District
Effortless elegance that makes any night of the week a special occasion 
Life isn't always easy, but Crown Shy is. Chef James Kent's beautiful first solo venture after a successful turn at the Michelin-starred NoMad is a breath of fresh air in the congested Financial District. Every trip here feels important, like a gala — but one where it's ok to wear jeans. Situated down a narrow stretch of Pine Street, clicking your heels through its marble-laced lobby will give you a tickle every time. Inside, the long bar is the best place in town to have some alone time with a tipple and a comforting order of exuberant gruyère fritters that look and taste like a grilled cheese sandwich and a churro fell in love, got married, and celebrated their fiftieth anniversary with a couple of bottles of Champagne. Its sweeping, neutrally-hued dining room is equally suited to romantic nights for two and dinners for groups as big as the Ritz.
 
I've recommended Crown Shy to more people than any other restaurant this year. The copiously garnished cocktails, complimentary pull-apart olive bread, and braised short rib for two keep me coming back. It's an effortless choice with a huge return if you can snag a reservation -- a rare hybrid that's both a dynamic special occasion destination and a familiar night out spot tucked into a neighborhood that isn't always kind to either genre. It'll impress tourists and locals alike.
South Street Seaport
Another stunner from restaurant royalty
The views from The Fulton are breathtaking. Jean-Georges Vongericten's umpteenth restaurant owes a modest debt to its location on the East River, with the Brooklyn and Manhattan Bridges glittering in the near distance. Cocktails like the gin and tonic with a smack of shiso and the cherry-tinged whiskey sour give those views even more of a shine. Even to native New Yorkers and longtime transplants fatigued by redundant shots of the same tables, dishes, and bathroom mirrors everyone's posting on social, this spot at the recently refurbished Pier 17 is a welcome sight.
 
The behemoth restaurateur's menu skews aquatic, too. The $120 whole black sea bass for two (baked in a pastry crust to photogenic effect) is the star of the show, but the $33 filet option is an equally adept understudy. A perky red snapper ceviche, crispy fried soft shell crab (when in season), and a healthy portion of lobster in longevity noodles also chew the scenery in supporting roles. The Fulton spotlights some of the best of what New York City has to offer.
Williamsburg
A cutie of a newcomer, any time of day
One of our Best New Restaurants in the nation, Union Square Hospitality alum Nate Adler's Brooklyn spot is as adorable as all get-out. Natural light pours through oversized windows, warming the cozy, flaxen interior -- and your spirit. The curved ceiling and kicky light fixtures evoke throwback dining car vibes, writ Williamsburg, 2019.
Gertie got off to a strong start in February with a daytime menu of brilliant breakfast sandwiches on bialys — flatter, more manageable vehicles for your morning egg and cheese than the common bagel. Today, it's an all day affair, replete with a robust wine, beer, and cocktail program (including house-made boozy sodas), and a tidy dinner menu featuring a darling blue plate special, rotisserie chicken dinner, and a whole family-style duck that you must order in advance. Finish with a round of warm chocolate chip cookies and you'll be dining out on Zooey Deschanel energy for days.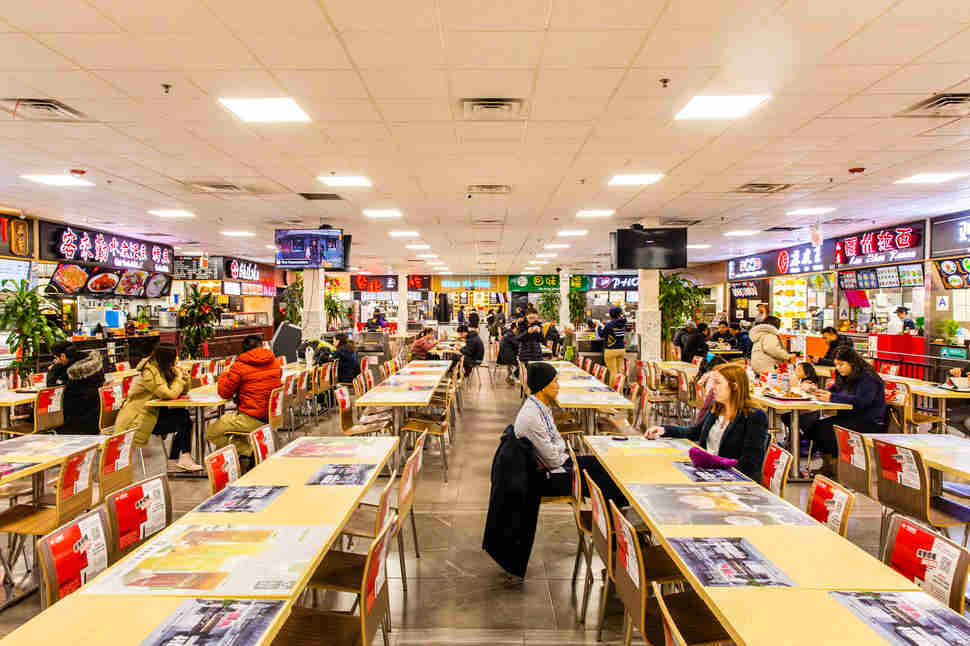 Elmhurst
Oodles of noodles (plus bánh mì, dumplings, and wontons) all under one roof
Newly opened at the sight of a former supermarket, it's easy to spend half a day at HK, and everyone but lucky locals who can pop by whenever should plan to do just that. Bubble tea's the strongest drink you'll sip here, but prepare to pace yourself in any case: the sprawling space's couple dozen vendors offer a cornucopia of bánh mì, hot pot, skewer, and dumpling options, and whittling them down is a challenge. Start with a walking around snack, like Lan Zhou Ramen's fish ball, lamb, or chicken gizzard on a stick (but please don't eat them directly off the sharp skewer if you're actually doing a walk-and-nosh; slide 'em off first) and take a few laps to hone your choices. 
Be bold or boring or a little bit of both; there's plenty to try and it's easy to have a different experience on every return trip. Be judicious and carefully negotiate all this deliciousness: Famous Food's handmade pork and chive dumplings are enticing — but so are its wontons in chili oil. LaMao Spicy's myriad possible pot combos require studied consideration. And countless noodle configurations are hard to pass up. Once your tray's just heavy enough, settle into one of the 200 some-odd tables and dive into your self-guided tasting.
Midtown East
Dazzling dining by way of Hong Kong at one of NYC's most august addresses
This is New York City's premier new statement dining destination. The famous former Le Cirque space has transformed into a dazzling Art Deco cavern, adorned in slick nickel and marble finishes. Its geometric bar is a lovely place to sip "spirit-subtle" or "spirit-forward cocktails," but the midnight blue, crescent shaped booths are the best seats in the house, so try to book in parties of four.
The larger your group, of course, the more you can sample from head chef Fei Wang's menu. One dim sum platter (eight to a plate) will do the trick, but it's hard to resist a return round of rosé Champagne, lobster squid ink, pickled chili cod, and spinach dumplings that shimmer like precious gems. Hutong's roasted Peking duck (available by the whole or half bird) has a crackling skin like that betrays its tender interior. And the wok-tossed lobster with chili, black beans, and dried garlic is the apex of indulgence. A transparent wine hall stretching up to the ceiling is your best Instagram backdrop and, more importantly, contains a fair amount of bottles also available by the glass.
West Village
Peruvian-Japanese plates to share -- if you're willing to part with them
In a culinary landscape where new restaurants must make themselves virtually invisible (no phone; no sign; "off the beaten path"; gotta summon Virgil in a candlelit library for access) to seem cool, opening on the main drag of one of Manhattan's longest-reigning hot neighborhoods borders on iconoclastic. But Chef Erik Ramirez's airy, driftwood-tinted Peruvian-Japanese restaurant's rightful place is front and center -- and it still manages to exude effortless chic. This is where you take someone you want to impress without letting them see you sweat.
 
Llama San is a cut above its peers in the crowded shared-plates space, thanks to one key innovation: its plates are actually shareable. Three dishes can satiate a party of two. Recent hits included bowls of pillowy scallop ceviche with chirimoya and flawless chunks of avocado; hamachi tiradito with buttery uni and effervescent matcha foam; a generously portioned octopus, crab, and mussel dish (loosely packed into a dome of rice and topped with a soft-boiled egg); crunch-coated iberico pork with an improbably show stealing udon verde; and the high-contrast pairing of richly dressed  lobster and punchy chunks of beef heart. Pick a few and pair 'em with a perky Nikkei martini (nori pisco rinse, Japanese gin blend, sake vermouth, pickled kombu) or a mellow Flaming Creatures (Japanese whisky, cacao, chancaca, miso, palo santo smoke). You can always order more next time.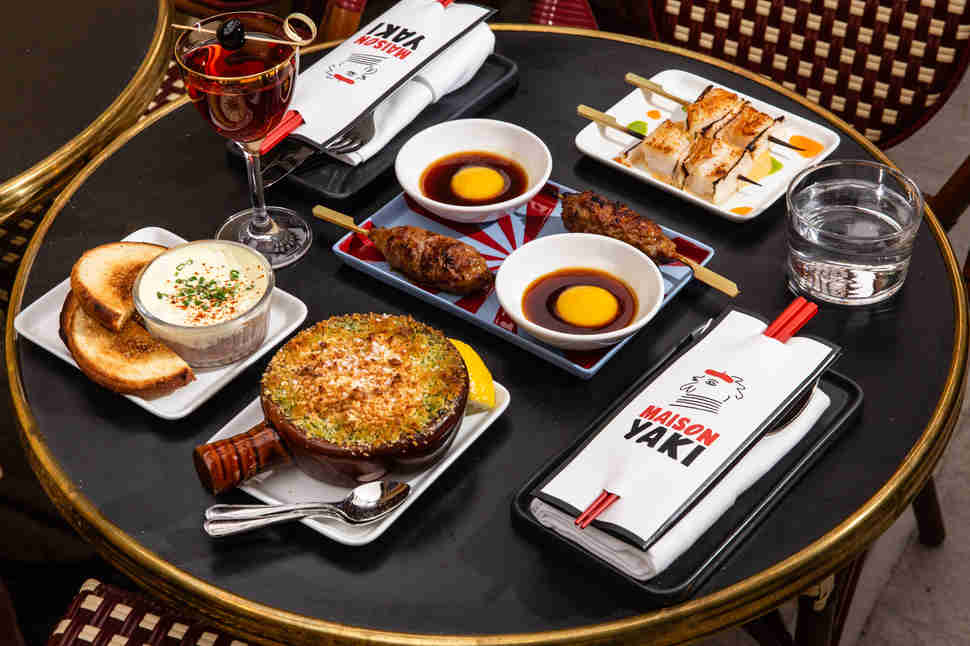 Prospect Heights
A self-guided tasting adventure on a stick 
Skewers tore up menus all over the city this year, and chef Greg Baxtrom's are the best. His Olmstead follow-up is a little easier to get into than that perennial neighborhood favorite right across the street, since about half of Maison Yaki's 50 seats are set aside for walk-ins every night. At eye level, the narrow dining room is tastefully adorned in exposed brick, mahogany, and shades of oxblood. Below, the kaleidoscopic floor affects a liquid quality after a few of the good-as-new cherry blossom Manhattans, vesper martinis, and tarragon margaritas that are available on tap.
 
Maison Yaki's dozen pierced provisions include bearnaise asparagus, duck a l'orange, pork belly dijonaise, and scallops and sauce maltaise. Un-speared small plates like the tempura frog legs provencal, duck rillettes and wasabi, and escargot in shiso butter zag pleasantly away from expected flavor profiles. Everything on the menu (including cocktails, wine, and beer) is under $10, but that adds up fast when there's so much mixing and matching amusement ahead.
Meatpacking District
A long-awaited reboot by downtown's favorite restaurateur 
Pastis 2.0 didn't need to be great. Middling reviews of the erstwhile Keith Nally hotspot published during its 15-year run didn't keep TV stars, tastemakers, the idle rich, hangers-on and lowly, troll-y writers from crowding its curved zinc bar and filling the subway-tiled, golden-hued dining room day after day. People didn't go for the food (which was fine!), they went because it was the place to be. As the spiritual mayor of the downtown Manhattan restaurant scene, McNally restaurants tend to have that effect.
 
After a five year hiatus, a partnership with Stephen Starr, and a change of venue, Pastis still sings. And this round, the food is good, too. McNallyland bartenders could make a Red Bull and vodka taste good, so order whatever. Highlights from the kitchen include the pâte (served with butter so rich and creamy they could plate it alone and call it an amuse-bouche), escargots in garlic-parsley butter, Tuesday night duck confit plat du jour, croque monsieur, and the hanger steak frites.
Red Hook
NYC's best new burger (and other incidentally delicious dishes)
Of course Hometown Bar-B-Que's proprietor would know how to treat meat, and, as you read in the August edition of Eat Seeker, Billy Durney's new burger is the best of the year. But among the dizzying dozens and dozens of 2019 openings, should a mere burger lift any restaurant to the ranks of the year's best? Durney's thick, dry-aged patty -- juicy with a whisper of rich grease, and topped with American cheese -- could. But it isn't even doing all the heavy lifting on its own.
 
Red Hook Tavern doesn't make it easy. Reservations at peak times are scarce. If you're feeling brave, you can put in your name and gird yourself against the quoted wait time, which could be an hour or four. But whenever, however you make it in, you'll be rewarded with 1920s and 30s-era cocktails and handsome decor that nods to the same vintage, a substantial chicken liver pate with sour cherries, fragrant head on prawns doused in garlic, a surprisingly crowd pleasing wedge salad, and that perfect burger. I don't know how many return trips it would take for the new standard-setter to lose its luster, and at this rate of seating availability, no one ever will.
Flatiron
The finest pasta you'll have outside of Italy's Emilia-Romagna region
Like chicken, pasta is easy to skip when dining out. It always sounds a little boring, you can make it at home, and it rarely seems worth it. My own husband doesn't "believe in" (restaurant) pasta. Chef Stefano Secchi's rustic, semi-sunken new spot handily turns that notion on its head. Secchi cut his teeth at Osteria Francescana in Modena, Italy -- named 2018's best restaurant in the world -- before sinking them into 20th Street, where his provenance is abundantly apparent.
  
Rezdôra's menu and expertly curated list of northern Italian wines (the Lambrusco's a hoot) will win over red sauce regulars, high-end Italian devotees, dubious husbands, and anyone who lucks into an elusive reservation. Its gnocco fritto (puffed bread) with prosciutto di parma, mortadella, and pancetta sounds like your standard salumi plate, but it's deceptively craveable. Slow cooked rabbit ragu over wide spinach pasta, and a duck variation with maccheroni al pettine are both peak form. The raviolo topped with white truffle and bursting with ricotta, egg yolk, and spinach is almost as satisfying to cut into as it is to taste. And when you do come back, which you will, you'll want to opt for Secchi's $90 five-course tasting if you couldn't quite commit the first time.
East Village
Sidewalk classics, traditional dishes, and modern takes on Vietnamese cuisine
To paraphrase New York City mascot Sarah Jessica Parker, if you're a nice person and you work hard, you get to have a neighborhood restaurant like Van Da. Its street level dining room is awash in pale light that spills out onto the sidewalk through picture windows, lending the space a tableau vivant quality. Lower lights and ceilings make the downstairs area feel like a romantic little secret. 
Chopped winner chef Hannah Wong's shareable plates like the short rib grilled cheese with accompanying shot of pho, shrimp and pork tapioca dumplings, turmeric branzino, and shaking beef are divided into four categories: reinvented street food, ancient, traditional, and modern. On an ideal evening, you'll sample at least one of each, along with thoughtful cocktails like the HoChiSmokey (mezcal, Thai chili, mango, aperol, lime, shiso salt rim), Ben Thanh Cruiser (bourbon, ginger, blood orange, Angostura), and the Turtle Tonic (gin, cucumber, lime, mint, tonic).
Nolita
Indonesian-French fare from a husband and wife duo whose name you might recognize
After decades under his famous father Jean-Georges' tutelage, chef Cedric Vongerichten and his wife Ochi had an instant hit on their hands when Wayan opened in February. Its perpetually packed dinner service remains relaxing in spite of the unending action. Up front, tables are tightly packed around the verdantly fashioned bar, where novel cocktails like the Ochilikes (gin, Cocchi Torino, orange bitters, Champagne vinegar) are shaken and stirred at admirable speed. The back -- where booths and stylized, exposed brick walls are lit by gilded lanterns -- is a bit roomier.
Wayan added brunch and lunch service midyear, so variations of the younger Vongerichten's chicken, pork, and shrimp satays, lobster noodles, and likely-to-gain-a-cult-following corn fritters are available almost all day. Excellent orders of crispy baby back pork ribs, coconut crescent duck, and a traditional Indonesian meat, veg, egg and fragrant rice platter are available exclusively at dinner, so you'll still have to brave the crowd for a taste. It's all worth the wait. Cedric Vongerichten's Wayan -- by any other name -- would still be among the best.
Sign up here for our daily NYC email and be the first to get all the food/drink/fun New York has to offer.