Where to Get the 10 Best New Steaks in New York City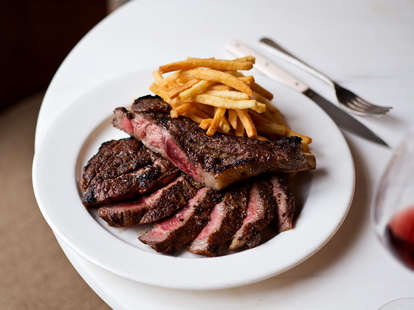 You can only go to Peter Luger so many times (you lucky, jaded bastard), before it's time for you to branch out and see other steaks. That time is now, and those other steaks are these ones: NYC's 10 best new pieces of meat.

Upper East Side
You'll probably need a date to enjoy the ribeye at this quiet, much-needed Upper East Side joint from culinary patriarch Eli Zabar. Here, Chef John Carr's charred, dry-aged rendition for two is made with meat sourced right from Eli's Market next door, and served with addictive, hand-cut pommes frites.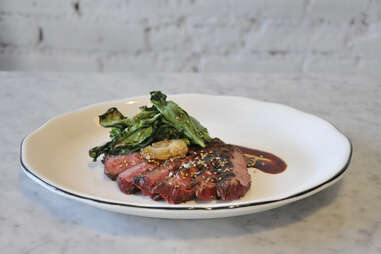 East Village
This French-Japanese mash-up is whipping up creations like mezcal-sake cocktails and steamed cockles in enoki broth, which lead up incredibly well to Chef Ian Alvarez's flatiron steak with house-made Worcestershire sauce, sesame seeds and -- to ensure you get your greens on for the night -- a mound of bok choy.

West Village
Although vegetables are seemingly the main attraction at this wildly popular West Village spot from power chef couple Jody Williams and Rita Sodi, you're here for the meat -- in particular, juicy hand-chopped steak. It's essentially a burger sans the bun, simply seasoned and seared until there's a nice crackle of crust. Mmm... meat crust...
Greenpoint
Cozy and decked out in wood, Chef/owner Jake Eberle's modern French bistro hits all the right rustic notes (like his duck/pork belly/garlic sausage cassoulet), but the Creekstone Farms hanger steak -- with cubes of potatoes, hen-of-the-woods mushrooms, and wilted spinach -- hits all of the right rustic and NOT-rustic notes (those are things, right?), managing a cooked-just-right simplicity that puts it into best-steak contention.
West Village
One of the owners of this newcomer is Joe Dowdell, a personal trainer and owner of Peak Performance, plus there's also a nutritionist who vets all the dishes with the chef, David Standridge. Instead of rolling your eyes and fearing bland tempeh, though, trust us when we say eating healthy can be a delicious thing, because here it means smoked chile octopus paving the way for a tender Green Valley Farm strip loin over olive oil potato puree. On top you'll find a smattering of Brussels sprout leaves, because, you know, it's a "good-for-you" restaurant.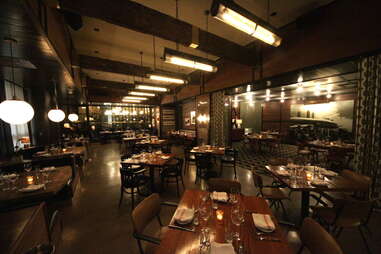 East Village
Prolific duo John McDonald and Josh Capon's latest hit, the don't-you-dare-call-it-a-steakhouse Bowery Meat Company, is home to the feel-free-to-call-it-a-steak Bowery Steak, a salsa verde-cloaked tower of meat perched atop whipped potatoes. Pro tip: leave room for the non-steak options like the massive and delicious duck lasagna. (Or a second Bowery Steak, either way.)
Murray Hill
It's a season that demands comfort, and so Park Ave Winter -- which changes its style every season -- is not messing around when it comes to steak. Chef Zene Flinn has decked out a beast of a Chateaubriand for two, with foie gras stuffing, red watercress, and now, your attention.
Midtown East
Offering an oasis in a desert of mediocre burger-dispensing pubs: The Upsider and David Colston's hanger steak, a baller piece of beef dressed with parsley root and blackened new onions in a beef jus.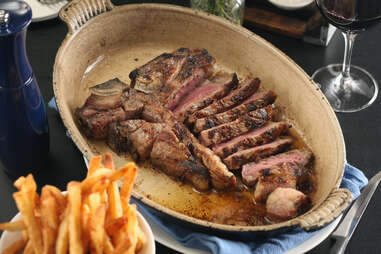 Battery Park City
The wood-burning grill is the thing (duh) at this Downtown Danny Meyer favorite. Chef Eric Korsh, who took the helm last spring, has a way with seafood -- shout-out to the grapefruit and Serrano Spanish mackerel crudo -- but the new-this-fall, 28-day dry-aged prime steak, paired with duck fat fries, is a straightforward and satiating expression of his reverence for French technique. Date in tow or just ordering like a damn boss? Splurge on the massive Porterhouse version.

East Village
This France-meets-Canada-meets-Louisiana Acadian eats spot from chef Jeremie Tomczak is prepping your stomach by way of grilled oysters with cabbage-garlic butter -- all for the main event of a Creekstone Farms ribeye that's heightened by a savory beef vinaigrette and potato-leek terrine. There's no liquor here, but Eben Klemm's concoctions bring it all the same, including the best-name-ever-having "The Dan Smith Will Teach You Guitar" with Cocchi Americano Rosa and plum shrub.
Sign up here for our daily NYC email and be the first to get all the food/drink/fun New York has to offer.
Alia Akkam is a food, drink, travel, and design writer for myriad outlets. She swoons for retro steakhouses and feels ashamed that she has only dined at Peter Luger once. Follow her on Twitter.