It's hard to believe that New York cheesecake --- now a fixture of suburban casual dining menus and the namesake of a restaurant that serves "Glamburgers®" -- was ever truly a New York dessert. Once as authentic (and easy to come by) as pizza or bagels, the New York cheesecake was perhaps the original victim of the New York dessert fad, paving the way for fro-yo, cupcakes, and cookie dough to flash in the pan.

But, nearly one hundred years after its invention -- and seventy after its virtual disappearance -- you can still find a genuine slice of New York cheesecake, if you know where to look. Some of the city's traditional cheesecake makers are still at it, whipping up real-deal desserts beloved by generations of locals. Even a few newcomers' takes on the 'cake are bringing old world flavor and sensibility to the otherwise trendy NYC dessert scene. And each of these can't-miss desserts are unrivaled by the Instagram bait du jour or a trip to the M&M's store.
A real slice of New York cheesecake is smooth and sweet and ever-so-slightly tart and simply made: Cream cheese, eggs, sugar, vanilla, heavy or sour cream.
The cream cheese is what makes it "New York-style," specifically, instead of, say, ricotta-based Italian cheesecake, Neufchâtel-based French cheesecake, Mizithra-based Greek cheesecake, Quark-based German cheesecake, or any one of the thousands of cheesecakes eaten all over the world.

Almost every culture claims its own take on the 'cake, some of them dating back thousands of years. The New York cheesecake is much more modern; it was first made in the early 1930s.
Pin-ups, movie stars and... dairy
Arnold Reuben, a Jewish-German immigrant, claimed to have invented the New York cheesecake. (You may know him from his work alleging that he invented the Reuben sandwich, or was the first to slice sandwiches diagonally).

According to Reuben's story, he'd been served a slice of grainy cheese pie at a party in 1929. After tracking down the recipe, he replaced the standard curds with cream cheese -- making it smoother and sweeter -- and then served up his creation at Reuben's Restaurant & Delicatessen.
In the 1930s, New York City had nearly 1,500 Jewish delicatessens, and Reuben's was one of the best -- tall tales and all. Mayor Fiorello La Guardia attended the Park Avenue restaurant's official opening; gold-leaf and Italian marble adorned its interior; celebrities noshed at the counter. There, the New York cheesecake began life as an upscale showbiz dessert.
Lindy's, another Jewish deli -- this one in Midtown, and famously frequented by Harpo Marx, Milton Berle, and fast-talking Broadway types -- wanted in on the creamy action. According to lore, Lindy's bribed Reuben's baker for the recipe, resulting in a cheesecake so iconic a fictionalized version appeared alongside Frank Sinatra and Marlon Brando in Guys and Dolls.
Drama, celebrity, cloak-and-dagger cheesecake subterfuge -- the '30s and '40s saw the heyday of the New York cheesecake, buoyed by the tide of the Jewish delicatessen.
New York cheesecake was sophisticated. It was the manna of the Marx brothers -- or any ingenue who could make her way from the Dixie Bus Center to the deli counter. You could find the New York cheesecake in bakery windows, on chop-house menus, and even as a euphemism for the sweet-and-tart photos of wartime pin-up girls.
Fuhgeddaboudit: the local favorite goes mainstream
In 1949, Charles W. Lubin founded Sara Lee and, seizing on the new frozen-foods technology, began to ship New York-style cheesecakes to the lower 48. Soon enough, the New York cheesecake began to lose its Broadway glamour. Frozen cheesecakes joined the ranks of TV dinners and Jell-O salads -- food for busy suburban housewives and their families.

New York was changing, too. Post-war, refugee Jews were assimilating, losing their accents, moving uptown. As the delis where they'd felt at home began to disappear, the popularity and ubiquity of the New York cheesecake disappeared with them.

New York cheesecake, having lost its panache, began its second life as a throwback, a slice of nostalgia -- the sort of thing served in middling suburban steakhouses, looking beige and slightly wet beneath a squirt of raspberry puree.

But here in New York, the New York cheesecake never really went away. While most of our Jewish delis have closed, some of the holdouts are still slinging slices that would make Sinatra sing.
Where to get the best slice of old New York cheesecake in NYC today
Sarge's, the city's only 24-hour Jewish delicatessen, serves up a New York cheesecake the way Harpo would have ordered it.
An entire Sarge's cheesecake -- based on a secret family recipe -- weighs over seven-and-a-half pounds, or about the average weight of a newborn baby. A single slice is over three inches high.
Even halved, a slice from Sarge's is near-impossible to finish by yourself. It's best eaten plain, the way it used to be, without the gussying-up of a layer of Oreos. The filling is rich and funky and even a little stinky, from the cream cheese. Savory and slightly grainy, it's akin to that other Jewish deli classic -- a good cheese blintz. Baked until it's tender and lightly blonde, with a nearly non-existent crust, your fork slides so easily through the slice that's almost too big to finish.
"Our cheesecake is not too dense, it's not too light, it's got the perfect amount of sweetness," says Steven Thall, the Executive VP of Sarge's. "I've never, ever, ever had a person tell me our cheesecake wasn't the best they've had. And I always tell them to be honest."

While Sarge's is best-known for its towering sandwiches (the five-meat "Monster" is purportedly the world's biggest sandwich and costs $49.99, or $63.95 with a T-shirt), Thall thinks the cheesecake is integral to the Jewish deli experience. "The New York cheesecake is almost like the black and white cookie or rugelach," he says. "These are staples of the Jewish deli history."
For another taste of New York's Jewish cheesecake, you can head to Junior's Cheesecake on Flatbush Avenue. Opened by Harry Rosen in 1950 as a full-service deli, Junior's doesn't just serve cheesecakes -- although tourists certainly aren't waiting in long lines for a slice of corned beef.
Junior's only uses Philadelphia-brand cream cheese, which they pair with a sponge cake bottom instead of a graham cracker crust. Their filling is, consequently, very Philadelphia-forward, with the sour smoothness of a forkful of cream cheese frosting. The sponge crust adds to the feeling of having just scraped frosting off the top of a cake, adding a slight crumb to each smooth bite.
In the years since Junior's opened, the Brooklyn restaurant has become a New York cheesecake destination, bristling with nostalgic branding and neon lights -- the theme park version of the Jewish deli.
"Part of the charm of coming to New York is going to eat New York pizza and New York cheesecake," says Alan Rosen, the third-generation owner of Junior's. "You get that New York vibe and attitude. It makes things taste better."
For a decidedly un-theme-park experience, head to S&S Cheesecake, which was founded by Fred Schuster, a Holocaust survivor, over seventy years ago. After fleeing Germany, Schuster worked in bakeries around the world before deciding to focus solely on his favorite dessert -- cheesecake.
You can buy a whole cheesecake from the S&S storefront deep in the Bronx, although it will take a little bit of patience. There, instead of lines of tourists, you'll face a locked door and a phone that rings and rings and rings.
You're better off tasting a slice at Peter Luger steakhouse, instead, where they serve up S&S cheesecake with a dollop of their famous whipped cream schlag. There, you'll find a slice baked golden -- nearly caramelized -- with a sizeable graham crust that adds crumble and bite. The filling is light and only slightly sour, lacking the density and cheesy funk of the other classic slices. It's sweeter than the others, too, a crowd-pleaser at the end of a big meal.
"They serve it in all the high-end steakhouses in New York," says Yair Ben-Zaken, the owner and manager of S&S. "Without mentioning names, because they'll kill me."

Today, S&S doesn't just serve their New York cheesecake in New York. "We have customers all over the world," says Ben-Zaken, "from California to Singapore to Mexico. We call it New York cheesecake, but really you can call it anything you want. It's still good."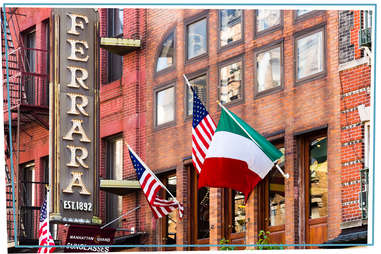 From the Bronx, make your way down to Manhattan's Little Italy, where a long-standing Italian bakery serves up their version of the Jewish dessert.
"The Italian cheesecake came first here," says Anthony Sessa, Ferrara's Director of Operations. "We opened in 1892 as a place for people who had migrated to Little Italy from Italy. It was a place where they could enjoy a cup of coffee and play a card game and socialize." Their Italian cheesecake is ricotta-based, with a drier bite and mild crumble that begs for a cup of espresso.
As Little Italy changed, the taste for cheesecake changed with it. "When New York cheesecake got popular," says Sessa, "people came in and asked, 'Do you have the cheesecake with the cream cheese?'"

To keep up with the changing tastes of the city's Italian immigrants, Sessa's grandmother perfected the New York cheesecake recipe they still serve today.
"She's a stickler for the ingredients we use," he says. "It has to be the freshest ingredients, and it has to be Philadelphia cream cheese. If you like an Italian cheesecake, it's a totally different palate."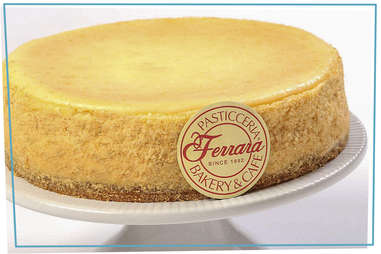 Ferrara's New York cheesecake retains the DNA of their Italian cheesecake: The cream cheese flavor is mild, with a slightly textured crumb. The signature tang of a New York slice is there, of course, putting it halfway between the classic Italian recipe and Junior's, where the Philadelphia is the star of the show.

"Come the holidays, we have those old school Italians that order the Italian cheesecake and say it's a staple at their table," says Sessa, "but the New York cheesecake is the more popular option."
After crossing the city to find your favorite slice of New York history, you can taste a new kind of New York cheesecake -- one that's in keeping with the dessert's immigrant tradition.
New takes on the cake
At Keki Modern Cakes, which opened in 2016, owner Moul Kim wanted to reimagine the New York cheesecake halfway between the dense American version and the fluffy, jiggly, light-as-air Japanese cheesecake.
"We wanted to create something familiar," says Kim. "It should look like a cheesecake, but we wanted to add movement to it."
He wanted to rethink the ingredients, too, bringing the New York cheesecake into modernity with an eye towards locality and sustainability.

"A lot of the other New York cheesecakes, they use your standard Philadelphia cream cheese. I don't mind Philly, but I've noticed that when you make it into a cheesecake, it can be hit or miss. It's not like reinventing the wheel, but we decided to add a little bit different shape to the wheel."
Kim crafts his New York cheesecake with a mix of Amish cream cheese and mascarpone, making the base even creamier and richer. The result is Keki's "Original Fancy" cheesecake, which features two layers of cheesecake -- one airy and mousse-like, one more densely traditional -- all covered with a layer of crumbled castella, a Japanese sponge cake by way of Portugal. It's the history of New York cheesecake in a bite: elegant and worldly, a product of our city's ever-changing culture.
"New York cheesecake is not something that's strictly confined to New York," says Kim. "It's like Buffalo wings, or poutine. Everybody can add their own twist to it. At this moment, you can go anywhere, all over the world, and there's always a variation of the New York cheesecake on the dessert menu. As a New Yorker, that makes me very proud."
New York cheesecake has gone global, but it's still fighting its way back on dessert menus in the city that made it famous. Thrillist has covered dozens of restaurant openings in 2019, and only one among them has anything resembling an authentic slice on offer -- Estuary, a brasserie along the water in the Brooklyn Marina.
French chef François Payard, Estuary's culinary director, says he included cheesecake on the dessert menu because if its familiarity. "I was thinking, why not go back to give [people] something that they know about," he says. "You have to give people what they want."
"The concept of Estuary is something simpler," he says. "More and more people will come back to simple things."
Payard's "Old Fashioned Brooklyn Cheesecake" has a mousse-like filling and a thick, chewy crust of crushed trail mix and graham crackers. Payard says he experimented with a cream cheese that was too soft, and another that was too hard, before committing to the classic Philadelphia variety. "It's the great flavor profile, it's the great texture," he says. "It's my favorite."
The "old fashioned" New York that inspired Payard's dessert doesn't exist anymore. But the city is always changing -- in fact, the New York cheesecake came from a changing New York.

Around the country and the world, New York cheesecake is a stand-in for an idea about the way things used to be. But here in New York, it's a slice of history. It's a reminder of our city's immigrant traditions. And -- if you eat too much of it -- it's a pretty satisfying way to get a tummy ache.
Sign up here for our daily NYC email and be the first to get all the food/drink/fun New York has to offer.