It's no struggle to find a great meal in New York City, but you'd be remiss not to venture outside the five boroughs every once in a while; in fact, the rest of New York state has just as impressive offerings as the city (if not more so) -- from the Hudson Valley's famed Blue Hill at Stone Barns to a local favorite in the Buff.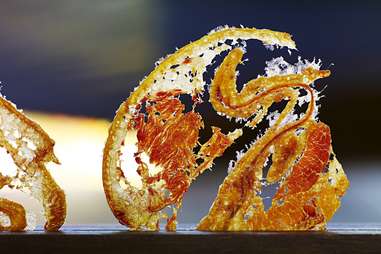 Pocantico Hills​​​​​​​
Experience the culinary odyssey that is James Beard Award-winning Chef Dan Barber's Blue Hill at Stone Barns. Whet your appetite with a tour of the farm -- home to pigs, ducks, chickens, turkeys, sheep, and honey bees -- then settle into the seasonal and always changing 10-course "Grazing, Pecking, Rooting" menu. The feast includes amazing and inventive dishes like a "beetfurter" appetizer and a Blue Hill Farm egg with everything a laying hen eats (so... grains, weeds, berries, popcorn, and sunflower seeds).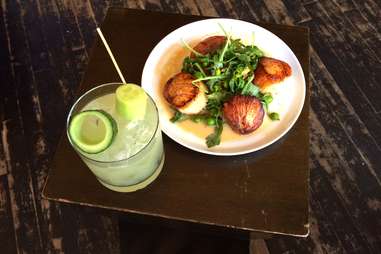 Greenport
You can thank chef/owner Robby Beaver for the appetizer of badass bivalves, also known as Oysters Friskafella -- an Oysters Rockefeller-like dish (with spinach, garlic aioli, and Parmesan) that'll leave you forever ruined for all other oysters. Crazier still, the Oysters Friskafella is not all that merits a trip out to the North Fork; have a W.A.R.D. cocktail (gin, cucumber, mint, lime, and St. Germain) alongside pan-seared scallops, the Rhubarb Collins with the duck breast, and top off a day of exploring Greenport with the warm Virginia pecan pie and salted caramel ice cream.
Hudson
Like a classic dish reimagined, Hudson has evolved from an early 19th century whaling port to an antique epicenter to the current anti-Hamptons haven for well-to-do bohemians. Nestled inside one of the town's many beautiful, old brick buildings, Zak Pelaccio's Fish & Game is a central character in Hudson's newest chapter. But don't worry, there won't actually be any reading -- just cooking off the land from an open hearth in the restaurant's dining room that's churning out dishes like wood-roasted whole duck and steamed whole black bass.
Woodstock
A meal here is a wonderfully overwhelming dining experience. Filet mignon and garlic-mashed potatoes, charming patrons, and the babbling Sawkill Creek will almost instantly remind you why eating out was invented. Plan a hike up Overlook Mountain, then join people making the trip from Albany and Westchester to see what all the raving is about.
Saratoga Springs
After a day at the races, a Hammerin' Hank at Legends Café, and a soak in the Roosevelt Bathhouse, it'll be time for Church (the kind where you can skip prayer and just eat and drink, except actually good stuff). Find divinity in dishes like grilled octopus, veal chop, and red wine-braised short ribs.
Syracuse
Join the locals in ordering the amber ale BBQ sauce-smothered Tumbleweed Burger or the Big Mamou, a sampling of four classic Creole dishes, like jambalaya and the Big Easy gumbo. Owner David Katleski (who's working on the Spring 2015 opening of the Empire Farmstead Brewery, too) suggests pairing the sweet fire fajita with a hoppy beer like Liv and Let Rye.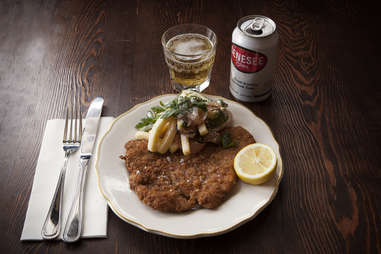 Bovina 
Though the comfort food and farm-to-table philosophy are part of the allure at Brushland Eating House -- order the honey- and almond-roasted carrots, pork schnitzel, and chocolate tart with burnt marshmallow -- people are flocking to the tiny town of Bovina for something you can't touch or taste. Sohail Zandi and Sara Elbert, the ex-Brooklynite couple behind Brushland, have successfully created a communal, much-larger-now-that-they're-not-in-Brooklyn, home-away-from-home setting, where dishes will "conjure memories of relatives or childhood, that favorite cast iron pan, or the smell of a warm, bustling kitchen."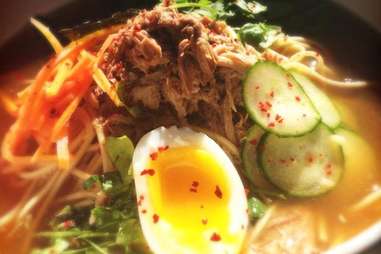 Jamestown
Should you find yourself a little ways from Lake Erie (in the Western nook of New York), well, lucky you. Forte regular Frank Besse of Jamestown Up Close says to start things off with a beer from the popular & local Southern Tier Brewing Company, then get a tempura shrimp sushi roll appetizer, followed by the jambalaya risotto, and the bourbon butterscotch cheesecake. Like the local art on the walls, the eclectic American menu changes often, but you can always count on the daily $12 steak and beer special.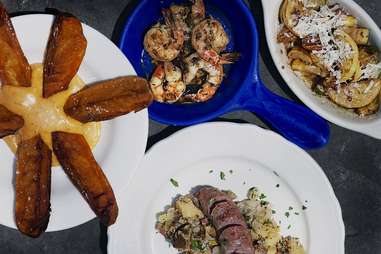 Ithaca
Being the best restaurant in town means that even after 20+ years of business, there's still a wait to get a table. With 72 seats between inside and the patio, the place is almost always packed, and deservedly so. Dig into any homemade sausage (like the coriander beer link and the deep-fried russets with chipotle aioli), savoring the fact that you're enjoying the quality of an upscale New York dinner at actual Upstate prices, too.
Albany
In this case, mixing business with pleasure is advisable. As is picking no higher than spice level seven, according to Capital Region Dining Blog author Emily Lemieux, when ordering the jerk chicken, which's "spiced with depth, complexity, sweetness and heat," and served alongside black beans, brown rice, yams, and plantains.

"Each season brings an adventurous new menu with unexpected combinations," says Lemieux, who recommends New World Bistro Bar for its reliably delicious, globally inspired, locally sourced food, and an impressive selection of New York State libations, including wine from the Finger Lakes, Hudson Valley spirits, and beer from nearby Chatham Brewing Company. Then next time work or your friend who really misses the River Rats brings you to Albany, you'll look good for scheduling dinner at this spot from Chopped winner Chef Ric Orlando.
Poughkeepsie
It's the kind of place where you look around and want what everyone is having. CIA graduate & Chef Mark Margiotta helms the kitchen inside this dream journal-worthy French diner in Dutchess County, that's worth a 90-minute train trip up the Hudson River for. Local Audrey Aponte from Sprout Creek Farm suggests the onion soup, any plate of fresh pasta, and the Shinebox cocktail with black tea-infused bourbon, lemon, sugar, angostura, and orange & rhubarb bitters.
Buffalo
It's not ALL Buffalo wings -- locals get help braving the brutal winters up here "in the Buff" because of restaurants like Ristorante Lombardo, a family-run joint serving rustic Italian food to rival the best you've had. Order the wood-roasted figs with Gorgonzola stuffing and prosciutto, and the tagliatelle bolognese. A favorite of Buffalo Eats founder Donnie Burtless, this restaurant is a great surprise for tourists who think there's nothing more to eat around town than B-wings. Side note: you should also get some Buffalo wings.
Rochester
Whether you happen to arrive on Tiki Tuesdays or Chicken & Fixin' Wednesdays, The Revelry is a revelation. It's a testament to the possibility that really good food does indeed exist within New York -- outside New York City. This is a hidden gem to everyone who doesn't live in Roc City, where husband-and-wife team Josh and Jenna have given Manhattanites a reason to visit Rochester, especially if they're serving smoked duck tacos, fried green tomatoes, chicken-fried oysters, and country-fried quail.
Lauren Matison is the co-founder and editor of offMetro.com. She thinks the secret to a happy life has something to do with biking, books, and baking fruit tarts. Follow her on Twitter and Instagram.