The Best Things to Eat and Drink at Every Newark Airport Terminal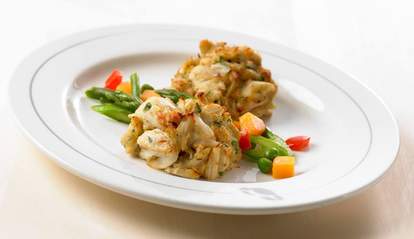 New Yorkers love to make fun of Newark Liberty International Airport, less affectionately known as EWR. It's far, the AirTrain takes forever, and even taking an Uber into New Jersey won't save any time or aggravation. And often enough, additional travel costs mean that the flight you thought was marginally cheaper than those out of JFK or LGA actually amounts to as much as you would have spent to depart from a more convenient hub.
Why fly out of this place? The food. EWR has the best, or at least most interesting, eats of any of our area airports. It's got a CBGB outpost! And a Belgian bar that will make any beer snob rejoice. Newark International is a hell of a commute from NYC, but as long as you haven't maxed out your credit card on your actual trip, you will eat well on arrival.
Terminal A

| Phillips Seafood
TERMINAL A
Cheeburger Cheeburger
Pre-security cafeteria; Grab-and-go with tables nearby
This is the New Jersey airport's answer to Shake Shack -- with a grain of salt. Cheeseburgers smothered in gooey toppings, chocolate shakes, fries, and other fattening -- but comforting -- treats fly out from behind a fire engine red food counter near the pre-security side of Terminal A. Prices aren't too crazy: You can fill up for under $20, and downing all those beefy calories will keep you satisfied during whatever hours-long flight awaits.
Phillips Seafood
Post-security; A3 Rotunda; Dine-in
This is as close as you'll get to fine dining in the airport cuisine category. Sip a glass of wine amid royal blue decor while you toss back peel-and-eat shrimp. Classy! Not only will you enjoy $29.99 plates of crab cakes, $19.99 grilled sirloin platters, and stationary airplane views; this place has a ton of outlets, so your smartphone, laptop, and other digital devices can power up, too.
Gateside Market Fresh
Post-security: A1 and A2 Rotunda; Grab-and-go  
Need an overly ambitious wrap? How about a $10 Chicken Caesar Salad? This colorful stand is an oasis for the moderately health-conscious travelers out there, with a decent selection of overpriced portable snacks and meals. C'mon, it's the airport: You should have expected those inflated bottled water prices. Just be grateful you can eat something that doesn't breed heart disease before you board.
TERMINAL B
Belgian Beer Café
Pre-security; B2 Rotunda; Dine-in
This is a must-stop for the beer snobs out there. Travelers and their loved ones can all sit and chill at since this spot since it's blessedly located before security clearance. Sip a Duvel, Leffe Blonde, or La Chouffe, which all beat the usual Bud and Miller Light offerings at most airport bars. The food is pretty decent too. Belgian fries and cheese platters are popular, but most stop by for the brews.
Sora Japanese Cuisine & Sushi Bar
Post-security; B1 Rotunda; Dine-in
Airport soba options are a rare find, but Sora has plenty of steaming hot bowls of salty deliciousness on offer. The menu is pretty thick here: Choose from maki, udon, teriyaki, tempura, salads, and other Japanese staples. Yes, an order of edamame costs $8 and some rolls rival excessive Manhattan prices, but where else are you going to find spicy shrimp tempura at EWR?
Vino Volo
Post-security; B3 Rotunda; Dine-in
Bask in adulting vibes at this classy wine bar where the vino menu is long, and the food caters to high-brow palates. No apple pie, here. Instead, how about a $8 apple crostata? Macaroni and cheese? Ha. No. Instead, order a $12 serving of truffle penne and cheese. Vino Volo also pours $15 glasses of pinot noir from Germany, a $14 sauvignon blanc from New Zealand, and plenty of other sips from basic locales like Italy.
Terminal C

| Courtesy of OTG
TERMINAL C
CBGB
Post-security; Gates C120-139; Dine-in
One of the most WTF spots at Newark International is the airport iteration of legendary East Village punk rock mecca CBGB. That's right, freakin' EWR is home to CBGB's reanimated corpse. How did that happen? The president of the iconic punk haven reportedly decided to expand the brand into, um, new ventures a few years back and the bright idea to build an airport bar was hatched. The decor is cute with faux graffiti over faux exposed brick, but the burgers and fries are predictably forgettable and a NYC-style hotdog costs just under $10. Make this your jam if you're desperate to start those vacay 'Grams early.
Flip Flop Pancake Shop
Post-security; The Global Bazaar at gates C70 to C99; Grab-and-go with nearby seating
Hot stacks of pancakes are only available during the morning hours, which is just bad business. Many of us would gladly scarf down a pile of warm, soft, deliciousness -- topped with all sorts of magic like strawberries, bananas, and bacon -- at any time of day. Prices are a little nuts -- it's about $15 for a serving of pancakes with some sort of extra, but that's the airport for you, baby!
Kaedama
Post-security; gates C70 to C99; Dine-in
This is a legit ramen bar with menu prices comparable to those in gentrified Brooklyn. Order off the sleek e-menus and choose from a long list of steamy options like Pork Shio Ramen for $15.50 or Vegan Soy Miso Ramen for $15. There's sushi, too! Foodies will go crazy over options like poached shrimp nigiri and seared bluefin tuna.
Sign up here for our daily NYC email and be the first to get all the food/drink/fun New York has to offer.