Ready to resume traveling now that COVID-19 restrictions are easing? The restaurants at EWR are waiting for you.
"We're seeing a steady increase in the number of passengers coming through airports this summer," says Zach Griff, travel analyst at The Points Guy. "Along with the easing of the COVID-19 restrictions, indoor dining is allowed again in airports."
So go ahead and have a seat to snack safely—and deliciously—while flying in, out, or through Newark Liberty International Airport. Many of the airport's food courts, including Terminal B's "Jersey by the Shore" and Terminal C's "Global Bazaar," offer dining options inspired by local flavor (Taylor ham, anyone?) as well as foods from around the world (it is an international airport, after all). Just be prepared for restaurants that could be as crowded as the actual Jersey shore in summertime.
"Staffing issues remain a key concern across the economy, in particular the hospitality sector," says Griff, "so restaurants may still only be doing grab-and-go." While others may be open for sit-down dining, you should still be prepared to wait for a table like it's Saturday night.
So please practice that pre-pandemic patience (and tip well!) while eating your way through EWR. We've noted which restaurants are open and which are temporarily closed, but be aware that things continue to change daily. Rest assured—no matter what's open, there will always be a place for you to overpay for a glass of Chardonnay.
Terminal A (Air Canada, Alaska Airlines, American Airlines, Jetblue, United Express)
A Food Court
Terminal A, it must be said, is somewhat lacking in the food department. While in franchise-land, why not stop at a regional favorite? Jersey Mike's (which was indeed, as the name suggests, founded in New Jersey in 1956) serves up sandwiches slick with vinegar and oil and stuffed with cappacuolo, proscuittini, and provolone. In North Jersey, they call these "subs"—but in South Jersey, they're hoagies. Whatever you call 'em, they make for a solid airport lunch.
A3 Rotunda
This Maryland-style seafood spot isn't exactly New Jersey's iconic boardwalk fare, but you could do worse than a crab cake sandwich or some crispy calamari. To add a little Jersey flair to the experience, simply don't pronounce the "i" in calamari! There are plenty of tables if you're looking to while away the hours, but the bar's got plenty of space to spread out and sip a cocktail—all the better to make friends with the bartender and ensure you'll get a few rounds in before your flight.
Other options in Terminal A:
Open: Abica Coffee, Auntie Anne's, Ben & Jerry's, Currito Cantina, Dunkin, Jamba Juice, Manchu Wok, Market Fresh, Olde Glory Coffee, Qdoba Grill, Ruby Tuesday, Villa Fresh
Temporarily Closed: Boars Head, Cheeburger Cheeburger, Earl of Sandwich, Natures Kitchen, Tony Roma's
Terminal B (Aer Lingus, Air China, Air India, Allegiant, Austrian Airlines, Avianca, British Airways, Cathay Pacific, Delta, El Al, Elite Airways, Emirates, Ethiopian Airlines, Eurowings, Frontier, Icelandair, La Compagnie, Level Airlines, LOT- Polish Airlines, Lufthansa, Scandinavian Airlines, Singapore Airlines, Sun Country, Spirit, SWISS, TAP Air Portugal, Turkish Airlines, Virgin Atlantic)
B1 Concourse
Terminal B is home to "Jersey by the Shore," a Jersey Shore-inspired food court. (Inspired by Jersey Shore the place, one assumes, and not the GTL-loving, boardwalk-punching reality show.) Malone's Fish Market, an anchor in the food court, serves up boardwalk-style french fries, some perfectly-fine-when-its-deep-fried seafood, and a selection of craft brews. You can't smell the ocean, but if you listen really closely you might hear Snooki whining.
B1 Connector
Another Jersey by the Shore food court entry, Little Tony's purports to be a boardwalk pizzeria, but at the airport. Is it the best pizza in New Jersey? Nope (btw here's our list of best NJ pizzerias)—but it's hot, and it has cheese and sauce and crust, and as any tri-stater will tell you, eating pizza is like getting press—even the bad stuff is good. Grab a slice or two, fold 'em in half New York style, and you've got the perfect snack to shove in your mouth while you run to catch your plane.
Other options in Terminal B:
Open: All You Need, Budweiser Brewhouse, Dunkin, Farmers Fridge, Firehouse Subs, Green Beans Coffee, Panda Express, Smashburger, Salsarita's Mexican Grill, Sora Japanese Cuisine and Sushi Bar, Starbucks, StrEAT, The New Stand, The Unusual Times, Tony & Benny's
Temporarily Closed: Belgian Beer Cafe, Liberty Diner, Vino Volo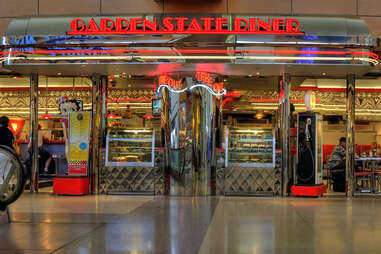 Terminal C (United, United Express)
Abruzzo Italian Steakhouse
Gates C70-99
The menu at this red sauce joint was originally designed by Mario Carbone, chef at NYC's Carbone. You can get a pretty decent plate of pasta (the steaks, on the other hand, are a gamble), and everything's ordered through iPads so you don't have to wait for a waiter to get started. Terminal C was recently renovated with the intention of putting great food front and center, but this is still an airport, so temper your expectations.
Gates C70-99, Gates C120-139
If you've got an early flight, skip the stale croissants and head to Eggy Weggy, where they're serving up hot breakfast all morning. The breakfast sandwiches are a solid choice, and you shouldn't miss ordering one with Taylor ham, New Jersey's beloved Canadian bacon-like pork roll. (While New Jerseyans still call it Taylor ham, it does not, unfortunately, meet the legal definition of "ham.") Make sure to get there early, because Eggy Weggy transforms into a burger joint after 11am.
Gates C101-115
With all-day breakfast and a solid roster of sweets, the Garden State Diner once again bolsters NJ's rep as the diner capital of the world. Sitting among the tiles and vinyl chairs reminiscent of an old-school diner, you can order up a gigantic Oreo milkshake or chocolate malted, patty melt, or plate of French toast for a pretty-close-to-authentic experience. If you're in a rush, you could do worse than a muffin and a hot cup of coffee from their take-out counter.
Gates C70-99
Need a drink to sip in surly silence? The Oeno Wine Bar offers iPad ordering so you can down your Merlot in peace. The food is, um, fine, but here's some good news—wine isn't supposed to be fresh! Order an overpriced glass of vino, or sip your way through a flight (a liquor flight, that is, not a winged one) if you want to keep yourself occupied while you wait for your plane to get de-iced.
Gates C70-99
The options at Terminal C's Global Bazaar can feel overwhelming, but for a hot and (relatively) quick meal, Kaedama's noodles hit the spot. Along with standbys like tonkotsu and shoyu ramen, they've got vegan options that can be hard to come by while traveling. There's sushi on the menu, too, but you're better off sticking with a big bowl of salty noodles washed down with a nice cold beer or two.
Other options in Terminal C:
Open: Breakfast Boli, Caps Beer Garden, Cibo Express, Creperie Juliette, Custom Burger, Daily, Dunkin', Eggy Weggy, Flip Flop Pancakes, Flora Cafe, Happy Clam, Novella, Park American Grill, Philly Cheesesteaks, Poppy's Bagels, Proof Whiskey Bar, Red Mango, Riviera, Saison, Starbucks, Supreme Bowl, Surf Bar, Tacquila, Tagliare, Uptop Pizza, Vanguard Kitchen, Vanguard Market, Vesper Tavern, Wabi Sabi, Wanderlust Burger Bar, Wendy's, World Bean Coffee
Temporarily closed: Bar Left, Bar Right, Boar's Head, Casciano Italian Specialties, Classified (this one's by invite only), Forno Magico, Little Purse, Mélange, Notorious P.I.G., Tsukiji Fishroom