Asking a New Yorker to choose their favorite bagel is like asking them to choose their favorite season of 90210. But in the end, we all do, in fact, have favorites (Season 5 FTW!). Here are 12 spots that make the traditional New York delicacy -- with consideration to texture, toppings, and taste -- best.

Upper West Side
Visitors are greeted at this Thai-owned bakery by a Jenga-esque stack of freshly baked, palm-sized bagels, which they generously spread with smooth and light cream cheese. Soft dough, slightly crusty exterior, and mild sweetness -- more like Absolute-ly Awesome Bagels, amirite? ... Bueller?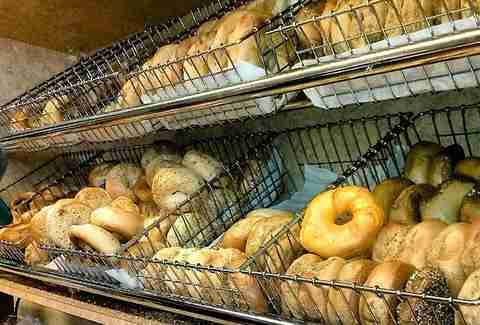 Midwood
This simple bakery rolls and bakes Brooklyn-style bagels right on the premises, delivering them (you may have seen this one coming) hot. Recently relocated from Forest Hills to Midwood, Hot Bagels & Bialys now offers more bagel options, along with seating. Pro tip: ask what just came out of the oven for the ultimate bagel experience.
Midtown
Owned by an Austrian family and open since the 1970s, Ess-a-Bagel hand rolls and boils in enormous pots visible from the (generally quite long) line. The double-fist-sized rounds are dense and could serve two if you're some sort of weirdo bagel sharer.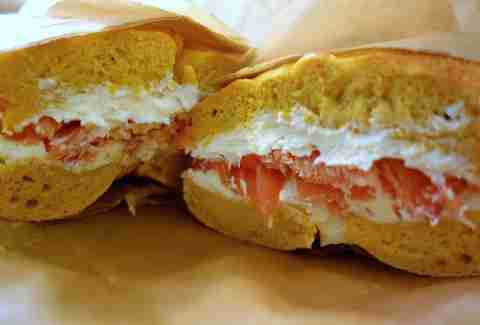 Astoria and Chelsea
The small chain is focused on quality coffee, robust soups, sandwiches, and -- most of all -- your health, which sounds kind of strange considering they're a BAGEL SHOP. But it's also kind of true: they only use unbleached and unbromated flour and offer spelt and gluten-free bagels. Best part, though? None of that ruins the bagels in any way.
Park Slope
The family-owned spot offers hot-to-the-touch, kettle-cooked bagels (that're boiled, then baked) alongside a case of cream cheese varieties for spreading on top of your bagel/eating directly out of the container, like bacon-cheddar, sun-dried tomato, or mixed berry. Lox servings are generous and the bagels are hefty enough to make for a top-notch sandwich.
Lower East Side
We're giving it to this LES spot (instead of the place that actually makes their bagels, the Bagel Hole) for its iconic-ness (and, well, bagels). Really though, The Smithsonian said the fourth-generation spot is a "part of New York's cultural heritage", and their hand-rolled bagels, layered with one of eleven cured salmon preparations, house-smoked chub, caviar, or whitefish salad, are part of the reason why. Go with everyone's must-order: the Super Heebster.
Greenwich Village
Adam Pomerantz, a former vice president at Merrill Lynch, followed his dream of creating one of the best bagels in New York with the 1996 opening of Murray's, named for his bagel-loving father. After taste-testing his way around the five boroughs, Pomerantz crafted his own artisanal recipe, which he's been serving at his dad's namesake store ever since.

Freds at Barney's New York Midtown
Easily New York's best kept bagel secret, Fred's hides on the top floor of the Barney's department store. There, only on Sundays, petit two-and-a-half ounce fistfuls of dough are rolled into expertly browned bagels. Oh, and they're all baked atop burlap-covered wood blocks.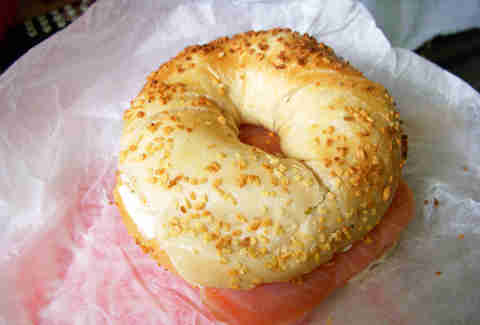 Flushing
They boil and bake their bagels, which means a more subtle crust for less crunch and more chew. Also: they stir up batches of homemade cream cheese. PLUS: everything's available 24 hours a day.
Staten Island
This kitschy shop, located right by the Staten Island Ferry, has the locals in Staten Island getting their bagel panties in a bunch, thanks largely to freshly baked bagels made using a recipe borrowed from their sister restaurant Dyker Park Bagels. Expect crowds in the morning.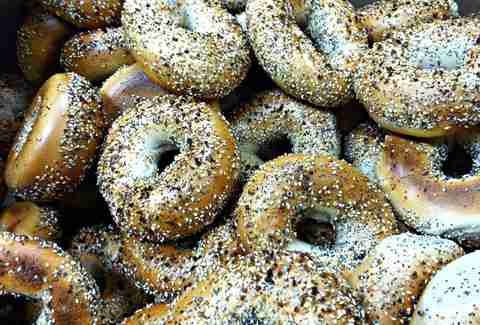 Staten Island and Dyker Heights
There's no better place for some late-night noshing than Dyker Park Bagels. Open 24 hours, the bagels come with nearly a half inch of cream cheese and a mildly sweet tang (in a good way... a very good way).
Sign up here for our daily NYC email and be the first to get all the food/drink/fun New York has to offer.
Eve Turow is a writer and editor living in Brooklyn, New York, with a passion for good eats, meals with friends, and food policy. You can find her work at The Village Voice, Huffington Post, and Chicago Tribune. She is writing a book on the millennial generation and food culture. Follow her on Twitter, Facebook, Pinterest, and Instagram.