Yes, it's already so cold out we want to die, but it's not quite winter yet! So save all your nonstop Seamlessing for November and December (and January and February, which inevitably feel like a quarter of a century) and get out to the best new bars and restaurants that opened this October. Chili-honey pork ribs await.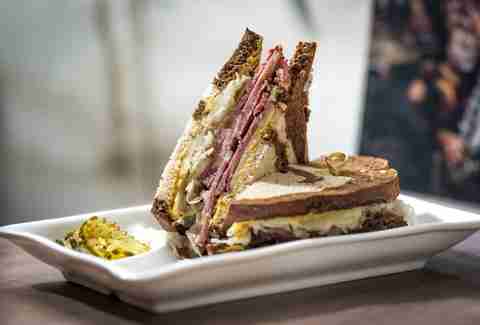 Lower East Side
A take-away shop from Jewish soul-food eatery Kitty's Canteen (helmed by The Box co-founder Richard Kimmel), Kitty's a-Go-Go has less boudoir vibes and dim lighting than the original, but the same famous matzo-meal fried chicken (in to-go form!), in addition to new items like a pastrami Reuben, catfish po-boy, and a daily selection of hand pies.
Greenwich Village
Ravi DeRossi literally cannot stop opening new places (and no one is complaining). The man behind two of the summer's best openings, Mother of Pearl and Avant Garden -- and of course, Death & Co., Amor y Amargo, Mayahuel, and more -- just opened a new underground bar focusing on sparkling wine and Champagne. Bubble-friendly foods like oysters and cheese are also on offer. Now you just need a good excuse to celebrate, like... it's a Wednesday, Champagne for all!
Lower East Side
This technically opened at the tail end of September, but it's so good we couldn't leave it out. Yunnan Kitchen is now Yunnan BBQ, and it's got a brand-new menu featuring things like chili-honey pork ribs, tea-smoked duck, and shao kao shangri la: a combo platter featuring different skewers (the beef short rib skewer is the best). Dishes are served family style, but you can opt for half-portions so you can try everything.
Williamsburg
The Williamsburg outpost of the LES' Black Tree is larger than the original, and features an eight-person communal chef's table with a unique tasting menu. Black Tree BK will keep the original restaurant's theme of featuring a new animal each week; for beef, you'll have options like beef butter (beef stock & fat on toasted ciabatta), as well as tacos, shoyu ramen, a burger, and steaks. If cow's not your thing, head there when there's goat or pork on the menu. There's also a solid fall pig sandwich made with braised pork belly and Grafton cheddar on offer now.
Noho
Philly's deep-fried Twinkie burger purveyor has set up shop on Bowery, and is doling out the same insane burger concoctions it always has, in a Saved by the Bell-themed space. We're partial to the Pickleback -- fried pickles, bacon, and pepper Jack on a burger made with a Jameson whiskey glaze (probably your first pickleback that WON'T lead to a hangover the next day).
Downtown Brooklyn
Downtown Brooklynites can skip the trip into Chinatown -- traditional Shanghainese xiao long bao (soup dumplings) are now available near the Fulton Mall. Of course you're ordering several rounds of dumplings, but the mapo tofu and fried egg over rice should also not be missed.
Chelsea
Because the area around MSG needed some good drinks and eats for Knicks fans to drown their sorrows in, this gastropub has 18 taps that are constantly in rotation, wines by the glass, and classic American fare like mac & cheese with pancetta and a NOLA Caesar with andouille lardons and cornbread croutons.
Lower East Side
A takeout spot/market from the always cool Dimes team, located at the main restaurant's original spot on Division. Get one of our favorite breakfast sandwiches (made with scrambled eggs, cheddar, avocado, jalapeño, and Dimes hot sauce) or opt for a salad or bowl. There's also a dreamy new Figgy Piggy sandwich made with salami, Piave cheese, arugula, and fig jam on a sourdough pullman.
East Village
Everyone's favorite Montreal-style bagels are now available in the old De Robertis space (RIP). While we're still mourning our cannoli loss, Black Seed's new East Village-exclusive sandwich options -- like a smoked ham and Gruyère sandwich with onion jam and sour pickles, and a sandwich made with Mile End smoked bacon -- are certainly easing the pain.
Hell's Kitchen
Located on the ground level of Sushi Seki's new 46th St location, this Japanese cocktail spot features a beverage menu from Angel's Share's Shingo Gokan (think matcha and yuzu cocktails) alongside several crudo and tapas options and entrees like sake-braised short rib. The sakura cocktail with junmai sake, umeshu, peach Champagne vinegar, and sakura brine is seriously beautiful just to look at (but also, definitely something you're going to want to be drinking).
East Village
The guys behind the West Village cocktail bar on top of a Five Guys have brought their magic across town. The new spot -- while not so secret -- is a pleasant upscale addition to a neighborhood dominated by dives and bro-y bars (and nothing against those, it's just nice to have more diversity). Get one of the carefully crafted drinks and take a seat in the area that looks like the cozy-but-cool living room you always wanted your apartment to have.
Midtown East
Because sometimes you need to put down the greasy lo mein -- totally kidding, this never needs to happen... but for a new spin on your Sunday go-to meal, upscale yet authentic Chinese cuisine can now be found in the Waldorf Astoria. Expect modern dishes like Berkshire pork collar with liquid nitrogen crust (!) and a Chinese raw bar from the coastal region of Zhejiang.
Gramercy
New York's latest speakeasy is located in the back of a counter-style gluten-free pizza joint, because of course it is. Grab a white truffle and portobello mushroom pizza (available 'til 4am!) and then retreat to the back for an Eastside Rose (gin, rose syrup, lime, cucumber, and mint).
Sign up here for our daily NYC email and be the first to get all the food/drink/fun New York has to offer.
Lucy Meilus is Thrillist's New York editor and actually lives in a speakeasy in the back of a Papaya Dog. It's suuuuper hard to get into because she keeps losing her keys. Follow her on Twitter and Instagram.