Despite an unwarranted groundswell of brunch backlash, there were a ton of tasty and interesting late-morning eating developments this year, and we managed to round them all up in one, Bloody Mary-filled guide -- from boozy brunches, to Oreo pancakes, to NYC's only $100 brunch buffet.
Quick, review it all before the NY Times calls it uncool again.
The 10 best brunches in NYC
If there's one thing we can all agree on, it's that the Heart kid was the worst Planeteer. If there are TWO things, though, it's that, and the fact that we all love brunch... especially when it comes from one of the 10 best brunch spots in NYC. This is as good a place as any to start your 2015 Brunch Quest. READ MORE
Oreo pancakes and Juicy Lucy sausage biscuits are for brunch now
Chef Chris Santos unleashed brand-new brunch choices at both Stanton Social and Beauty & Essex, including icing-drizzled Oreo pancakes, as well as French toast sticks with Nutella, vanilla, crème fraiche, and fresh strawberries. Oh, and on the savory end of things? There's creamy, smoked bacon polenta (the only way you should ever take polenta) with poached eggs and chile oil. This has to be a brunch must-stop. READ MORE
NYC's 14 best Bloody Marys
There's really only one drink by which you can judge a great NYC brunch, and that drink is a mango bellini. But since it's literally impossible to decide between our favorites in that category, we decided instead to give you the definitive guide to the 14 best Bloody Marys in the city right now. READ MORE
NYC day drinking: an hour-by-hour guide
The days are short, but they won't always be, so read these essential day drinking guidelines, then put them to good use with this NYC day drinking guide, which outlines the best day drinking bar for each hour of the day that the sun is out. READ MORE
How to do the $100 brunch at the Waldorf-Astoria
Combining the best parts of endless brunches AND the best parts of hotel buffets: the Waldorf-Astoria's all-time-great $100 buffet brunch (better be, for $100) on the weekends is the perfect, and maybe only, opportunity to house caviar, oysters, eggs, and more. So, make a plan, ignore the fact that you're going to Midtown on a weekend, and mentally prepare yourself to take down 20 lobster tails. READ MORE
The best coffee shop in 30 NYC neighborhoods
You spend enough time at bottomless brunches that it's pretty much a given -- from time to time, you're gonna find yourself 1) in a strange NYC neighborhood, and 2) in need of a cup of coffee. Or five. For all those times... to times, rather than scrabbling at the empty bodega urn, pull up this guide: a roster of the best coffee shop in 30 NYC neighborhoods. READ MORE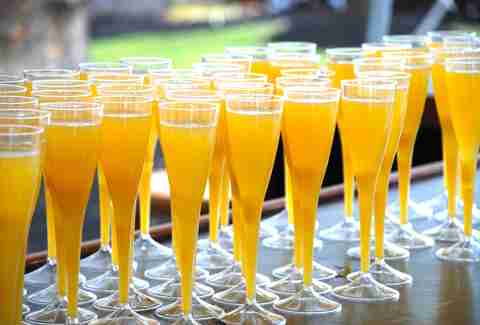 Where to Boozy Brunch in NYC: A hood-by-hood guide
Maybe you like brunch, or maybe you're a terrible person who has no friends -- either way, if you're gonna do brunch, it damn sure better include bottomless boozing. To wit: we found SEVENTY-FOUR never-ending drinking deals around the city (that's more than one per week for 2015!), tried all of them, took a nap, and then conveniently organized them neighborhood-by-neighborhood. READ MORE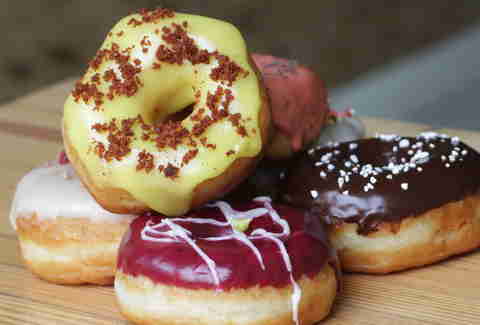 NYC's 9 best donut shops
With the cupcake seemingly on a hype downswing, the donut has emerged in a golden age of fried dough ring innovation and experimentation. Armed with jelly classics and raspberry Sriracha-topped gourmets, these nine NYC shops at the forefront of the 'nut revolution are prepared to make your brunching much fried-doughier. READ MORE
What REALLY happened in NY's illegal bottomless boozy brunch scandal
For three terrifying days, bottomless brunch was illegal in our city. This is how it all went down. READ MORE
Sign up here for our daily NYC email and be the first to get all the food/drink/fun New York has to offer.
Andrew Zimmer is Thrillist's NYC Editor and he thinks more things should be bottomless, not just brunches. Follow him on Twitter and/or/DUDE IT BETTER BE AND Instagram.