A lot of important NYC burger stuff happened in 2014 -- enough that even though you ate, like, infinity-zillion burgers, you still only barely scratched the surface of all the crucial patty-ness. Consider this your guide to catching up: every single important burger happening from the past year, all parked in one place. Good luck with those resolutions.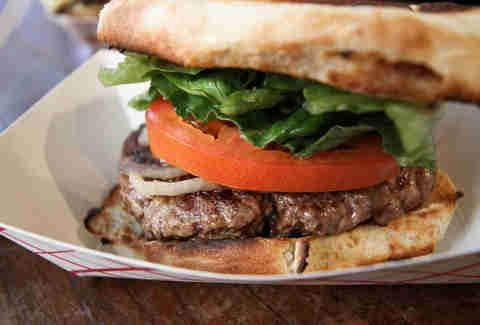 The best burger in 33 Manhattan neighborhoods
There are a million burgers in Manhattan (plus or minus a few, if you want to be nitpicky about it), and, because it's our job, we've eaten a lot of them... enough that we could honestly put together a guide to the best burger spot in every Manhattan neighborhood if we wanted to. And we did... READ MORE
NYC's 11 best under-the-radar burgers
Have you ever noticed how the same 20ish burgers end up on pretty much every "best burgers" list, even though there are literally zillions (okay, maybe not literally) of patties in NYC? Don't get us wrong, the burgs at Corner Bistro and Shake Shack and Minetta Tavern and Burger Joint totally deserve to be on there, but what about the ground beef sandwiches that've slipped through the hype cracks? READ MORE
In-N-Out style burgers in Murray Hill
Swooping into the space formerly occupied by General Assembly (and before that, the Tiki spot Hurricane Club), Park Avenue Autumn (now Park Ave Winter) dominated the lunch scene with dual In-N-Out style burgers on the menu. READ MORE
The 15 best $10-or-less burgers in NYC
Yes, living in NYC is kinda super really insanely OH MY GOD THIS BEER IS HOW MUCH? expensive, but no, that doesn't mean you can't still get a good, cheap burger. Case in point, here are 15 different, and all totally delicious, $10-or-less burgers in NYC. READ MORE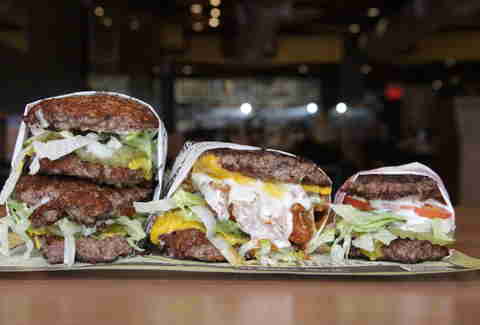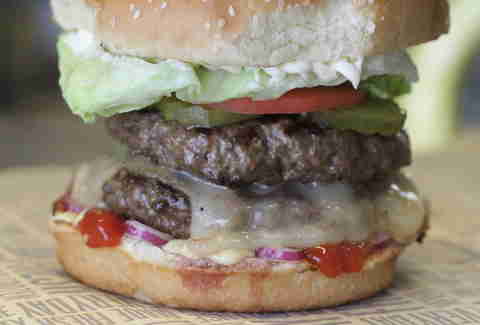 10 awesome new burgers that dropped in the first half of 2014
Does a burger that dropped a year ago still count as new? We say yes. READ MORE
Burgers and gravy fries invade NYC from Canada
Canada has given us exactly two things we love deeply: 1) Rick Moranis, and 2) poutine. Big Smoke Burger near 14th St and 7th Ave brought at least one of those things (hint: it's the one covered in cheese... not named Rick Moranis...) to a flagship US shop in NYC teeming with "high-style fast casual food", and upping the quick and delicious burger shop game with the addition of a backyard garden, beers on tap, and fresh ingredients. READ MORE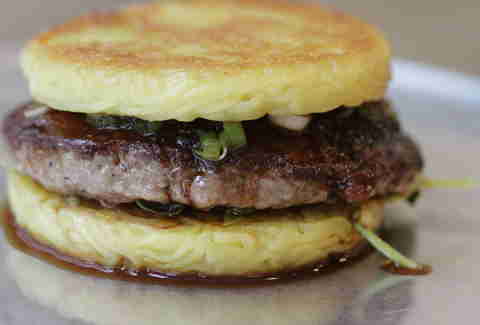 The ramen burger finally got a permanent home
Last summer, the world was introduced to the Ramen Burger at Smorgasburg, and it went absolutely bananas. Like, Gwen-Stefani-lyrically-spelling-out-the-word bananas. Well, this year the Ramen Burger finally got its own shop... READ MORE
16 things you didn't know about Shake Shack
Things you know about Shake Shack: they make great burgers. Things you probably don't know about Shake Shack: anything that isn't the making-great-burgers thing. That's why we compiled this list of 16 things you should know about Danny Meyer's NYC burger chain, so you can drop some knowledge the next time you're in line for a SmokeShack and need to kill some time. READ MORE
There's a cocktail bar hidden above a Five Guys
You've always wanted to start an epic drinking story with, "So I walk into this Five Guys...", and The Garret makes that incredibly possible. It's a cocktail bar, now open on top of the Five Guys in the West Village. READ MORE
Why does this burger cost $250?
Pan-Asian resto/burger bar Beer & Buns, in the St. Giles Court Hotel, had plans to blow your mind with their Indulgence Burger, which officially became one of NYC's most expensive patties this year. READ MORE
Deep-fried PBR and Twinkie burgers are coming to NYC
Put that super-catchy Michael Jackson song on repeat this morning, because insane Philadelphia burger shop PYT has announced it's coming to NYC, and will be bringing with it a bevy of boozed-up milkshakes, Krispy Kreme sliders, and mostly limited-edition Franken-burgers, the most epic of which we've gathered here. It hasn't opened yet, but this is something we're very much looking forward to in 2015. READ MORE
Sign up here for our daily NYC email and be the first to get all the food/drink/fun New York has to offer.
Andrew Zimmer is Thrillist's NYC Editor and he ate more burgers than he probably should have in 2014. 2015 is all about salads. Salads made out of meat though, hopefully. Follow him on Twitter and Instagram.