The Final Four is about to get underway, and that means so is your search for NYC's best wings to eat while watching. And since we're all about making your life easier/wing-ier, here they are: NYC's 11 best wings (Buffalo and otherwise).

Harlem/Gowanus
If you like your wings more tender/BBQ-y and less fried/not-BBQ-y, Dinosaur is an excellent go-to. They rub the wings, pit-smoke them, char them on the grill, and then inventively sauce them down with Honey BBQ, Sesame Hoisin, Garlic Chipotle, Wango Tango, or their hottest (seriously, we dare you to get this sauce): Devil's Duel.
Tribeca
Created and perfected over several years (including during the chef's stint at Momofuku), these flappers are dredged in a combo of beer, liquor, and spices, then twice-fried with a freeze in between to maximize their crispiness. After all that, they get coated like a "candy apple" in a sauce that hits every note from sweet to savory.
Flatiron
One of the oldest, most well-respected, and most well-urinal'd (seriously check them out) bars in NYC, Old Town's wings are the kind of bar wings with enough tangy/buttery Buffalo flavor and substantial meatiness that you can house several orders and never get tired of them.
Upper West Side
This standby sports bar is reliable on all fronts: it'll always play the sound for games, it'll always have a decent crowd, and it'll always have wings that are always good. They're just crunchy enough to not be overdone, and just sauced enough to not be overwhelming.

Hell's Kitchen
Taking over the recipe from the dearly departed Scruffy Duffy's, the "Scruffy Duffy's World Famous Wings" are consistently meaty with good sauce coverage, and are best enjoyed while "drinking like a champion", as is their motto. Along with standard mild, medium, and hot, they're also available in BBQ or Garlic Parmesan.
Columbia St Waterfront
The Ike's Vietnamese wings were once described to us by a friend as, "the best wings I've ever had, ever", right before Pok Pok first opened in NYC. While that's not quite true, they're certainly in the top tier with their fish sauce-based flavor and impressive heat.

Union Square
This relative newcomer mixes it up by adding a Mexican resto vibe to its sports bar theme, and brings with it a shload of tequilas, 80in TVs, and some amazing wings. Get started with some classic ones covered in Frank's RedHot, and eventually move on to others like Salt 'N Vinegar, Pineapple Habanero Mango, or "The Nuclear Option"... which're coated in ghost pepper and require a waiver.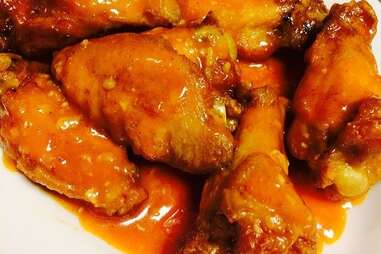 Alphabet City
These guys are a good standby for a Buffalo bar wing, but the real draw is that you really can't beat the bang-for-your-buck this place gives you with $0.20 wings on Monday, Tuesday, and Wednesday nights.

Flatiron
They don't just dump stuff in a deep-fryer and hope for the best here. The chef has a strict, 10-step process... which he may divulge to you if you ask nicely, and may not if you're all, "Don't be a d*ck; tell me the process". In addition to doing an incredibly solid everyday offering, they're always doing weird-ass flavors for the fun of it, too, like Thai peanut butter & spicy jelly.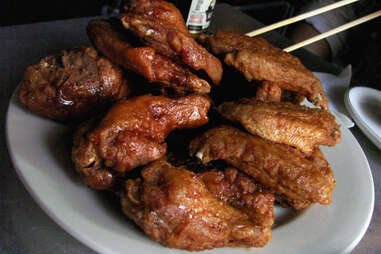 Multiple Locations
The OG of Korean-style, twice-fried chicken is still a worthy meal if you're seeking out some top-notch non-Buffalos. The flavor is soy garlic, the skin is crispy, and the inside is juicy. It all somehow becomes more than the sum of the already-delicious parts.

West Village
Brined in pilsner and available in hot, inferno, or BBQ at what might be NYC's best beer bar, these top-tier wings feature consistent meatiness, unique flavor, and nice heat.
Prospect Heights
"You may think Buffalo Wild Wings is just a nefarious organization that makes football players trip on sprinklers to force overtime so everyone can keep drinking beer, because all of their jobs stipulate that if you're at a bar, and an overtime game is on, you're not allowed to come back to work. But it's more than that. For one, they also serve wings! Wild ones. For two, those wings are legitimately delicious. I started devotedly hammering them back in college, and I've been urging people to come with me to locations everywhere from Iowa to Colorado ever since. They all think I'm doing it ironically or am straight joking, but both of those assumptions are dirty and false. So do yourself a favor: go to Atlantic Station. Go up the escalator. Get the hot, plus some teriyaki or mango habanero. Get a huge beer. Get over the whole chain thing, and just get down." -- Ben Robinson, Editorial Director
This list -- and all the rest -- look even sexier in our iPhone app. Get it now!
Andrew Zimmer is Thrillist's NYC Editor, and he wishes the wing scene here was on par with the rest of the food available in the city. We can do it, everyone! Follow him on Twitter and Instagram.