In this ever-polarizing world, there's at least one pole we can all agree on, and that pole is dim sum. From shumai served alongside a potent cocktail to rice noodle rolls that come with easy-access to a slot machine down the hall, here's a breakdown of NYC's best dim sum.

Best dim sum parlor with Pac-Man dumplings:
RedFarm
West Village
You can't say you've really experienced the New New York dining scene without sampling some the mind-blowing Pac-Man dumplings at RedFarm, where they're elevating Chinese eats to new, tastier heights (and prices). Oh, and the Katz's Pastrami Egg Rolls? They're as good as they sound.
Best dim sum joint for an old-school Chinatown meal:
Nom-Wah
Chinatown
Located on one of the coolest streets in Manhattan (sorry, 3rd Ave!), this classic tea parlor has been serving dim sum since way back in 1920. Under new ownership in recent years, the place has kept the fabulous retro look, but way more importantly, upped the food game considerably.
Chaotic & classic Chinatown dim sum experience (with a bonus Champagne cart):
Jing Fong
Chinatown
Grab a number, count to a million (sorry dude, there's gonna be a wait), then prepare to ascend the magical escalators to weekend dim sum glory in a sprawling dining room with a roving Champagne cart.
Chinatown
Join the crowds digging into the huge list of dumplings that trend on the eclectic side (think fillings like bamboo), plus other creative snacks like Go Go hamburgers in steamed buns. Bonus: there are also lots of veggie options that you wouldn't find at the dim sum dining room down the street.

Chinatown
Speaking of people who only eat veggies, this is your new dim sum home. It may look like meat, smell like meat, or even taste (almost) like meat, but trust us, that "mock duck" is either tempeh, tofu, or wheat gluten… probably.
Best dim sum with a happy hour:
Red Egg
Chinatown
Sure, dim sum for breakfast is always a good idea, but how about some dumplings with a side of a few cocktails after a day at the office? Red Egg does it right with 50% off the dim sum menu, PLUS wine and drinks during happy hour.
Chinatown
During the Summer on weekdays, you'll probably see a bus pull up with a few hundred European tourists tucked inside. Don't let this stop you, because the food is still good, and just about every place is going to be crowded anyway. The carts are quick to come by, and the steamer baskets are piled high. Go hungry.

Best dim sum parlor in a mall (that doubles as a nightclub):
88 Palace
Chinatown
First, you have to find it. Head under the Manhattan Bridge, look for the entrance to a small, indoor mall, and climb to the second floor. Now you're ready for either a chill dim sum meal, a dance party with one of the hottest DJs around, or... both???
Best dim sum to blow your cash on:
Hakkasan
Midtown West
If you've got an expense account and like your dim sum less bustling and a little more refined, ditch the rolling carts. Instead, head to this Midtown spot where they're serving modern, fine-dining takes on the Downtown fare, including scallop shumai, a king crab noodle roll, or a truffle & roast duck bun. Maybe suggest this to your boss.

When you have a late-night dim sum craving in Midtown:
Lychee House
Midtown West
Dim Sum is mostly a daytime affair, which makes finding a nighttime spot a challenge. Yes, life in 2014 NYC is rough. Thankfully, Lychee House in Midtown will hook you up with their menu as late as 10:30pm, every night of the week.

Flushing
You won't find a Cinnabon at this Asian food court, but you will find non-Cinnabons at one of the only dim sum joints where you order at the counter. The menu is short and sweet (ironic name, then?), but just know that the soup dumplings are the go-to here.
Jamaica
Ever dream of watching a bunch of horses race while munching on rice noodle rolls? Neither have we, but we kind of wish we had been, so we could've found this dim sum "palace" inside Resorts World Casino in Queens sooner. Oh, and instead of sticking around for dessert, try your luck on the slots after lunch.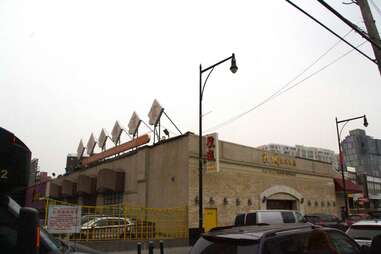 Flushing
Join the masses on Saturday and Sunday mornings for delicious plates of steamed ribs, chicken feet, and tofu skin rolls. The prices can add up a little faster here, but since this is the best dim sum in a really strong culinary 'hood, you probably won't really care.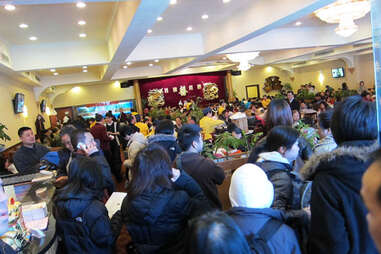 Sunset Park
This part of the city is booming with dim sum joints these days, but we're still about this gigantic spot for a weekend jaunt. Bring at least one million friends for an over-the-top feast at a spot that gets bonus points for earning the respect of TV food guy Anthony Bourdain.
This list -- and all the rest -- look even sexier in our iPhone app. Get it now!
Craig Nelson is a writer who enjoys pizza and the tropical vibes on that famously laid-back island of Manhattan -- the place he calls home. Follow along on Twitter and his blog Across 106th Street.