Blowing your mind harder than the time you found out Uncle Phil was the voice of cartoon Shredder (seriously, WTF), this guide'll school you on the fact that the Chinese aren't the only ones who make awesome dumplings. And to prove it, we're breaking down 10 doughy bundles from 10 different cuisines (so, pierogi, pelmeni, potstickers, etc.), and then offering up the best NYC option for each.

Chinese/Shanghainese: Xiao Long Bao
Shanghai Café (address and info)
Little Italy
Eating a soup dumpling takes skill: you don't want to tear it and splatter its rich and salty broth everywhere, but you also don't want to burn the roof of your mouth. Luckily, this Chinatown institution has perfected its dumplings, so that the dough is thick enough to safely make the journey from chopstick to mouth. As for the burning-your-mouth thing? You're on your own.
Chinese/Cantonese/Fusion: Potstickers
Talde (address and info)
Park Slope
There's a reason why Chef Dale Talde's pretzel potstickers are magic: he combines two things we love -- pretzels and pork -- to create an appetizer that's both new and quirky, and a delicious throwback to those greasy taste-bombs we've grown accustomed to.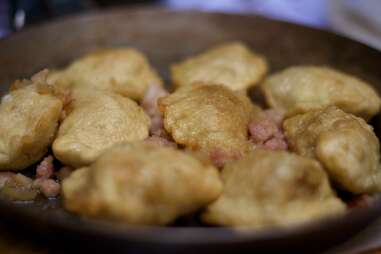 Polish: Pierogi
Lomzynianka (address and info)
Greenpoint
Greenpoint has no shortage of places doling out pierogi (a Polish delicacy that can come either boiled or fried), but we like Lomyznianka for its selection, which includes a potato & cheese, a pork, a sauerkraut & mushroom, or farmer cheese. Each plate comes with onions and a dish of sour cream for dunking... like all foods should.
Russian: Pelmeni and Varenyky
Café Glechik (address and info)
Brighton Beach
Russia's got two types of top-notch dumplings in its cuisine tool-belt, and this place does 'em both right. The first, pelmeni, is made with a thin dough and traditionally stuffed with meat, such as pork and beef. The second, varenyky (which some say is actually Ukranian but was usurped by the Russians), can come either on the sweeter side with things like sour cherries, or savory with mozzarella and dill.
Georgian: Khinkali
Brick Oven Bread (address and info)
Brighton Beach
Hand-stuffed with uncooked & spiced meat, khinkali (a staple in Tbilisi) are a lot like soup dumplings, in that once they're cooked, the juices from the meat form a thick broth on the inside (so there's some technique involved when eating). Unlike with soup dumplings, though, you won't have to contend with chopsticks. Bonus!
Germain/Austrian: Spätzle
Café Katja (address and info)
Lower East Side
Largely regarded as a side dish, spätzle generally finds itself playing second German food fiddle. But that's not the case at this German/Austrian café. Instead, chefs toss these pint-sized, chewy dough balls with creamy Gruyère cheese, sugar snap peas, corn, and mushrooms.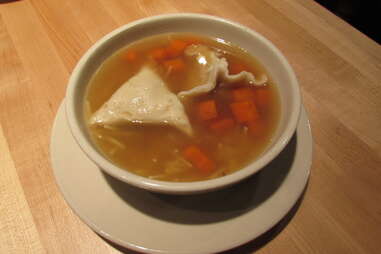 Jewish: Kreplach
Sarge's Deli (address and info)
Midtown East
Mile-high sandwiches are a must-get at this 24/7 Jewish deli, but the kreplach should be on your radar as well. It come two ways -- fried with onions, or in a soup. The latter is reminiscent of a bowl of homemade matzo ball soup, but richer thanks to the chewy, brisket-stuffed kreplach bobbing in the salty, carrot-and-pasta-filled broth. Warning: you'll need a fork, knife, and spoon to tackle this one.
Indian: Samosa
The MasalaWala (address and info)
Lower East Side
The deep-fried, Mumbai samosas here come stuffed with spiced potatoes and peas, and'll remind you of all those South Asian food stands you're always eating at when you go to South... Asia.
Nepalese: Momo
Tawa Tandoor (address and info)
Jackson Heights
In Nepal, momos -- pastry shells stuffed with either meat or vegetables -- are a popular fast-food (think hamburgers in America, but kinda healthier). At this authentic Indian restaurant in Queens, each momo gets steamed and served with a side of chutney hot sauce.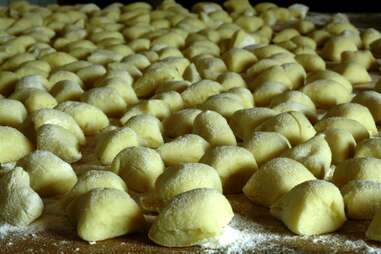 Italian: Gnocchi
Ristorante Il Melograno (address and info)
Hell's Kitchen
Finding an Italian restaurant in NYC is like trying to find hay in a haystack. And while it's not hard to find gnocchi, there's one place doing it better than everyone else a few blocks over from Port Authority (don't be scared off). The gnocchi funghi e tartufo is handmade and stuffed with wild mushrooms, fava beans, and ugh, black truffles.
This list -- and all the rest -- look even sexier in our iPhone app. Get it now!
Jennifer Nalewicki is a Brooklyn-based freelance writer who has been published in The New York Times, Wine Enthusiast, Esquire, and more. Follow her on Twitter.