The Lobster Roll Quest Begins: 5 Fantastic NYC Lobster Rolls
Editor's Note: Lobster rolls are the king of all summer foods (shut up, watermelon slices), which is why we sent our very own Andrew Zimmer to try and figure out what the Perfect Lobster Roll is, where it is, or if it's totally a figment of our nostalgia-soaked collective unconscious. Follow along on our site, on Facebook, or by using #LobsterRollQuest over the course of the summer to see each step of The Quest unfold.
There are a few things you realize when you announce to the world(/a small corner of the Internet) that you're embarking on the largely enviable and self-indulgent summer-long task of searching for the best lobster rolls you can find on the Eastern Seaboard and beyond.
First, everyone has an opinion on lobster rolls. EVERYONE. People you haven't talked to in years come out of the misty ether and hit you up with suggestions.
And second: there are more very good lobster rolls than there are days left in the summer. There's a lot of serious work to be done, so let's get to it.
(Quick note: if you don't want to "get to it" and all you're interested in is the current Quest for the Perfect Lobster Roll Power Ranking, skip directly to that HERE, bookmark it, and check back regularly.)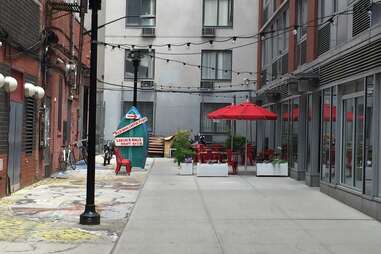 Shut up Andrew, let's get into this already, damn
Despite a growing apprehension that I won't be able to get to each and every recommended spot and do all my new crustacean-crushing Internet friends proud, The Quest is underway nonetheless. I'm going to places that have great reputations, places I've researched, places that come recommended, and I'm hoping to luck into some places along the way. The first batch is a mix of all these things and they're all in NYC.

East Village
Current rank: No. 1
At one point right after the recession, the owners of Red Hook Lobster Pound, Ralph Gorham and Susan Povich, were considering turning the building where they founded the cornerstone of their burgeoning crustacean empire into rental apartments. Thank God they didn't, because first off, you can't eat an apartment, regardless of how much mayo you cover it in, and second, they make a damn good lobster roll.
I stopped into their kind-of-hidden-unless-you-look-for-it space down Extra Place alley off Bowery for the much-lauded roll. They've actually got a couple variations, including CT (butter) and Tuscan (uhhh... vinaigrette), which will be explored/eaten at a later date, but for now I went classic. Maine style.
They use only claw and knuckle (the knuckle is really more of an elbow though tbh), because while the tail is the most coveted piece of any whole-lobster meal, the knuckle and claw are sweeter, more tender, and better suited to rolling. I tend to agree, though I'm not a proselytizer on the subject just yet.
The roll here was amply stuffed with the sweetness, tossed in a very light amount of homemade mayo with a hint of lemon, topped with enough sliced scallion to add a little flavor (but not overpower anything), dotted with celery, and mounded on a bed of texture-adding shredded lettuce. Very simple, very well executed, very solid.
Early on, when discussing this project, I made a prediction that a lot of these rolls would come down to the bun, it's one of the easiest parts of the process to mess up. The bun here is great. A buttery split-top hot dog bun, griddled just enough to retain firmness, it was a near-perfect shellfish delivery system.
The only knock here, and frankly this is a problem with the whole genre and me being 6'6'', is that I ate it insanely quickly and immediately wanted another. For $16 there are worse places on this list to have that feeling though. This place has frontrunner status.
Meatpacking District
Current rank: No. 4
It's sometimes awkward, and I'm told, annoying, to couch things in diplomatic language, both in conversation and writing, but that's going to have to be the case here. While this contestant was very tasty and not bad per se, it was also ultimately kind of forgettable. Maybe this is because I hurriedly ate it, standing up behind a group of tourists who were monopolizing the sole communal table in the bright, beautiful, be-lobster-tanked fish market. Or maybe it's because it's a pretty standard roll, with maybe just a bit more mayo than Red Hook, whole-leaf lettuce, celery, notes of lemon, and a bun that wasn't quite griddled enough.
Whatever it was, I just wasn't that into it. Which is weird because usually I'm more than willing to give any place that's associated with creating a foot-long lobster roll the benefit of all the doubts. But I'm an imperfect man in an imperfect system in an imperfect world, and this is not the Perfect Lobster Roll. Sorry. It is, however, still pretty good though.
Rockaway Beach
Current rank: No. 5
I spent the week working and writing out in Rockaway Beach, exploring all sorts of things (read: eating as much as possible), and checking out a neighborhood I knew very little about.
In most current media it's portrayed as a sort of Williamsburg by the sea, with parties at Playland Motel, hipsters shielding their tattoos from sunburn with inappropriate black beach jorts, and artisanal food aplenty. And it is that. It's that, if you don't leave the two-block radius around the shuttle stop at Beach 96th. But it's also an incredibly diverse community with idyllic beachside suburbs, projects, old-school firefighter types, and a defiance and local pride that's easy to attribute to the Hurricane Sandy recovery process, but honestly feels like it was probably always there, just less at the fore.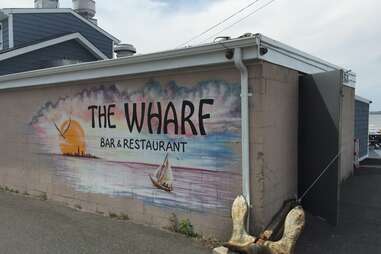 The Wharf sits firmly in the old-school camp. It's a bit difficult to find, located behind a gas station, but it's right on the water and it has legitimately astounding views of Jamaica Bay and the NYC skyline. The vibe is very local, no one will greet you or see you to a seat. The waitresses are charmingly gruff. When they smile or crack a joke you feel like you've earned something.
The lobster roll here is heaping. Like unmanageable. Which is a double-edged sword. I love copious amounts of lobster as much as the next dude, but I also like my rolls to be rolls, this was -- for all intents and purposes -- an open-faced lobster sandwich. If I was just looking for a satisfying meal and not the Perfect Lobster Roll, I would have been much happier and less judgey about this.
Of all the rolls so far this one also had the most mayo, which, while it wasn't overwhelming, was still a little too much for my liking (although it did help to hold everything together). The bun was pretty damn delicious despite being flattened by the mountain on top of it. It was supremely buttery and still somehow crusty.
The biggest flaw here was that it was served with whole-leaf lettuce, cucumber, and whole slices of tomato. Cucumber and lettuce can be forgiven, and under the right circumstances provide welcome texture. But tomato is always out of place. The flavors just don't work and the texture is not firm enough to provide any contrast. I took them out and cast them to the side before enjoying this roll.
Rockaway Beach
Current rank: No. 2
It's going to be interesting just how much location plays into the Perfect Lobster Roll -- I think that like price (more on that later), it doesn't really make a huge difference unless it's particularly notable one way or the other. In the case of the Lobster Joint, one of the top-notch vendors at the Beach 96th St boardwalk concession stand, it factored in. The roll itself is strong. A simple combo of sweet lobster meat, celery, and herb mayo on a buttery-but-not-greasy, browned-on-the-outside-but-chewy-on-the-inside split-top bun that's griddled right in front of you.
The right-in-front-of-you part is key here, because there are few things in life as enjoyable as the smell of butter on an open grill. But you're also eating this at a picnic table right on the beach, there's probably live music or at least a DJ playing nearby, and there's micheladas, girls in bikinis, surfers, and sangria. This is a great place for lobster rolls.
Soho
Current rank: No. 3
This one is somewhere in between the Wharf and Lobster Joint, both in ranking and style. It was substantially stacked like the Wharf but less mayo-ed and still manageable as a sandwich.
I've actually been to Ed's before and the bun was not how I remembered it. This time it was slightly squished and not that crusty -- not dropping any lobster on the way from plate to mouth was a bit of a challenge.
The lobster meat could have been a little sweeter, but there was plenty of it. In one bite I'm pretty sure I got almost half a tail. This is a very good lobster roll. But in the end, for $30 (which by the way is almost twice as expensive as most of the others on the list), I want more. And sure, the fries and pickles here are delicious, but we're not looking for the perfect fries and pickles, are we?
Are we close to the Perfect Roll? Are lobster roll selfies OK?
What did we learn? How much closer are we to the Perfect Lobster Roll? I'd say not very, there are still so many fucking rolls to try in NYC, let alone Maine, Connecticut, and elsewhere on the Eastern Seaboard. But, I did gather some valuable baseline info. Claw and knuckle meat alone seem to be the way to go, an overstuffed sandwich is almost as bad as a skimpy one, value and environment won't make or break a roll but are important, and whole slices of tomato have no business encroaching on an otherwise tasty option.
I'll be hitting up the Connecticut coast later this week. Follow along for live updates on Instagram and Snapchat (@addzim), and as always, hit me up with opinions, tips, and suggestions.
Sign up here for our daily NYC email and be the first to get all the food/drink/fun New York has to offer.
Andrew Zimmer is Thrillst's NYC editor, chief lobster enthusiast, and vice president of giving out meaningless titles. Follow him on Instagram and Facebook.