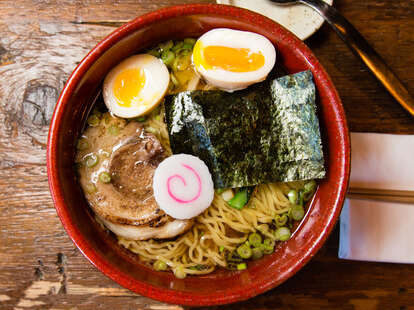 mu ramen

| Cole Saladino/Thrillist
mu ramen

| Cole Saladino/Thrillist
If you're even thinking of being in NYC, check out the rest of our DestiNATION: New York City guide. It's stacked with expert advice from locals on what to eat, where to drink, and what to do in the Greatest City on Earth.
When visiting New York, it's only natural to assume the best food exists strictly within the confines of Manhattan, where the streets are grids and most of the restaurants are featured on your favorite TV shows. And while a stopover on the Lower East Side for the best pastrami sandwich of your life is all-but-required, many of New York's most unique and defining (not to mention, affordable) restaurants are tucked away in the neighborhoods you won't read about in your guidebooks. Staying solely in Manhattan is one of the biggest mistakes tourists make, especially if you're here to eat. If you've got the time, these under-the-radar food destinations are well worth the subway trip.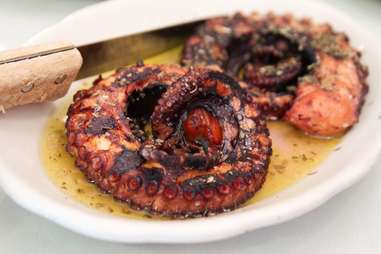 Astoria, Queens
What to go for: Greek food and a little bit of everything else
Queens is New York City's most ethnically diverse borough, and Astoria's food scene is the greatest exemplar of that. The neighborhood was once primarily a Greek food destination -- and you'll still find classic spots like Telly's Taverna and Artopolis Bakery crowded with locals and visitors alike looking for real-deal spanakopita and lemon-soaked grilled octopus. But now, alongside the old-school Greek tavernas you'll also find savory Brazilian pastries (Pao de Queijo), deeply flavored bowls of pho (District Saigon), a colorful spot for housing sweet, spicy boat noodles (Pye Boat Noodle), and one of the city's best grilled cheese sandwiches (Queens Kickshaw). It's the ideal neighborhood for spending a day sampling a little bit of everything.
How to get there: N/W train to Ditmars Boulevard or Broadway; M/R train to Steinway Street
Sheepshead Bay, Brooklyn
What to go for: Eastern European and classic waterfront spots
Sheepshead Bay is where you go when you want a quiet meal with a view, without the obnoxious crowds (and prices) of Manhattan/Williamsburg rooftops and patios. Numerous spots offer affordable waterfront meals, including classic bay-view restaurants Il Fornetto and Randazzo's Clam Bar, which serve quality thin-crust pizzas and fresh seafood, respectively, with famous sauce recipes that haven't changed in decades. The neighborhood is also home to New York's only Armenian Bakery, Brooklyn Bread House, and the boisterous and ever-welcoming Russian/Uzbek restaurant, Nargis Cafe. When it's nice out, you can take a quick walk or bike ride south to Brighton Beach, and stop by Sheepshead Bay institution Roll-n-Roaster on the way for a classic roast beef sandwich.
How to get there: B/Q train to Sheepshead Bay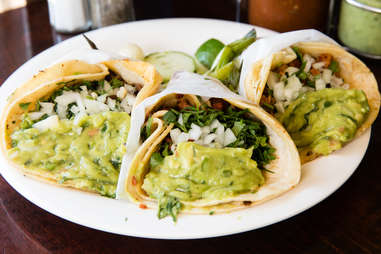 Sunset Park, Brooklyn
What to go for: Some of the city's best tacos and dumplings
Don't let LA natives tell you that New York lacks good Mexican food. Out in Sunset Park, you'll find excellent versions of every staple you can imagine: tacos (Tacos El Bronco), tortas (Don Pepe Tortas & Jugos), and tamales as good as any Mexican grandmother's (Alimentos Saludables). Sunset Park's other claim to fame is its mini Chinatown, where you can grab crisp-on-the-outside, juicy-on-the-inside dumplings from Great Taste Dumpling and the perfect Vietnamese bánh mì at a tiny storefront called Ba Xuyen. You can even set up a picnic in the neighborhood's expansive public park, one of the highest natural points in Brooklyn, which affords gorgeous views of lower Manhattan. The best time to go is, yes, sunset.

How to get there: R train to 45th Street; D/N/R train to 36th Street; D train to 9th Avenue; N/R train to 59th Street
Long Island City, Queens
What to go for: Ambitious restaurants with cool vibes
Few outer-borough neighborhoods offer as many restaurants combining both outstanding food and great vibes as Long Island City. Famed Canadian chef and meat aficionado Hugue Dufour has both of his restaurants, M. Wells Steakhouse and M. Wells Dinette, in the neighborhood. The always-packed Mu Ramen is known for some of the best (and most ambitious) bowls of ramen in the city -- same with Hibino, but for sushi. Plenty of other lively places are worth centering a night around -- like Casa Enrique (the only Michelin-rated Mexican restaurant in NYC) with its modern cantina vibes, or Jora, for bold and bright Peruvian.

How to get there: G train to 21st Street; 7 train Vernon Boulevard/Jackson Avenue; 7/N/W train to Queensboro Plaza
Belmont, The Bronx
What to go for: Red sauce pasta and deli sandwiches from NYC's real Little Italy
You may think Little Italy is only in Downtown Manhattan -- but these days, that's mostly just a tourist trap. For the real thing, head uptown to Belmont, home to Arthur Avenue, the most iconic stretch of Italian eateries in New York. Like Astoria, Belmont is a great place to graze -- make sure you stop by Calabria Pork Store, where fiery soppressata hangs like birthday decorations from the ceiling, then onto Casa della Mozzarella for slabs of fresh cheese.
For lunch, the move is always Mike's Deli -- where you're getting an Italian Combo, a gargantuan sandwich featuring a smattering of Mike's famous house-made deli meats. Finally, a trip to Arthur Avenue wouldn't be complete without a visit to one of the neighborhood's classic red-sauce joints. The can't-miss spots are Tra Di Noi, known for its excellent and unusual pasta specials (like fusilli with fava beans) and stellar cheesecake, and Emilia's, for impressively large plates of chicken Parm in a picturesque outdoor patio.
How to get there: B/D train to Fordham Road
Tompkinsville, Staten Island
What to go for: Authentic Sri Lankan food
When it comes to eating on Staten Island, most people think only of Italian. And while there's no shortage of amazing pasta spots (like Enoteca Maria, a grandmother-run restaurant in St. George) and pizzerias, the borough's true destination cuisine is Sri Lankan -- the best of which can be found in Tompkinsville. Take the Staten Island Ferry (which is free, and an attraction in and of itself) and stroll 15 minutes south of the St. George drop-off point. You'll find yourself among rows of Sri Lankan restaurants, each with its own specialty. For traditional hoppers (crispy, stringy, bowl-shaped pancakes) head to San Rasa, which offers a dainty but hearty version accompanied by a rich fish curry for dipping -- or Dosa Garden, an "Indo Lankan" spot where the hoppers are served as they would be in Southern India, with an assortment of coconut and tomato chutneys.
For the other essential starch of Sri Lanka -- roti (or flatbread) -- the chewiest, flakiest renditions can be found at neighborhood mainstay New Asha (be sure to also visit the adjacent sweet shop for post-meal treats). The highlight at Ceylon Curry is the entire menu of lamprais, another signature Sri Lankan dish. Rice, onion relish, plantains, and your choice of meat are wrapped tightly in a banana leaf, baked, then unfolded to reveal a fragrant curry and pillow-soft rice. Before you head out, make a final stop at Lanka Grocery for essential Sri Lankan seasonings -- practically an entire aisle of the store is devoted to various types of spicy, tangy sambals (hot sauce).
How to get there: Staten Island Ferry to St. George Terminal
Sign up here for our daily NYC email and be the first to get all the food/drink/fun New York has to offer.