No matter the time of year, there are plenty of excellent places to enjoy a dozen (or two) of everyone's favorite bivalve in New York (especially at happy hour), but once you've made the requisite summer trips to Grand Central Oyster Bar, Maison Premiere, Upstate, John Dory, and Mermaid Inn, spend the rest of the year checking out some of the city's lesser-known oyster spots -- from fried oysters on a picnic table out on City Island to East Coasters on the half-shell with a Julie Reiner cocktail in Carroll Gardens.
City Island
Far out on the pier at City Island sits Johnny's Reef, which brings in a steady stream of New Yorkers (and almost as many seagulls) eager for a New England-style outing without actually leaving the city. The cafeteria-style eatery offers hefty orders of fried oysters (for those averse to slurping) piled on a heap of fries that will set you back a mere $15 (cash only, of course). Take advantage of the sauce bar offering endless ketchup, tartar, and hot sauces and lean into the casual scene complete with plastic red tray and picnic-table seating overlooking Long Island Sound.
West Village
If throwing back oysters as fast as they come out isn't your style, head into Upholstery Store, a casual-yet-intimate West Village spot where Austrian chef Kurt Gutenbrunner creates works of art on the half shell that you'll want to take your time with. Expect specialty oysters topped with creative adornments like salmon roe and chive, uni, and pickled celery, as well as a refreshing cucumber & mint combo, all to be savored slowly by the bar or on a plush sofa.
Astoria
In a sea of Greek restaurants doling out fresh red snapper and grilled octopus, Michael Psilakis' dual-level Astoria restaurant/late-night hangout stands out for its sizable Virginia-imported oysters, offered every day for $1 from 3:30-6:30pm (and $2 after that). Take advantage of your oyster platter outside on the patio on a crisp fall evening and join in on the neighborhood chatter as you people watch down Ditmars Blvd and sip a very Greek limonada, spiked with ouzo.
Upper West Side
In an area of Manhattan that's still not known for its food scene, a decent oyster happy hour can be hard to find. Enter Crave: a slightly upscale, sustainable seafood restaurant that focuses on all things fish. A daily listing of oysters lets you pick which unique varieties you want on your seafood tower (if you don't know, ask a shucker!). If you're looking for something a little less involved, come between 5-7pm Monday-Friday and 4-6pm on Saturday and Sunday, when both East and West Coast oysters are $1.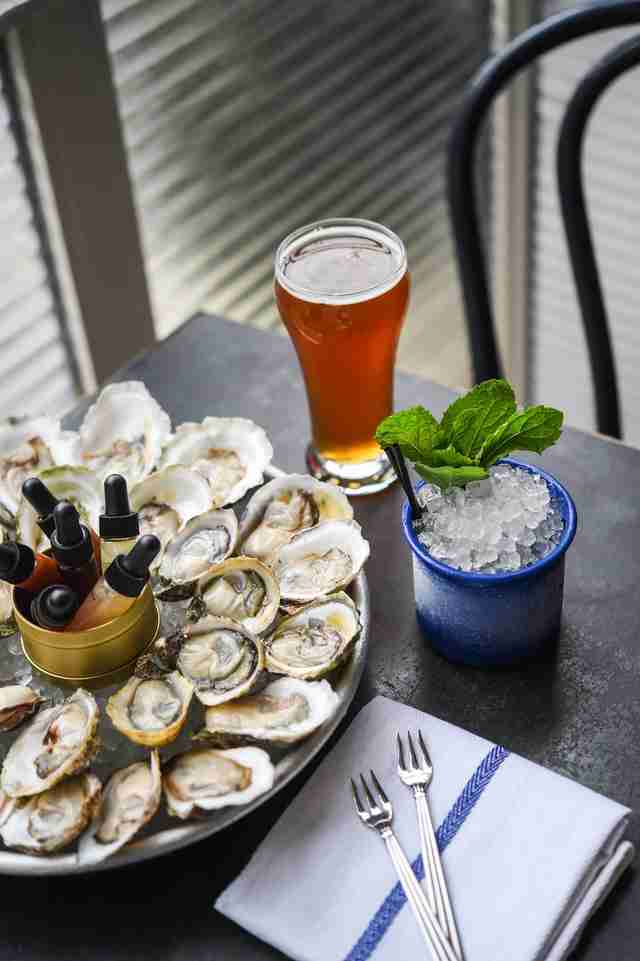 Boerum Hill
The team behind Grand Army takes both drinks and oysters very seriously. Icy platters of East Coast oysters are served with fancy lab-like droppers that house various sauces (including cocktail, mignonette, and more) for optimal sauce-application precision. On the drinks side, you'll find seasonal options that use ingredients like ceylon-tea-infused-milk-washed Brooklyn gin. Beer nerds can will also find a sea of rare brews both bottled and on tap, like dry-hopped sour ale from Massachusetts' Mystic and barrel-aged peach saison from Brooklyn's Other Half.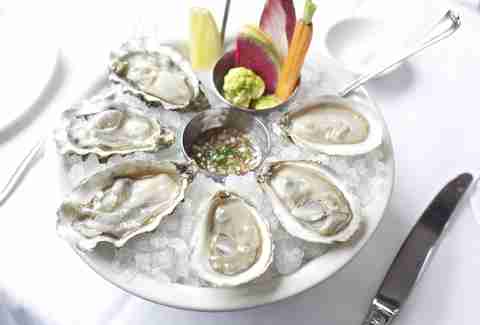 West Village
This intimate West Village spot may be named after an entirely different mollusk, but that doesn't mean it doesn't know what it's doing with oysters, too. With plenty of flickering candles and exposed brick, The Clam is the perfect place to bring a non-shellfish-allergic date, grab a seat at the not-crowded bar, and order a seasonal selection of East and West Coast oysters. Oysters are served alongside a homemade chili-lime mignonette that you may just want to drink by the flute-ful (though we strongly suggest you don't).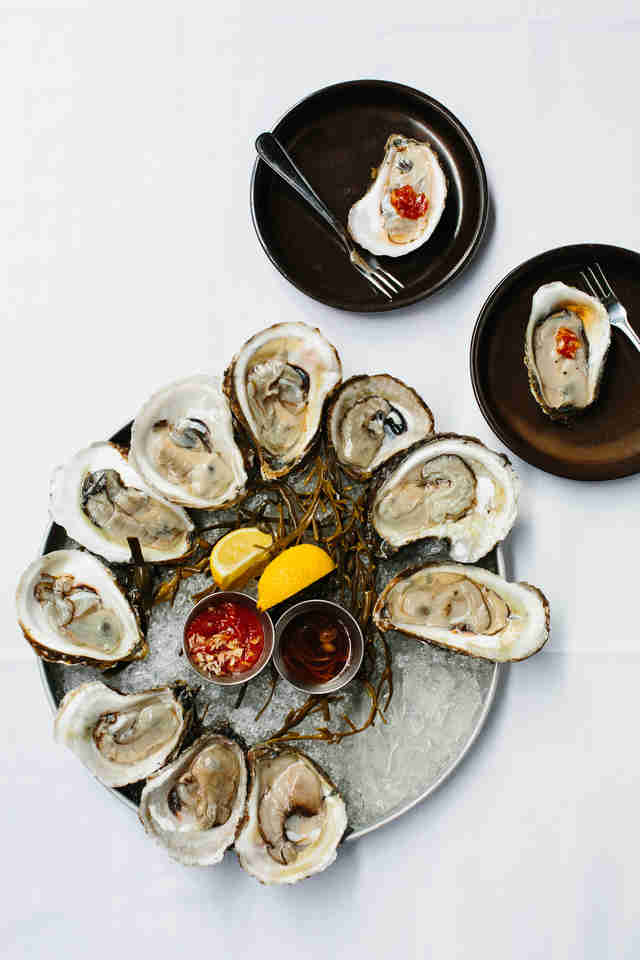 Flatiron
This cavernous not-quite-clubstaurant offers a daily happy hour from 4-7pm, with $1 oysters served, interestingly, alongside a cocktail sauce that's dashed with spicy Korean pepper paste and a pomegranate vinegar mignonette. If you're craving oysters after 7pm, go for the chilled variety with toppings like salmon roe and pickled radish as a precursor to an order of bibim paella and bulgogi tacos.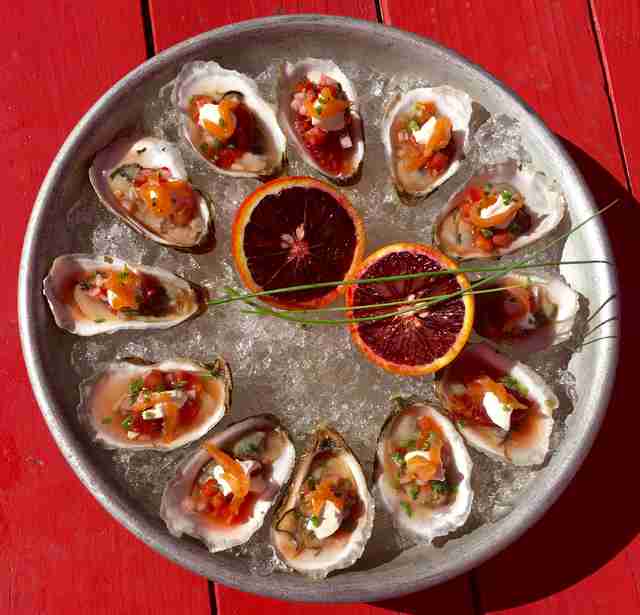 Red Hook
Hop on the ferry to Red Hook (or just take an Uber, if you're feeling especially lame) to explore this tri-level seafood shack. On the lower level, you'll find a bar ready to pour out beers and serve freshly shucked East and West Coast oysters along with a side of cornhole. On the upper levels, there's plenty of picnic-bench seating for enjoying a raw seafood platter along with the world's best hot sauces -- not to mention a pretty decent view of the Statue of Liberty. Instead of a happy hour, Brooklyn Crab does Happy Days on Mondays and Tuesdays, offering house oysters (Barcats from Virginia) for $1 all day and night.
Greenpoint
Part sustainable seafood market, part restaurant, Greenpoint Fish & Lobster is known for having some of the best oysters in the city, sourced from local fishermen. Bypass the tempting groceries (you can buy some on your way out) and head for the raw bar, where monger-selected East Coast oysters are $1.50 each on weekdays from 2-6pm and draft wine costs just $6. Let a shucker or server explain the differences between the regional oysters as you taste your way through the tri-state area and beyond.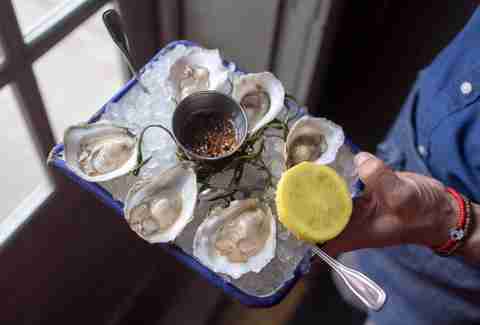 Williamsburg
Don't let the name mislead you -- you're welcome to order as many oysters as you'd like while wearing a T-shirt and jeans (maybe even sweatpants, if you're feeling especially daring). Late-night happy hour at Extra Fancy lasts from 11pm-2:30am Sunday-Thursday with $2 select oysters. In a Williamsburg that now boasts more designer boutiques and luxury condos than ramshackle art studios, this beloved spot maintains an air of unpretentiousness and seriously carefree vibes.
Carroll Gardens
Known mostly for its cocktails by mixology queen Julie Reiner, this dark, cozy lounge is a fantastic hideaway to eat oysters late into the night, especially if you get a prime fireside seat. Cuddle up on a chaise lounge with a cocktail from the pages-long drink menu and slurp down one of the two renditions of East Coast oysters on offer: standard raw on the half shell with red wine mignonette, or the Oysters "Rock Your Face Off," aka fried oysters with "Rockefeller" aioli.
Lower East Side
Sel Rrose converts from a coffee shop to a cocktail bar come late afternoon, and with that comes platters of both East and West Coast oysters (and fried oysters for the slurp-phobic) alongside sophisticated craft cocktails stirred with house-infused liquors and refined syrups. Slink away in a corner with a book and beverage or gather your friends for $1 oyster happy hour, Monday-Thursday from 5-7pm and Friday-Sunday from 4-6pm.
East Village
Marco Canora's relatively new East Village oyster bar seeks to revive the old-school oyster house with oysters seven different ways (raw, pickled, poached, baked, broiled, fried, or steamed) alongside other seafood bites like crab cake sliders and smoked bluefish paté. Stop by the intimate bar during the week and post up at a high-top for half-off select oysters, Champagne, and beer.
Sign up here for our daily NYC email and be the first to get all the food/drink/fun New York has to offer.