Despite eating, like, a LOT of pizza this year, you still haven't really even scratched the surface of everything NYC had to offer pizza-wise in 2014. From 4am slice-eries and under-the-radar pies, to a grip of new 'za joints and pizza bagels, here's your comprehensive guide to playing NYC pizza catch-up.
The definitive top 7 NYC pizza shops, as chosen by 11 pie experts
I think we can all agree that NY pizza is better than every other pizza in the US (go home Chicago), but what we can't all seem to agree on is the best pizza spot in our own city -- for some it's all about the neighborhood spot, for others it's about how "New York-y" it is, for others it's authenticity and faithfulness to traditions, and, for a whole other group it's whether or not you can shove it in your face at 4am. Well, we hoped to democratically put a rest to the argument... READ MORE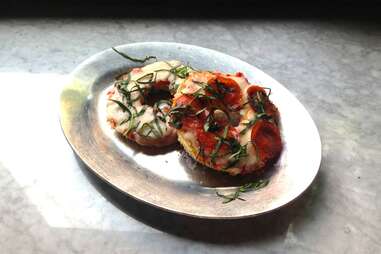 Black Seed's doing late-night pizza bagels
The much-buzzed-about Montreal/NYC hybrid bagel shop Black Seed upped Nolita's late-night pizza game by giving you flashbacks to every sleepover you ever had growing up. READ MORE
The ultimate guide to NYC pizza places open 'til 4am or later
After a long night spent blowing your rent money on delicious cinnamon shots and swiping right too many times on Tinder, your less-than-great decisions should be rewarded. Enter: pizza, everyone's best late-ass-night friend. READ MORE
Pizza + beer = why you'll be heading to Hell's Kitchen
The pizza options in Hell's Kitchen got a lot more interesting this year thanks to Annabel, a polished-yet-rustic pizza spot from the team behind neighborhood fave Thalia and MarkBurger that's getting crazy on the pizzas while you get crazy on pints of craft beer. READ MORE
11 pizzerias worth going to Staten Island for
It's possible you thought you'd never have a reason to go to Staten Island, but you do -- you have at least 11 of them. READ MORE
NYC's 12 best under-the-radar pizzas
The problem with our fair city's unrequited love for pizza (sorry, man -- pizza does not love you back, it's using you) is that at a certain point, you find you've eaten your way through what's widely considered the city's top pizza spots (to say nothing of the entire country's). But what about the pies that've slipped through the proverbial cracks? Or even the real cracks, in a table with rather large cracks? READ MORE
And the reader's choice for best under-the-radar pizza in NYC is...
We turned the last spot in our under-the-radar pizza piece into a reader's choice (we're so democratic!). What we realized, perhaps unsurprisingly, is that there are A TON of under-the-radar pies deserving of love, but in the end, just one winner. READ MORE
Is this pizza worth the trip?
Just because you've already found a spot in your neighborhood that sells pizza, burgers, Kung Pao falafel, and off-brand Four Loko, doesn't mean you can't occasionally put on PajamaJeans and explore something a little farther afield, especially when that little farther afield thing is arguably the best slice joint in the city. READ MORE
New NYC spots to score that pizza you're suddenly craving
Is there anything better than pizza? No. There is, in fact, nothing better than pizza, which's why you should be 100% in tune with all pizza-happenings in the city and should spend some time catching up, with the best new spots of the year. READ MORE
Sign up here for our daily NYC email and be the first to get all the food/drink/fun New York has to offer.
Andrew Zimmer is Thrillist's NYC Editor and he, too, ate a LOT of pizza this year. Follow him on Twitter and Instagram.