However tempted you might be to just get the chicken at a restaurant, choosing the bird can feel like a cop-out. Long considered the overcooked realm of picky eaters, Whole30 dieters, and E. coli-wary home cooks, ordering the chicken can feel like announcing to the table that you're sort of like a chicken breast -- bland, basic, and boring.

So where -- and when -- did chicken get its foul reputation? In the swinging '60s, jetsetters ordered Chicken Kiev and Chicken à la King with gusto. (Then again, no one wore seatbelts and everyone got sexually harassed). In our modern dystopia of pink nugget goop and chicken strip recalls, chicken has certainly weathered some PR crises. It might also have something to do with the internet: Online recipes for low-fat skinless, boneless chicken breasts contribute to its reputation as a protein best left to the Instant Pot. And as access to ingredients grows -- and diners develop more sophisticated palettes -- chefs have begun to treat chicken as an afterthought.

Chicken, of course, has always had its merits. It's more sustainable than beef, lamb, or pork; it's a good friend to a good bottle of wine; and it's an ideal vehicle for flavor. But, unless it's destination chicken, soaked in buttermilk and served with waffles, deep fried and glazed, Korean-style, with gochujang, presented in a hot pot in a mall in Flushing, or served at the NoMad with foie gras, black truffles, and a hefty price tag, its presence among flashier items like steak, duck, and your non-tilapia fish varieties has long felt pedestrian.

Luckily for chicken-lovers, chefs at some of NYC's best new restaurants are giving chicken the care and attention it deserves. We spoke to the folks behind the new flock of dishes and learned why chicken can be the lamest option on the menu, how a "disgusting"-looking dish can surprise you, when a good roast bird and a bottle of wine can be the classiest choice, and why you should -- loudly and proudly -- order the chicken.
FiDi
James Kent, the executive chef and co-owner of Crown Shy, has a storied chicken past. He comes from the NoMad, where the whole roast chicken for two -- complete with foie gras and black truffles -- made New York lose its collective mind when the restaurant opened in 2012.

"Leaving the NoMad," says Kent, "I thought, I'm never going to cook a chicken again. It was one of the best chickens I've ever cooked or eaten. But my chef de cuisine was like, 'We can't just cut anything out of our menu!'"

Instead of foregoing the chicken, they began experimenting with a grilled Peruvian-style chicken for Crown Shy's menu, playing with marinades, salt ratios for the brine, and a variety of peppers.

"The NoMad was decadent, expensive," says Kent. "We thought, let's do the polar opposite and make something simple and affordable and delicious."

They landed on a sharp, spicy citrus marinade for the chicken, plus an accompanying hot sauce made from fermented chilies.

"There are definitely people who won't order chicken because it's a throwaway," says Kent. But after the NoMad, he had gigantic chicken feet to fill -- so his bird is anything but an afterthought.

"Nothing on the menu is a placeholder," he says. "This is my first restaurant and my first menu, so everything we put on it are things that we love."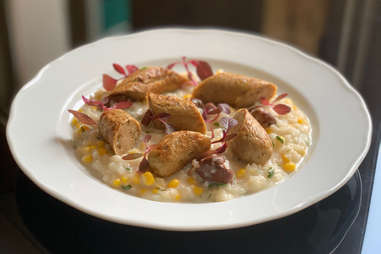 Greenwich Village

Efrén Hernández, the executive chef of Mimi, knew he had to put chicken on the menu at Babs, his brand-new restaurant.

"Chicken is a safe option for people," says Hernández. "You have to appeal to all types of diners. At Mimi, if they don't want the veal brains, they might go for the chicken instead. I give people options they're comfortable with, but try to do it a different way."

Instead of the roast chicken that Hernández serves up at Mimi, he's offering a chicken andouille sausage at Babs. The sausage, which is made by Babs' in-house butcher, is cooked with cognac and creamed onions, then served with cranberry beans and smoked grapes for a take on the classic chicken salad combo of chicken and grapes.

The sausage is smoky with andouille spices, and while it lacks the French je ne sais quoi of veal brains, it proves that chicken is much more than the safe space of proteins.

"Chicken has the stigma of being the lamest option on the menu," Hernández admits. But he recommends ignoring that little voice in your head telling you not to order the chicken.

"If you like chicken, order it! Hopefully the chef is doing something interesting, or something you haven't had before."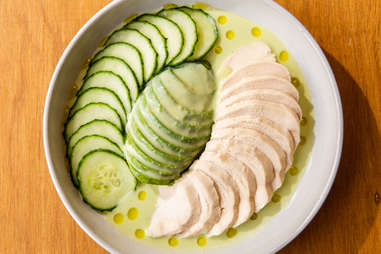 Greenpoint
At Coast and Valley, a California-inspired wine bar, chicken represents its operators' ethos of sustainability, locality, and seasonality.

"Chicken fit into our philosophy for our brand as a whole," says Stephanie Watanabe, Coast and Valley's co-founder, "and when you can come up with a dish that's really flavorful and interesting and exciting, you can make chicken amazing."

Inspired by Hainanese chicken rice, a traditional Chinese immigrant dish, Watanabe and her co-founder Eric Hsu created a poached chicken breast served with avocado, charred cucumber, and ginger buttermilk sauce.
"The poached chicken is so divisive," says Watanabe. "It looks disgusting. But you watch people's faces and they're like, 'Wow, this is actually really delicious!' We're showing people what can be done with chicken."

The long-standing stigma against ordering the chicken, however, is tough to break, even for chefs.

"When you're out with friends at a big table," says Hsu, "there's the one person who orders the chicken. On the inside, I'm silently judging them. Really? We're at a fancy restaurant and that's what you order?"
When Hsu goes out to eat, he almost exclusively orders chicken in Asian restaurants. "Taiwanese food, Chinese food, I will eat the heck out of chicken," he says. "But if you're talking about going to an Italian restaurant or straight-up American fare, often I'm disappointed when I order chicken."

That's why Hsu and Watanabe designed their chicken to move past the bird's bad rap. Their take on the Hainanese classic is rich and creamy, unrecognizable from the bland chicken breast that's usually reserved for children and picky eaters.

"I'm from the Midwest, and going out was a special occasion," says Watanabe. "You wanted something that felt really decadent and like a treat. Often, chicken preparations don't feel like that. You'd get a roast chicken and be like... womp-womp, I can make this at home. Now, maybe that's changing."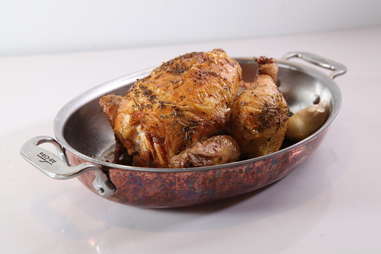 Brooklyn Heights
"Chicken has been treated as an afterthought," says Danny Brown, executive chef at the new waterfront brasserie Estuary. "People make it three or four times a week. By the time they go out, they say, I want to eat a steak, or I want to eat fish. We might have gotten to the point where people think they're going to get a breast out of a packet from the supermarket."
Estuary's roasted chicken bears no resemblance to the pink-hued numbers at your local Key Foods. Rather, it starts with a D'Artagnan bird, which is roasted with herbs de Provence and sauced with a chicken stock infused with Meyer lemons, olives, and roasted tomatoes. "It's not served with anything," says Brown. "It's unadorned, so you can have it in pure form."

The whole bird is gorgeous, rich and brown from the oven, served tableside with its skin crackling. It's not a steak, but it's perfectly simple -- all the better to pair with a bottle of wine.

"I can think of no better combination than a really, really good bottle of wine with a really simply roasted chicken," says Brown. "You'd be hard-pressed to find a better combination."
Clinton Hill
At The Fly, a new "chicken bar," chicken is the only protein on the menu: You can order a roasted half chicken, whole chicken, or a chicken sandwich. Are their birds uncomplicated? Sure. But they aren't boring.

"The idea of boring chicken comes from the fact that most people are eating flavorless chicken," says Nick Perkins, co-chef and owner of The Fly, plus the seafood-focused spots Cervo's and Hart's. "A tomato's not a tomato's not a tomato, and the same thing is true of chicken. All chickens are not created equal."

The Fly's rotisserie chickens begin with a dry rub on a plump-breasted bird they source specifically for roasting -- a totally different breed than the long-legged birds they use at Hart's.

"We season ahead of time," says Perkins. "That's where flavor develops. Any seasoning you put on a pork chop, it's going to taste swiny. Chicken is a good vehicle for flavors."
After its stint in the dry rub, the bird is cooked low and slow on the rotisserie until it's juicy and just done.

"The majority of rotisserie chickens are really overcooked," says Perkins. "When people are really excited reacting to chicken, it's actually just properly cooked."

While your average supermarket's rotisserie chicken is just fine for eating out of the fridge or shredding onto salads for a weekday lunch, The Fly's bird makes Costco's $4.99 rotisserie chicken -- a notorious loss leader for the warehouse club -- look like, well, a loser.

It's finally time for New Yorkers to end the culture of chicken-shaming. When chefs treat chicken with care -- sourcing it thoughtfully, and then presenting it as something much more than a menu necessity for picky eaters -- the bird can become as worthy an order as scallops or a steak.

Whether you're interested in making a switch to sustainable meat or just want something to pair with a bottle of Sauvignon Blanc, you shouldn't be scared of ordering the chicken for one more second.

"Those old, outdated, passé rules are silly," says Coast and Valley's Stephanie Watanabe. "Order the damn chicken!"
Sign up here for our daily NYC email and be the first to get all the food/drink/fun New York has to offer.