Catch-Up with Your Crew at the Best NYC Restaurants for Large Groups
If you're the designated planner friend, we've got you covered.
Bad Roman | Photo by Lanna Apisukh for Thrillist
Bad Roman | Photo by Lanna Apisukh for Thrillist
When you want to get the squad together, it can be tough to find that perfect spot—even in an era where just about every restaurant describes dishes as "built for sharing." We know all too well there's more that goes into planning a great group dinner than just that. Between finding a menu that appeals to everyone and a restaurant that can accommodate a large group—not to mention securing a reservation—it can be a headache to be the planner friend. But book a spot at one of these great NYC restaurants for large groups and you'll be the designated Resy maker for life.
Williamsburg
Not only will you have a fantastic group dinner at Chino Grande, but your after-meal plans are also set. Gather your group and dig into Asian- and Latin American-inspired dishes like Crab Rangoon Toast and Twice-Cooked Chicharrón de Cerdo. Once the kitchen closes for the night, the chill neighborhood restaurant transforms into a raucous karaoke saloon, so be sure to order the Banana Miso Custard for dessert to, you know, help warm those vocal chords.
How to book: Resy
Bushwick
This Mexican-Vietnamese restaurant in Bushwick has the answer to your group dinner conundrums: their Dac Biet menu. The option is Falansai's version of a tasting menu, where you simply arrive at the restaurant and let chef Eric Tran make all the decisions, ensuring your group gets a taste of all the eatery's greatest hits. While there isn't a set number of courses in the $88 per person experience, guests can expect to leave full and receive several dishes from the a la carte menu served family style. If you're down to drink, there's a wine pairing you can add on as well.
How to book: Resy
Multiple locations
Some cuisines are practically made with big groups in mind—barbecue is one of them. With sprawling picnic tables, shareable dishes, and a casual ordering system that makes it easy to fill up the table again if you're still hungry, Hometown Barbecue is ideal for group gatherings. Most of the meat is served by the half pound, so order up a tray-full and tack on as many sides as you can. The bigger the group, the more you can indulge in mac 'n cheese, collard greens, and Backyard Potato Salad—and sharing means you'll definitely have room to finish off the meal with the shop's famous Banana Cream Pudding.
Greenpoint
It's one thing to order dishes to share amongst a large group, but Wenwen has you covered if you want a shareable cocktail for your next group gathering. After opening, the spot quickly became known for its signature oversized Long Island Iced Tea, a 38-ounce chalice of the jovial cocktail that's served with a flaming lime and hibiscus flower floating on top. That should be more than enough to get the party going, but shareable dishes like Sacha Hot Honey Popcorn Chicken, 886 Noodles, and a Whole BDSM Fried Chicken will keep it rolling all night long.
How to book: Resy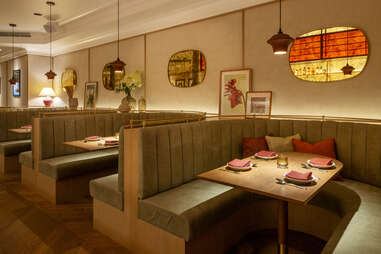 Multiple locations
Take the guesswork out of ordering for a big group with the help of Au Za'atar's star dish, the tableside shawarma. All you have to do is choose from chicken, lamb, beef or sojouk (a combination of spicy beef and lamb), and the Lebanese/Middle Eastern restaurant will bring out a large portion of the meat rotating on a fiery spit. The protein portion is large and it comes with a huge heap of fries and dipping sauces to pair with it—so bring a group and dig in.
How to book: Resy
Columbus Circle
If you're looking for an oversized dining room so large that your group can chill in cushy booths alongside bedazzled, museum-quality statues of wild boars, Bad Roman fits the bill. Just about every dish on the menu is over the top—from a filet mignon topped with an indulgent cacio pepe ravioli to a dramatically savory Martini Pepperoncini—so everyone in your crew will find something to get excited about. And thanks to a glitzy atmosphere and massive dining room, it's the ideal place for a large group celebration where you actually have a chance at getting a reservation.
How to book: OpenTable
West Village
Roving through a Bangkok night market without losing the rest of your group would prove to be a challenge. But Bangkok Supper Club, the newest restaurant from the team behind Fish Cheeks, brings dishes inspired by that experience to a space well suited for your whole crew. The menu is divided up into small plates designed for sharing and large-format dishes like a Whole Branzino with Nam Jim Seafood Sauce and Chilean Sea Bass Chakram Curry that has the fish pan-seared and served over curry with a side of rice.
How to book: Resy
West Village
The pizza party is a classic people pleaser, and there's no better place to do it than buzzy Emmett's on Grove. The restaurant specializes in Chicago tavern-style pies with a thin crust and lots of toppings cut up into squares, making it the perfect pizza to nibble on while catching up with friends. Add a few starters onto your order like Crispy Mozzarella, Meatball Sliders, and keep the martinis flowing, and you've got the recipe for a fun group dinner.
How to book: Resy
Lower East Side
At this Basque-inspired restaurant, the entire menu is dedicated to sharing. You could make a meal out of the para picar (or snacking) section at Ernesto's by ordering a handful of Croquetas de Jamón, Txistorra Sausage, and Gildas (aka tiny skewers of pickles, olives, and anchovies). But be sure to make your way down to the platos principales section for shareable main courses like duck confit or Arroz Meloso de Calamares.
How to book: Resy
Lower East Side
Perhaps best known for its sprawling outdoor dining set-up, Le Dive is also a great option for a group dinner. Sure, your squad could post up at the bar and drink natural wine and martinis while snacking on olives all night. But what many people don't know is that the Lower East Side hotspot also offers a prix-fixe menu for groups. Make a reservation ahead of time for the group dining option and the restaurant will cover your table with a spread of charcuterie, Steak Frites, and more all served family style for just $65 per person.
How to book: Resy
Nolita
For the ultimate cozy dining experience, bring your whole group to chef Marc Forgione's Peasant for a large-format dinner that's like no other in the city. This Italian restaurant gives guests the option to book a Whole Pig Dinner roast experience with a spread of antipasti, a whole roasted suckling pig with salsa verde, wood-fired seasonal sides, and dessert, so long as you have at least six people to join in on the fun and give the restaurant four days' notice.
How to book: Resy
Chinatown
The key to hosting a dinner party where no one leaves hungry is a lazy susan at the center of the table. That's exactly what you'll find at Uncle Lou, a hip Cantonese restaurant in the heart of Chinatown with a crowd-pleasing menu. And the best part is: If you're headed there with a group of six or more, you can call ahead for reservations at this otherwise walk-in-only restaurant.