Because you love brunch, and you love rooftops, and this is America -- where we're all about combining things you love (donut burger!!) -- here's a list of NYC's best rooftop brunches, plus what to order at each. More Stuff You Will Like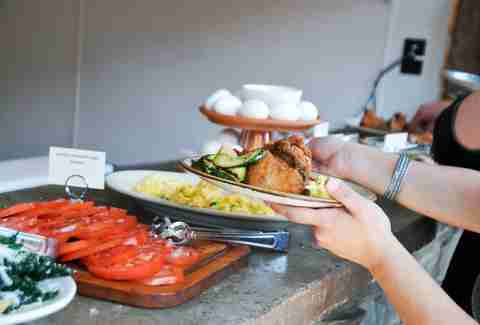 Chelsea
What you're getting: Everything. It's an all-you-can-eat buffet, bud.

Located on the top of McKittrick Hotel (home of Sleep No More), Gallow Green borderline will make you feel like you're at someone's private wedding reception; it's a lush, roof-located al fresco space with ample greenery, wood picnic tables, and even a badass old train car with additional seating. Add in a bluesy band to serenade you while you take in the views of the the High Line and Hudson River and a spread of fried chicken, scrambles, and avocado toast (plus a separate table just for the buttermilk biscuits and cinnamon rolls) and we're off to a good start on this whole rooftop brunching thing.
Williamsburg
What you're getting: Roasted banana-stuffed French toast

Every section in Juliette isn't without its French bistro-style charm, but they thankfully subtly work it in so you don't feel like you're eating at Hard Rock Cafe Paris. Once you make your way through the garden room and patio, grab a table amongst the vines on the rooftop. Then move in hard on brunchiness that includes a spicy lamb burger, Tartine's croquet monsieur, and a lemon zest Dutch pancake.
NoMad
What you're getting: Hangover Burger

What's better than brunch at a beer garden? Brunch at a beer garden that's also on a roof. Enter Tavern29: while it doesn't offer the 360 sprawling views, it easily maintains that NYC vibe by plopping its picnic table-lined deck on top of a 19th century townhouse with views of Park Ave. Plus, nothing's more New York than a back alley rooftop that rotates 30 craft beers on tap and has both fried chicken & sausage gravy biscuits.
Lower East Side
What you're getting: Pancake-crusted breakfast sausage lollipops. And several drinks, probably.

We could go on and on about the bevy of savory and sweet items that fills the menu at this LES spot, including the breakfast pizzas and s'more toast. But, let's be honest: you're here for insane drink specials. This is one of the boozier brunches in the game with 92-cent cocktails (NINETY-TWO-CENT COCKTAILS, GUYS) served alongside your French fare. Stay here long enough, and we doubt this will be the only French thing you do all day, if you know what we mean. (If you don't, we mean French kissing.
Greenpoint
What you're getting: Ham & cheese toastie

This low-key Brooklyn spot has a very spacious rooftop on its third floor, which you'll be happy to know is plenty high enough to take in expansive views of the East River and Manhattan skyline. Once you saddle up at one of the wooden booths or tables that line the joint, we suggest pairing your toastie, banana pancakes, or chimichurri steak & eggs with an MOA Breakfast beer. It just makes good sense.
Long Island City
What you're getting: Lobster Benedict

Big is the name of the game up here, because the rooftop is HUGE. Like, REALLY HUGE (8,000sqft to be exact). And since you're smack-dab in Long Island City, the views of the Manhattan skyline and the adjacent Queensboro Bridge don't disappoint. Also not disappointing: washing down your Benedict, truffle grilled cheese, and maple bacon with $4 mimosas and Bloody Marys.
Meatpacking
What you're getting: Foie gras French toast

Unless they decide to offer bunch on top of One World Trade, this wins for one of the highest brunches in the city. It also takes the swanky cake; it is Meatpacking, after all. So if you're in the mood to brunch yourself all Sex and the City-style, let it ride with small plates of smoked salmon tarts, bacon-wrapped shrimp, and Mother of Pearl cocktails as you take in unparalleled 360 views of the city (and New Jersey!).
Carroll Gardens
What you're getting: Huevos Oaxaca

While you're slamming pork butt tacos from Alma's third-floor rooftop, Manhattan looks like but a teeny dot in the far off distance. Actually, that's not true at all, but you can eye the island in its breathtaking entirety from this Carroll Gardens Mexican eatery. Best part: it's open year-round, meaning you can still catch those views in the dead of winter thanks to the heat insulation and a roof cover.
Midtown
What you're getting: Kobe burger

The Kimberly Hotel's outdoor lounge takes rooftop brunching up a few notches, not to mention 30 stories. (See what we did there?) Seriously, they class it up quite nice here with an outdoor fireplace, front-and-center views of the Chrysler Building, and leather couches that provide the perfect soft landing after wrecking a Kobe burger and its "Hangover Remedy" with smashed avocados, bacon sun-dried tomatoes, and fried eggs.
Williamsburg
What you're getting: Avocado BLT

This weekend brunch fills up with Brooklynites faster than a new flea market, and with good reason. Its casual outdoor deck offers some pretty killer views of the Midtown Manhattan skyline, which looks far more impressive after copious amounts of imported beers, duck fat fries, and Bavarian pretzels. Why this place stays full post-brunch hours is hardly a mystery.
Sign up here for our daily NYC email and be the first to get all the food/drink/fun New York has to offer.
Liz Newman is a freelance writer for Thrillist, and really doesn't see why you'd ever brunch NOT on a roof. Follow her on Instagram.