Smorgasburg has become more than just an outdoor food festival. Now in its eighth year, the open-air market is a proving ground for many soon-to-be most beloved food spots in NYC. Purveyors from across the five boroughs bring their best to East River State Park and Prospect Park, week after week, from April through November. Best buffalo wings -- check. Best banana pudding -- check. Best po-boys -- yep. This year's lineup includes diverse newcomers, adding even more variety to a destination already renowned for its surprises. Here is everything you need to taste this summer.
Recommended Video
America's Most Ridiculous Donuts
The Hong Kong egg waffle is a street food dating back to the 1950s. This year, egg waffles exploded onto New York City's desert scene, occupying the "sweet of the summer" spot that belonged last year to Thai rolled ice cream. Wowfulls makes these street sensations fresh to order with rainbow ice cream, your choice of sprinkles, Fruity Pebbles, Oreos, or strawberry Pocky. Whether it's the enchanting smell of the waffles crisping or the aesthetic wow factor, Wowfulls seem to regularly draw the longest line at Smorgasburg this year. Buy one of these incredibly crunchy on the outside, soft as a pillow on the inside waffles, and before long you'll understand why this is NYC's is new sweet obsession.
With the help of his father, Dewey Dufresne, the lifelong cook and restaurateur, Wylie Dufresne in 2003 opened the Manhattan institution WD~50, and pretty much hatched the molecular gastronomy movement. Dewey Dufresne's long-anticipated Lower East Side Sandwich shop BYGGYZ is known for its wild creations stuffed with highly specialized ingredients and all manner of pickles, peppers, and spreads. The "Benny," served exclusively at Smorgasburg, marries the flavors of a bánh mí with a Jewish deli pastrami sandwich, featuring Dufresne's proprietary cheesy kimchi blend, warm pastrami, and Asian slaw with mango mustard on a toasted bun.
Sometimes the simplest foods are the hardest to nail -- Buffalo wings, for one. It took two friends from Buffalo to finally bring solid wings to NYC: Dan and John's Wings makes the best bird in the boroughs, balancing that perfect amount of hot sauce with just enough butter, and maintaining a solid crunch through the coat of tangy spicy buffalo sauce.
It's good news that DŌ has a spot at Smorgaburg, because its Greenwich Village storefront almost always has a line down the block. Why? Because they sell cookie dough, for eating. DŌ's Smorgasburg incarnation sells specialty confections not available in-store. When DŌ's Kristen Tomlan and Big Mozz catering chef Jimmy Warren found themselves side-by-side at an outdoor festival, they did what came naturally to two food fanatics: they swapped ingredients. Tomlan's cookie dough balls met Warren's mozzarella stick coating, yielding fried cookie dough balls. This beyond-decadent treat is available in classic chocolate chip, rainbow cake batter, and brownie batter cookie dough.
Himalayan Horizon (new in 2018)
Picture a slightly less-greasy empanada, packed with a mix of South American and Central Asian-style flavors, with a consistent crunch -- you have the Himalayan street food known as shabaley. Run by owners from Nepal and Jackson Heights, Himalayan Horizon serves up a crispy, juicy snack that you can munch while you stroll around looking for your next Smorgasburg victims. Himalayan Horizon's shabaleys are available stuffed with buffalo, beef or potato.
Quality po-boy are another seemingly simple treat that are next to impossible to find in NYC. Fortunately, a bonafide Cajun armed with family recipes is here to bless you with this New Orleans staple done right. Juicy, unctuous pork is slow-cooked for eight hours and piled onto soft, seeded Italian bread, and mac & cheese is mixed with crawfish flown in from the bayou, all to authentic Big Easy effect.
Ask Smorgasburg vendors for their favorite festival food, and this is the answer you'll hear more than any other. The couple behind Baonanas makes one thing and they make it perfectly: banana pudding. Sure, you could get some stuff crumbled on top of it if you want, but the star here is the eponymous treat: unbelievably fluffy and delectable layers of vanilla mousse, Nilla wafers, and sliced bananas. It's a revelation.
This is the most elevated and well-executed food you're going to find at Smorgasburg, and you'll be lucky to snag it before they sell out. Aaron Saurer and James Zamory have sharpened their knives at upscale spots like the NoMad and Betony, and they bring that level of quality to the smoked meats at Carnal. Just watching these guys cook is magical. The craft that goes into the succulent, delicate short rib topped with a mixture of cauliflower, papalo and bone marrow will stir your deepest caveman desires.
There are two ways to kill it at Smorgasburg -- offer something so delicious that word gets around and everyone has to have it, or offer something so eye-catching that 'gram gets around and everyone has to @ it. Lobsterdamus does both. Inspired by his uncle's family cookouts, grillmaster Francis Reyes brought mesquite-grilled lobster to LA's Smorgasburg on the way to Brooklyn. Lobsterdamus offers whole or half grilled lobster, lobster nachos, and the Lobster Nest -- a whole grilled lobster on a bed of garlic noodles. The sweet, salty, smoky meatstravaganza will make you the envy of the festival.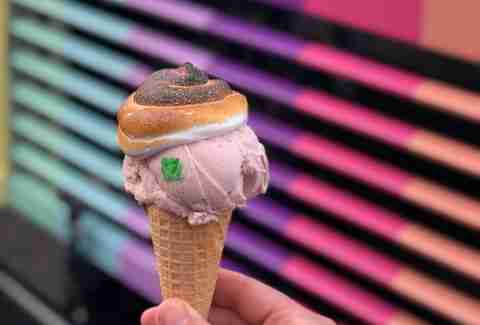 Smorgasburg can be taxing. The food is heavy. The sun is oppressive. They won't let you walk around with your booze. Get you a scoop of Bona Bona's fresh mint ice cream. Each treat gets topped with a little hat of blow-torch-brûléed marshmallow that perfectly balances the dessert. There, you're a new person. Back to the feast.
One of the best offerings at Smorgasburg this year is the invention of a high school freshman. Jack Greenleaf, the young baker and entrepreneur behind Bread and Monkey, realized that fresh banana bread is the key to life. Greenleaf's take on the comfort food is always impressively moist, and never too sweet -- even with chocolate chips.
BLP gives reigning Smorgasburg French fry favorite Home Frite a run for its money. Papitas variations are like a mash-up of the best nachos you've ever had and the poutine of your dreams. Cala cala papitas comes as a cone of spicy golden fries slathered with hot aji cheese sauce and llajua hot sauce -- a mix of onions, tomatoes, and Bolivian hot peppers -- all topped with slow-smoked brisket. Bolivian Llama Party's house-made carbonated juices cut the heat and act as an antidote to your overindulgence.
BTarts (new in 2018)
Butter tarts have long been a Canadian staple, and BTarts' appearance at Smorgasburg appearance is their first real push into the United States. The tiny tarts taste like a cross between between pecan pie and a Momofuku Milk Bar Crack Pie, with a touch of maple syrup. Sample them, then take a stack home to pass among your friends.  
 
Sign up here for our daily NYC email and be the first to get all the food/drink/fun New York has to offer.